12.03.08
home | metro silicon valley index | features | silicon valley | feature story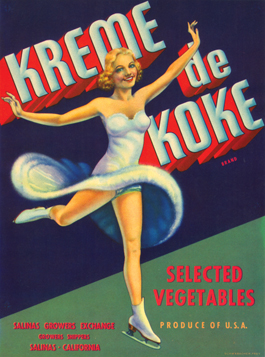 ABOUT THE COVER: This week's cover image pays homage to the Santa Clara Valley's agricultural heritage with this historical image from a can label from vegetables grown in the region.
Why Shop Local?
A spreading movement supports community economies
Photos by Felipe Buitrago
Gift Guides by Michael S. Gant, Stett Hollbrook, Jessica Fromm, Gary Singh, Richard von Busack, Steve Palopoli and Diane Solomon
Style
|
Food & Wine
|
Cultural Passions
|
Green Gifts
|
DVDs
|
Books
Even in these tight times, most all of us will do our holiday shopping—the Black Friday post-Thanksgiving rush, against all expectations, was bigger than last year's. But how will we spend that money? There is no better time to consider that question.
Stories abound of anxious shoppers flocking to box stores and discount chains looking for bargains. But such a reaction may be part of the problem. An alternative strategy, on the other hand, can be part of the solution: shop local.
Studies show that money spent at independently owned local businesses stays in our community, multiplying as it circulates.
According to the advocacy group Business Alliance for Local Living, every dollar spent at a local business is ultimately worth $1.68 to the community.
In a move to make more consumers aware of the economic value of supporting local businesses, a Shop Local movement has caught fire around the country this holiday season. As an independently owned newspaper (one of the last), Metro was quick to take up the cause. We have always believed shopping local is a cultural issue as well as an economic one. Local restaurants, boutiques, art organizations, coffee shops—these are the places that give our neighborhoods some of their most distinctive qualities. They make Silicon Valley a better place to be.
Alternative newsweeklies have been a backbone of the Shop Local movement, and along with other weeklies, Metro is asking its readers to pledge to spend at least $100 locally. (To make yours, email "I pledge" to [email protected].) The Association of Alternative Newsweeklies estimates that this program could pump more than $2.9 billion into urban economies across the country this season. If each Metro reader spent just $100 with independent businesses, the total economic contribution in the South Bay would be $89 million.
Within this gift guide, you'll find dozens of specific ideas for shopping local, at featured independent businesses throughout Silicon Valley. Many of these gifts—for instance, fashion and home accessories—might be items local shoppers are used to looking for at chain stores or malls. But the Shop Local Gift Guide offers an independent, local—and we have to tell you, usually even cooler—alternative.
We've also featured popular types of gifts that can be easily obtained online, and in Silicon Valley they usually are. Books remain a bedrock gift for holiday giving, but it's important to remember the value of the local independent bookseller (yes, we have a list). Shopping with them can be practically as easy as online: if they don't have a book in stock, they can take a special order and have it to you quickly. No carpel tunnel required!
It's the same with DVDs, and with Silicon Valley's food and wine specialty shops. We've even included a green gift section to help you find environmentally friendly toys, and of course a Silicon Alleys Gift Guide to prove once and for all that local gifts have the most character.
Think logically, shop locally.
Happy hunting!
Send a letter to the editor about this story.