December 6-12, 2006
home | metro silicon valley index | columns | silicon alleys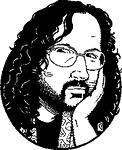 Silicon Alleys
Erectus: Another Monument
By Gary Singh
LAST October's San Jose Rocks event at History Park opened up all sorts of discussion, with folks chiming in about who should be inducted into the next one. I was lucky enough to have begun listening to commercial FM radio by the time I was 8 years old or so, and, in San Jose, for me, it all began with the infamous KOME DJ Dennis Erectus in the late '70s. He was doing the lewd-and-crude shtick long before Howard Stern was around. And it was much better. I recall being 11 years old and hearing staged sex scenes on the radio while nuns did the play-by-play commentary. Or something like that.
That was the kind of stuff Erectus did, and he was a pioneer. While Stern and other shock jocks entertain the masses with burp and fart jokes, Erectus' approach was much more sophisticated. You could almost call it theater. He'd have listeners call in and play characters, or throw in soundtracks from professional wrestling. No one had done that before. If anybody belongs in the San Jose Rock Hall of Fame, it's Dennis Erectus. He was one of the first loonies to actually put this place on the commercial radio map. Nowhere else could you hear celebrity gang bangs with Nancy Reagan and Donald Duck.
Erectus would also do remote broadcasts from places like a rundown bus stop or the San Jose city dump. "I would always pick unusual locations like that because I like the challenge of something unexpected happening," he told me in February.
Unfortunately, Erectus suffered a massive heart attack two weeks ago, but at the time of writing, he was starting to improve. So, for a while, I probably won't get to follow up writing about his memories, as I had always planned. I only got about a half-hour's worth of nostalgia about the old free-format days of commercial radio where the jocks could play pretty much whatever they wanted, unlike today. There was just no room in that February column to say all that needed to be said. In fact, half of our conversation was about early '80s professional wrestling, a subject both of us can carry on all night about. Recalling that it was much more fun to root for all the bad guys, we started to rattle off names. "Bob Backlund? Nah, he was a good guy, fuck him," we both said simultaneously. In a bizarre way, I left that conversation feeling like Erectus was the long lost uncle that I never had.
I also jarred his memory about the infamous KOME vs. Journey softball games at Municipal Stadium, circa 1983. The PA announcers, all KOME Djs, would ridicule the members of Journey all through the game, getting loaded the entire time. "Steve Perry had a knot in his hair, so he couldn't make it today," one said. Erectus then autographed my 14-year-old friend's program, signing it, "Lick me lewdly."
I told Erectus that I gave up on commercial radio by the mid-'80s because at that time you couldn't spin the knob down the FM dial without having to suffer through the same tired old classic rock like Boston or Lynyrd Skynyrd beaten to death every frickin' hour.
"Well, the average schmuck wants to hear Lynyrd Skynyrd all the time," he said. "The same way that most people want to see the most famous model. So if you want to blame somebody, you blame the corporations and you blame the listeners."
Since Erectus has no health insurance, the first in what will hopefully be a long series of benefits will take place at Avalon in Sunnyvale on Jan. 12. I don't care who's playing, and when Erectus finally survives his current ordeal, he is already immortal in San Jose. At least in my book. To hell with the Fallon statue. We should build one of Dennis Erectus instead and I hope he lives on for years to come.
Contact Gary Singh or send a letter to the editor about this story.