December 20-26, 2006
home | metro silicon valley index | music & nightlife | feature
New Year's Eve 2006:
Bollywood parties | NYE guide | 007 parties | NYE family parties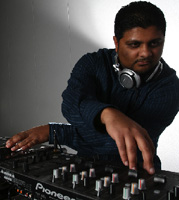 Photograph by Felipe Buitrago
The Bay Area's DJ Salim brings on the Bollywood at the Red Carpet Bollywood Affair in San Jose.
Bollywood Babylon
This New Year's Eve, forget American dance music and hip-hop. The hottest theme is Bollywood.
By Mike Connor
THIS New Year's Eve, both the San Jose Convention Center and the Santa Clara Convention Center will host Bollywood and Bhangra-themed parties. If all goes well for the promoters of just those two events, it means that thousands of people will spend the last day of 2006 in South Asian splendor. And that's not including the four other public Indian-themed NYE parties we included in our guide to New Year's Eve events in the valley, plus any number of private parties we didn't.
So we talked to DJs and promoters, and they all say the same thing: the demand for Indian music has exploded. Bollywood is the height of hip. We found ads on Craigslist looking for Indian DJs, and those we spoke to said they're not at a loss for work.
"It's good for me," says DJ Salim, the resident DJ at the Avalon Nightclub's "Bollywood Nights" monthly party. He's not intimidated by the surge in popularity. "I know this music, I was listening to Bollywood music when I was 6 years old, so I don't need to worry about anything."
Indeed, if professional DJs need to worry about anything, it's keeping up with shifting musical trends. DJ Jivan, who runs a professional DJ service based in Milpitas, says that in the last few years there's been a "massive" increase in the popularity of South Asian music.
"I get tons and tons and calls for Indian music," says Jivan, who describes himself as "100 percent English." "I've got the good sound system and I mix really good, and they like me because of that," he brags, but adds, "I could almost do a hundred percent of a show, but not very well, because I don't understand the language."
To solve the problem, Jivan hired two DJs who specialize in Indian music to handle the growing demand.
From Bhangra to Bollywood
In the '90s, it was bhangra that swept the club scenes in London, New York and elsewhere. Coming straight out of Punjab, bhangra generally employs a 4/4 rhythmic structure that makes it easily compatible with American hip-hop and dance music. Combining bhangra with modern beats became an international trend that culminated in at least one major crossover hit—Jay-Z's "Beware of the Boys," a collaboration with Panjabi MC that blends bhangra beats and vocals with the "Knight Rider" bass line and Jay-Z's inimitably cocky flow.
DJ Reika is one of the most well-known stateside emissaries of the genre. Based in New York where her "Basement Bhangra" series at S.O.B.'s is still wildly popular, Reika is flying out to headline the Dhooom! NYE party at the Santa Clara Convention Center. Her presence alone signifies a certain ambition to be the biggest and best South Asian party in the valley, but the organizers are also throwing in a fashion show and supermodel MC to add some extra glamour to this giant NYE fashion statement.
But across town at the San Jose McEnery Convention Center, it's out with the bhangra and in with the Bollywood, at the Red Carpet Bollywood Affair. With five separate areas and an assorted range of activities, this event nevertheless focuses on the music that made it so successful last year. Promoter Leena Jaffer says it sold out and that they had to turn away about 600 people at the door.
Bollywood, of course, is the nickname given to the megalithic film industry in Mumbai (formerly known as Bombay). Typically, Bollywood films are three- to four-hour epic musicals that, until a few years ago, were scored with a combination of traditional and symphonic music during the drama and plenty of pop during the song-and-dance numbers.
Bollywood-themed parties have become a solid business model for the promoters of the Bollywood Affair. Their monthly "Bollywood Nights" parties at the Avalon regularly attract anywhere between 600 and 1,000 people, depending on the guest DJ.
"It's funny," says Jaffer, "because we used to focus a lot more on Punjabi and bhangra, that was sort of the market, and then about two years ago we said, OK, it's now the new generation, so let's change it up a little. We started doing 'Bollywood Nights,' and no one was doing anything like that. We had about 700 people that showed up at first event. At our first anniversary party, we had 1,300 people! It was insane, but in a good way."
The main draw, though, according to Jaffer, is their resident DJ Salim, who lives in Fremont. "He captivates the crowd and no one wants to leave," says Jaffer.
A DJ since 1991, Salim says that only recently has Bollywood become a viable, standalone genre for a night at the club. It's a phenomenon he attributes to a recent renaissance in Bollywood music. Oftentimes the films stand or fall on the strength of the music, which means that the role of the music producer in a Bollywood film is not a small one.
DJ Salim says that in the last three years, Bollywood music has been completely changed by a new breed of producers, who often remix their soundtracks with modern beats and music.
"It's more modernized," says Salim, "it's more dance music rather than classical or soft music. There are music producers who are DJs, so music has changed tremendously over the last three years. We used to play hip-hop and American dance, but Bollywood had huge impact on the club scene. Now you can pretty much play Bollywood music all night and get away with it."
What remains to be seen is if so many promoters can get away with hosting similar events on NYE.
"It's funny," says Jaffer, "because in nine years I haven't seen as many events as I'm seeing this year. ... We've heard some people say because of the fact that last year we did so well and sold out two days before and had 600 people show up the night of the event, that people thought it was a market that needed to get tapped into."
"Since Bollywood is so famous now, everyone wants to put Bollywood in their parties," says Salim. "They understand that OK, if they're going to play that music, the party is going to be good."
Send a letter to the editor about this story.