December 20-26, 2006
home | metro silicon valley index | columns | the fly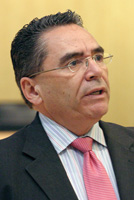 Gonzales: What took so long?
Silicon Valley News Notes
Gonzo Almost Gets Off
San Jose City Council members wrapped up 2006 business at their final meeting of the year last week while bidding Mayor Ron Gonzales a warm goodbye. They even praised his accomplishments over two terms—without mentioning that they've spent a good part of the past 12 months trying to boot him out of office. In fact, dozens of hours of public decision-making time have passed wrestling with the political dilemma of the year: What do you do with a mayor who's been indicted on felonies for bribery and misusing his public office? Fly thought the answer was obvious: Get him out. That's what Mountain View officials did to former Mayor Mario Ambra in 2002 after a jury found him guilty of misconduct for bullying city staff. It only took former Santa Clara County prosecutor Bill Larsen six months to take Ambra down—on convictions that didn't even amount to crimes. How did he do it? Larsen used an obscure state law that allows for the removal of public officials through a civil indictment called an accusation. He proved the accusation by presenting his case to a grand jury and then pushed it through a Superior Court jury trial. The outcome didn't give Ambra a criminal history, it just ended his political career by forcing him to step down. But Supervising Deputy District Attorney Julius Finkelstein told Fly there's a good reason he didn't take the easiest route by using that law to go after Gonzales: The mayor's secret Norcal deal, made in 2000, didn't come to light until last year, and Finkelstein figured that by the time he got through the legal hoops, Gonzo would already be out of office. At that point, the success of an "accusation" would be meaningless, other than a moral victory. So Finkelstein chose to pursue a criminal indictment with felony charges that could haunt San Jose's former mayor even after he's long gone from City Hall.
Fast Eddie
Comcast lobbyist Eddie Garcia came out ahead at Thursday's rambunctious East Side Union High School District board meeting. In a public interview and selection process that dragged on for five hours, the friend and favorite of current trustee George Shirakawa won the spot to replace outgoing trustee Craig Mann. He vied against former teacher and Mann-supported Barbara Boone (who hoped to represent the African American community), Darcie Green (a staffer for state assembly member and former East Side Superintendent Joe Coto) and San Jose planning commissioner Sharon Godbolt. But after all the open speculation, critics complained that the special board meeting was a waste of time spent choosing a candidate that had supposedly been picked behind closed doors. Was Garcia a shoo-in because of his close relationship with Shirakawa? The two both work as lobbyists during the day and serve as administrators for the Mexican Heritage Plaza. Shirakawa ran a television ad (unusual for this kind of race) for his recent East Side re-election campaign with Comcast—the company Garcia represents. Cynics wondered if the trustee landed a discounted (or complimentary) cable commercial, but Shirakawa told Fly that his agent negotiated the ad with a separate Comcast department. "I wouldn't say I'm his biggest supporter," Shirakawa said, downplaying his connection to Garcia. "I definitely say Eddie is the most qualified candidate to be appointed; I know what you're getting at, in trying to find some conflict of interest between me and Eddie." Meanwhile, J. Manuel Herrera, the East Side board president, dismisses the alleged Garcia/Shirakawa affair. "Everybody's always theorizing like this," Herrera told Fly. "There are people who want to see things when things are not necessarily there. The whole political system is shot through and through with back-scratching arrangements." Tell us something we don't know.
Plane Truth
Last week, it was a protest at City Hall, and now even Cindy Sheehan can't resist taking a shot at the CIA's private San Jose-based airline, Jeppesen. Sheehan dropped by the First Unitarian Church last Friday night, where the Vacaville mom drew a big crowd on the heels of her new book Peace Mom, A Mother's Journey Through Heartache to Activism. "Our soldiers aren't fighting for freedom," said Sheehan, "they're fighting for corporations. They wear uniforms with American flags on them, but they should have corporate logos on them like NASCAR drivers. If we're going to be truthful, they should wear oil company, Bechtel and Jeppesen patches." Ouch! Sheehan, incidentally, is now calling for Bush's impeachment. "Because of the Bush regime, we are mired in a horrible war, and our country is hated all over the world," she said. "Three thousand of our troops have been killed because of it, and our country is trillions of dollars in debt." Sheehan was joined in San Jose by Dolores Kesterson, a Santa Clara mother, who like Sheehan is grieving for the loss of her son. Erik Clayton Kesterson's monument is in Central Park. He was a helicopter pilot killed in a double helicopter collision on his eighth day in Iraq. Sheehan's son, Casey, was 24 years old when he was killed in Iraq, and she made national headlines when she set up camp near President Bush's Crawford, Texas, vacation ranch when he refused to talk to her about it.
Aqua Lungs
San Jose has been scrambling for political cover since Metro revealed the bad news earlier this year that San Jose has the least swimming pools per resident of any big city in America. Things aren't exactly looking up though. Yet another "aquatics planning meeting" drew the only same small group of neighborhood activists that show up to each time to fight for the reopening of two small pools in the downtown council district. Parks and Rec's Cynthia Bojorquez and consultant Scot Hunsaker will divulge their recommendations to the Parks and Recreation Commission on January 17. From there it's off to the City Council in February, more community meetings and a final plan next summer. If they don't recommend the swift reopening of Biebrach and Ryland pools, the poolies are likely to get their Speedos into a twist. The city's options include repairing closed pools as well as building wellness pools, splash park or a showcase water attraction park. Gregory Plaza resident Cliff Price and other closed pool activists worry that in fighting the crocodiles the city might forget that the objective was to drain the swamp, or in this case, rehydrate the pools. "We just want our pools back," he summarized, "We worry that bigger projects will take priority over reopening them." Bojorquez believes that enhancements like lap pools and shaded picnic areas will draw more people and the fees needed to operate and maintain pools. Funding's important, everyone agrees, but this is a city that hasn't paid to keep up the few pools it has."I don't see them finding ways to get the money to reopen the pools," says Gardener Advisory Committee's Dee Urista.
Send political tips to The Fly. Or send a letter to the editor about this story.