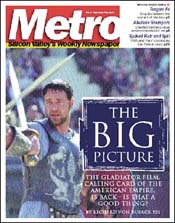 For the Week of
May 4-10, 2000
Cover: The Big Picture
In the 1950s, sword-and-sandal epics gave Americans a lesson in empire building. Now that all the old enemies have been vanquished, what does Ridley Scott's new 'Gladiator' have to teach us?
News: Shell Shocked
The tale of an aquafarmer's abalone dream, quelled by local fisherman and environmentalists in Half Moon Bay.
Cupertino: Cupertino natives hit the Pacific Coast Trail to raise money for rain forest preservation.

Campbell: Low marks for high spirits.

Los Gatos: Main Street hotel is on its way up.
Tongue Fu: Couples relearn the lost art of the kiss.
Public Eye: Restaurateur poised to close Ocean Harbor. SJ councilor accuses paper of censorship. Brotherly power play.



Work: Computer geeks, literary geeks and sci-fi geeks have one thing in common.



Beck and Call: Beck plays pop-culture diplomat at May 2 Shoreline concert.
Blue Notes: Reluctant guitar hero John Scofield continues to 'Bump' on his new album.
Two Firsts, Two Seconds: Works by Grieg and Lees outdistance dull Dvorák and shallow Rimsky at SJ Symphony.
Aural Fixation: P-Roach highlighted the last live-music night at Palo Alto's venerable club.
Audiofile: Reviews of new CDs by Jimmie Dale Gilmore and Ghostlike Sun.



Punk Shot: 'The Filth and the Fury,' a new documentary by Julien Temple, evokes the heady days of musical anarchy when the Sex Pistols took aim at society's ills.
Arena Action: 'Gladiator' is big on action, short on wit.
Dishing it Out: The four heroines of 'Luminarias' have some bones to pick with men.
Widow Dressing: Kristin Scott Thomas gets involved with three suitors 'Up at the Villa.'
Dream On: 'I Dreamed of Africa' offers dreamy scenery but little drama.



That Slum of a Decade: David Frum's new book reminds us that the '70s were about a lot more than disco.



Fish Story: Scott's Seafood pampers its patrons with a panoramic valley view and impeccably fresh marine delights.
A La Carte: Mountain View cooks come out of their kitchens for A La Carte & Art festival.



Please don't forget to write! Metro welcomes letters. Like any great work of art, they should be originals -- not copies of letters sent elsewhere. Include address and daytime phone (for verification purposes only). Letters may be edited for length and clarity or to correct factual inaccuracies known to us. Postal: Metro Letters, 550 S. First. St., San Jose, CA 95111. Fax: 408/298-0602. . Emailers, please include name, city of residence and phone number. Letters printed will list email address unless otherwise specified. Letters to the editor are not currently published in the online version of this paper.