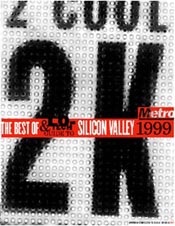 For the Week of
September 30-October 6, 1999
The Best of the Silicon Valley 1999
The votes are counted and the results are in for Metro's 14th annual Best of the Santa Clara Valley edition, a guide to the good things in life before, during and after Y2K.
Readers' Survey
Introduction
Goods and Services
Sports and Recreation
People, Places and Ideas
Arts and Entertainment
Food and Drink
Editor's Picks
Durable Goods & Quality Services
Pastimes: Good for Body and Soul
Notions We've Taken Into Our Heads
Amusements: Cultural Attractions
The Greatest Chow on Earth: Fine Foods and Libations
Hall of Fame
Streetlight Records
Andy's Pet Shop
Vasona Park
Susan Hammer
Recycle Books
JJ's Lounge
Cactus Club
Mirassou Winery
Original Joe's
Black Watch
A Cinematic Centenary: Richard von Busack picks his all-time favorite films.
Best of the Millennium--A Thousand-Year Perspective: Silicon? Who needs it? Corinne Asturias on the real best of the valley.
Best Fillers Under the Big Top: The best ballots in the bunch.
News: Silicon Valuation
Silicon Valley is busting down the door to East Palo Alto, driving up property values and sending young African American residents to apartment-hunt in Modesto.
Cupertino: Robbers target two Cupertino banks.

Sunnyvale: Mother, 18, charged with cruelty and attempted murder.

Willow Glen: Firebombing suspect made racist video.
Look Sharp: Paine Webber exec perfects the tomahawk toss at the Western States Knife Throwing Championships.






Digital Melancholy: The beats and loops in the songs of Everything but the Girl and Dot Allison create deeply human tales of drifting lives.
Ravel Revealed: The San Jose Symphony shows that the French composer's famous 'Bolero' is tougher than it looks on the page.
Aural Fixation: Fierceness drives local band Broken Vision.
Positively Insane: Insane Clown Posse gets in the face of the crowd at the Edge.



In a Pig's Eye: TNT version of 'Animal Farm' takes the sting out of Orwell's satire.
Boiling Down Sex: Boredom is the price to pay for mild titillation in scandalous 'Romance.'
'Kings' Dethroned: 'Three Kings' forgets some important lessons of old-fashioned moviemaking.
School Daze II: Documentary 'Now and Then' looks at Stanford University 'Frosh' four years later.



Crunch Time: There's no such thing as a free launch.



Raising the Bar: 'Over the Tavern' transcends sitcom style in comedy about growing up Catholic.



On the Fritz: Surfing the '50s for images, Don Fritz adds his personal spin to a new show at the San Jose Museum of Art.



Please don't forget to write! Metro welcomes letters. Like any great work of art, they should be originals -- not copies of letters sent elsewhere. Include address and daytime phone (for verification purposes only). Letters may be edited for length and clarity or to correct factual inaccuracies known to us. Postal: Metro Letters, 550 S. First. St., San Jose, CA 95111. Fax: 408/298-0602. . Emailers, please include name, city of residence and phone number. Letters printed will list email address unless otherwise specified. Letters to the editor are not currently published in the online version of this paper.