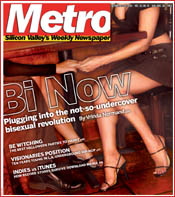 For the Week of
October 20-26, 2004
Cover Story: Bi Now:
Plugging into the not-so-undercover bisexual revolution.
News: Indies Still Rock
As burning and downloading hammer the big retailers, independent record stores hang on thanks to obsessive music fans.
The Fly: This week's political bites.



Curves Ahead: A new exhibit about roller coasters at the Tech is best experienced on an empty stomach.
Biter: W*rd Up: The Olympics of Scrabble.
Techsploits: Wiretap This!
Rev: Decisions, Decisions: I thought I had slumped off into la la land after hearing 'Wrong war, wrong place, wrong time' for the billionth time.



London Calling: Despite the odds, Mike Leigh's 'Vera Drake' wars quietly against injustice by doing good.
String Section: Fantastic puppets, timid politics are combined in 'Team America: World Police.'
Actresses on the Verge: István Szabó's 'Being Julia': fasten your seat belts, it's a bumpy ride.
Preacher: 'Woman, Thou Art Loosed' makes the case for spiritual healing.
Reeling World: The United Nations Film Festival screens features from 27 countries.



Gettin' Grown: Six hearts beat as one in L.A. underground group the Visionaries.
Blinded by Download: The future of music distribution gets pondered in Palo Alto.



Big Brew: Campbell Brewing Company hops to the front of the brewpub scene.
Live Feed: Think Before You Eat.



Georgia on Their Minds: Northside Theatre Company steps back in time with 'The Last Night of Ballyhoo.'
Sister's Acts: Notre Dame de Namur University in Belmont stages Sister Helen Prejean's 'Dead Man Walking.'



Please don't forget to write! Metro welcomes letters. Like any great work of art, they should be originals — not copies of letters sent elsewhere. Include address and daytime phone (for verification purposes only). Letters may be edited for length and clarity or to correct factual inaccuracies known to us. Postal: Metro Letters, 550 S. First. St., San Jose, CA 95111. Fax: 408/298-0602. . Emailers, please include name, city of residence and phone number. Letters printed will list email address unless otherwise specified. Letters to the editor are not currently published in the online version of this paper.