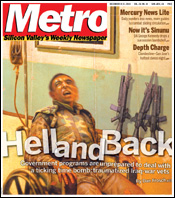 For the Week of
December 15-21, 2004
Cover Story: Hell and Back:
Government programs are unprepared to deal with a ticking time bomb: traumatized Iraq-war vets.
News: Overdue Payday
How undocumented workers pay the country's bills but receive little benefit.
The Fly: This week's political bites.



Biter: Jumana Hanna's tale of abuse in Iraq falls apart.
Techsploits: The hardest thing in this world of Joss Whedon-less TV is to live in it.
Rev: When is the last time you heard an alarm and thought, 'I'd better call the cops, someone's trying to steal my neighbor's car'?



Soap Opera: In 'The Aviator,' Martin Scorsese cleans up millionaire daredevil and madman Howard Hughes.
Silk Degrees: 'House of Flying Daggers' shows off Zhang Yimou's wonderful world of color.
A Farewell to Amélie: Jean-Pierre Jeunet and Audrey Tautou remember World War I, try to forget their farcical ways, in 'A Very Long Engagement.'
Bed Head: Javier Bardem brings emotional action to immobility in 'The Sea Inside.'
Rick's Place: The Stanford Theatre Foundation brings 'Casablanca' to the restored California Theatre movie palace in San Jose.
Have a Cow: SJSU filmmaker Bob Gliner's new documentary charts the Heifer Project's ongoing efforts to fight world hunger.
Snow Man: Comedian Michael Bossier believes in 'The Polar Express.'



Under the Radar: Hip-hop, drum 'n' bass, graffiti thrive at Clandestine.
Carol Curmudgeons: If you can't beat 'em, join 'em.
Choral Notes: The symphony shows off its vocal prowess in concert with SJSU Choir and Chorale at refurbished California Theatre.



Zeni Philosophy: Ethiopian restaurant celebrates communal pleasures of eating.
Live Feed: Streets of Eats.
5 Places to Love: New Restaurants of '04.



4 Guys, A Lady And a Lot of Music: Teatro Visión sings its way through Hispanic Heritage in a romantic revue.
Pear Dreams: The Pear Avenue Theatre switches seasons for the holidays with Shakespeare.



Please don't forget to write! Metro welcomes letters. Like any great work of art, they should be originals — not copies of letters sent elsewhere. Include address and daytime phone (for verification purposes only). Letters may be edited for length and clarity or to correct factual inaccuracies known to us. Postal: Metro Letters, 550 S. First. St., San Jose, CA 95111. Fax: 408/298-0602. Email: letters@metronews.com. Emailers, please include name, city of residence and phone number. Letters printed will list email address unless otherwise specified. Letters to the editor are not currently published in the online version of this paper.