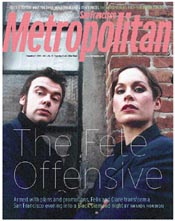 December 7-20, 1998
Features: The Fête Offensive
Armed with plans and promotions, Felix and Clare transform a San Francisco evening into a Black Diamond night.
Scene That: Over the rainbow with the dancing pros at the Metronome.
Tara's Advice: Tara on minnows and lichens.
SFupernatural: Stevee Postman talks about his Tarot deck.
Left Coast Girl: Why everyone's drinking Bud (again).
Adverteasing: The turn-on of a long thick carne asada.
1:15: Gossip columnist C. Silo.



Primary Preoccupation: Local artist Saiman Li talks about his work as a red, yellow, blue or green "color man."
Martini Manicure: The Beauty Bar sets up shop in the Mission.
Superstore: Sephora, the cosmetics supermarket, makes Union Square a one-stop beauty mecca.
Miss Pinkie Shears: The debonair miss gives her fashion advice.
Concrete Runway: Erin Eppstein on Third Street.



Pyramid Scheme: The Prince of Egypt uses the ancient Disney-tested formula of action sequence, Muzak and sassy heroine.
Film Picks: Reviews of Crocodile Tears, Free Tibet and Steam (Hamam: Il Bagno Turco).



Shopping Tastefully: Places to conveniently eat and shop for the holidays in Union Square.
Wine Me, Dine Me: Where have all the warm alcoholic drinks gone?



The 'Zine Scene: The local literary scene satisfies scribes and readers because, face it, size doesn't really matter.
Five Minutes with the Director: An interview with Francis Ford Coppola on the viability of the San Francisco literary scene.
Going Girlhood: Berkeley cartoonist Daniel Clowes vivisects young adulthood in Ghost World.
Book Picks: Reviews of the latest books by Meema Spadola, George Packer and Coerte V.W. Felske.



Charisma and Causes: Rock vocalist Storm Large is bigger than life.
Music Picks: Reviews of the latest CDs by Blood Roses, Dave Ellis and Plaid.
Club Guide: Disco divas, hip-hop connoisseurs and salsa suaves to flannel-clad pinball players, jazz luminaries and more.



Please don't forget to write! The Metropolitan welcomes letters. Like any great work of art, they should be originals--not copies of letters sent elsewhere. Include address and daytime phone (for verification purposes only). Letters may be edited for length and clarity or to correct factual inaccuracies known to us. Postal: Metropolitan Letters, 1776-A 18th St., San Francisco, CA 94107. Fax: 415/487-9094. Email: [email protected]. Emailers, please include name, city of residence and phone number. Letters printed will list email address unless otherwise specified. Letters to the editor are not currently published in the online version of this paper.