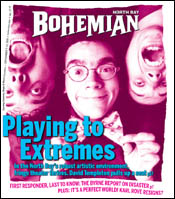 For the Week of
September 7-13, 2005
Cover Story: Playing to Extremes:
In the North Bay's robust artistic environment, fringe theater thrives. David Templeton pulls up a seat.
News: Fly-by Sharpshooter:
Controlling Pierce's disease one pest at a time.
The Byrne Report: NORTHCOM and National Guard units sat quietly while Katrina battered the Gulf Coast.
Newz: A memo from Karl Rove to George W. Bush.



Rev: Truckin': Upgrading to the big rig.



Critic's Picks: A guide to the week's best arts, theater and music events.



The Big Kvetch: 'The Talent Given Us' is a Wagnerian drama about a transcontinental family struggle.



Riddle and Rhythm: Jazz fest fetes Frank Sinatra.
VOICE Lessons: Marin County youth group teaches how to build a music scene.



Litapalooza!: Book Festival and Poetry Walk offer an embarassment of writerly riches.
Chic Lit: Novelist Jody Gehrman, the pin-up girl for smart chick-lit?



Loving the Love Apple: The names! Colors! Shapes! Flavors! In praise of heirlooms.
Swirl 'n' Spit: Arrowood Winery.
News of the Food: Desk-Cleaning.
Morsels: Five a Day Way.



Please don't forget to write! The North Bay Bohemian welcomes letters commenting on our coverage or other topics of local interest. Please keep all letters at 300 words or less (we reserve the right to edit them for length and style) and sign them (unsigned letters will not be published). A local phone number must be included for verification. Postal: North Bay Bohemian Letters, 216 E Street, Santa Rosa, CA 95404. Fax: 707/527-1288. . Emailers, please include name, city of residence and phone number. Letters printed will list email address unless otherwise specified. Letters to the editor are not currently published in the online version of this paper.