January 4-10, 2006
home | the papers | north bay bohemian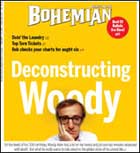 Deconstructing Woody
On the heels of his 70th birthday, Woody Allen has a hit on his hands and (of course) remains obsessed with death. But what he really wants to talk about is the gilded state of his unreal life.
The Racket
Rising tennis pro meets descending actress in 'Match Point,' Woody Allen's sober new melodrama.

Praying for Peace
'Symphony' of events slated to support troops.
News Briefs
Storms Slam Northern California.
Open Mic
American Mullahs.

Car Culture
In praise of the solid, country pickup.

Grizzly Year
A rejectionist critic rewrites the history of cinema in 2005.

MORE MOVIE REVIEWS

MOVIE TIMES

Unsung Hero
Al Kooper casts a long shadow.

MORE NIGHTLIFE

NIGHTLIFE CALENDAR

Doin' the Laundry
Reflections on eating an epic meal at one of the world's best restaurants.
First Bite
Carmen's Burger Bar in Santa Rosa.

BOOK A RESTAURANT RESERVATION

FIND A RESTAURANT REVIEW

Rip Tide
David Templeton looks back at the top 10 torn film, concert and theater tickets of 2005.
Hope Dies Last
Studs Terkel keeps the faith.