January 31-February 6, 2007
home | north bay bohemian index | the arts | visual arts | feature
Design 2007:
Hello Creative | Russian Orthodox Frescoes | Drawing as the New Design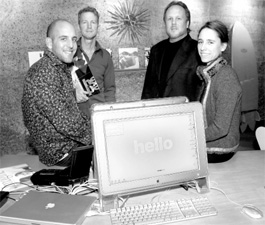 Photograph by Rory McNamara
Howdy: From left, Jesse Seaver, Eric Spillman, Steve Fischer and Tina Grob-Smith of Hello Creative.
Creating Choices
Graton designers craft unique identities for cool companies--and for themselves
By Patricia Lynn Henley
It's all about images. About creating a certain attitude, telling a carefully crafted "story" with just the right look, just the right feel for a package design or a corporate video presentation, for a glossy photo calendar or a cleverly nuanced "this is who we are" website.
The company doing this slick, highly creative work is not based in New York or London. Not housed in an open-beam SoMa brick building. Rather, it's being done in a studio office tucked into the second floor of a funky, former apple-drying warehouse in Graton.
Fresh apples once bobbed into the building via an aqueduct; now ideas and laughter flow freely, as the staff of Hello Creative--Eric Spillman, Steve Fischer, Tina Grob-Smith and Jesse Seaver--craft creative solutions for a client list that has included Apple Computer Inc., Banana Republic and Swatch, as well as Santa Rosa's Medtronic Vascular, Kendall Jackson wines and others.
The bottom line, Spillman says, is communication.
"That's what Hello is about, introducing a person or their idea to a larger audience. You can do that one on one, but when it comes to having to reach multiple people far away, you have to go in, figure out who these people are, what their dream is, and that's the fun part. You get to tap into their ideals, to where they want to go."
The designers at Hello Creative can do that because they are where they want to be: in a restored two-story building housing artists, studios, businesses and more known as Atelier One in rural, folksy Graton, where most roads are barely wide enough for two cars, and sidewalks are the occasional afterthought.
"I love Graton, I love the whole package," Fischer enthuses. "It's not just the studio space, it's not just Atelier One. It's walking into town and seeing the characters and being plugged into what's happening."
Often, he and Spillman talk over ideas while striding along the bike path that stretches out from both ends of their building. "We'll just get out and walk, and cover a couple of miles while we're brainstorming," Fischer says.
Work also gets done when the three lunch together. "That's our second office, right in downtown Graton," says Spillman.
In their studio, rough concrete and brick walls rise up ton an ancient black tar paper ceiling covering the top of the old warehouse. A four-foot-wide window bathes every inch of their space with light. It also provides a view of willow trees meandering along a creek bed, as well as empty barrels and other industrial detritus scattered behind a hulking metal warehouse.
Their office is a symbol that you can be whoever you are and still succeed in business, Spillman says. "We try to take as much of a normal life as possible and include in it our work."
Sometimes new clients are a bit taken aback when they walk into the funky studio, but within a few minutes they take a deep breath and relax. That's when the stories come out, the dreams. The British guy who wants to one day raise sheep in Northern England. The San Franciscan who's always wanted to live a slower, more rural life in the North Bay. The guy who dreams of escaping to Bend, Ore.
"You can hear these people just wanting to get out of their situation, to a degree, and they get a taste of it when they come up here," Spillman says.
Of course, the folks at Hello Creative also try to mitigate any impression that they're far away from the action. They're considering adding a 415-area-code phone line, so Bay Area firms won't dismiss them as "out in the boondocks." But they have no intention of moving; they like being able to do great design in Graton.
Spillman didn't start out there. Born and raised in Oregon, he spent 10 years in New York City, doing communications design for the publishing, entertainment, fashion and finance industries, and working with international companies. But when the first of his three kids was old enough to start walking, it was time to return to a West Coast lifestyle. Not happy with the wet weather in his native Oregon, he checked out Boulder, Colo., and Sebastopol, finally settling in Graton.
"Coming out to California, I had never learned to surf," Spillman says. "I got here and learned to surf and realized there was this whole other side of existence that the door had not been opened to. That was the pivotal thing for me that made me start to value other things."
Having bought a house, he then looked for studio space that was "a stone's throw away and affordable." He set up shop under the name Art Industria in Atelier One.
"I happened to have a friend with Apple and immediately started doing a ton of work for them," he explains. "We spent seven years working for them."
Fischer has worked in graphic design in the North Bay for almost 20 years, including running his own freelance design business. When he joined Spillman in March 2005, they changed the company name to Hello Creative. They considered and rejected the idea of getting an office with more "bling," like frosted windows and a conference room. "It's almost like resources are being extended that are going down a drain somewhere, when you don't need to waste them," Spillman explains.
A year later, Grob-Smith joined the team. She's a native of Zurich who trained at a prestigious design school in Switzerland.
"Steve's talented in ways that I'm not, so it's a really good fit," Spillman explains. "Tina is talented in a lot of the ways that I am, so we're covering everything."
Seaver brings his extensive multimedia and technical expertise to the group, serving as a CD-Rom and web designer. And depending on the nature of the project, they use a range of freelance talent: writers, photographers, illustrators, video editors and other designers, all working at a distance. "We work as a tight group, but we also reach out and grab these other people," Spillman says.
They're close enough to San Francisco to stay connected to the creative scene while still relishing their slower-paced rural lifestyle. And they travel frequently, bringing inspiration with them back to Graton.
"I do miss a little bit the hobnobbing with the super-creative work that's being done in the big cities, but I go there, to New York or London to visit, and I get charged up," Spillman says.
And they often bounce ideas among themselves, playing with concepts for their own products and designs, working on projects that haven't been commissioned and don't need to be finished in a week or less.
"It's those kind of projects that give you what you don't have up here, what you get from the city," Grob-Smith says. "You start up the creative insight."
Spillman adds, "Designers are in this spot between being artists and marketing people. They're right in the middle and can do both. You sort of have to be able to do both."
His basic focus has changed during his years in Graton.
"It used to be all about doing the hippest, coolest design and getting gratification from that. Now it's migrated to connecting with the coolest, funnest people. It's really about getting in, becoming friends with them, problem-solving with them and coming out winners as a team. It's migrating to be much more human, I think."
Often their efforts involve defining and refining a company's identity.
"Identity work can be really challenging because there's such a huge amount of information that you have to filter through," Spillman explains. "You have to balance that with your gut feelings, to pretend you didn't hear any of that material and just operate on your life's experience or whatever. You balance the two."
But creating identities, Spillman says, is nothing new.
"When there were different tribes, there was a need for each tribe to have an icon or something so they could communicate or show that they were who they were. It goes way back that there was a need to pick two colors or draw an icon or come up with a word."
Tribal identities might have included a song. Now it's a jingle or a tagline.
"We try to look for the moral good in these efforts," Spillman explains, speaking softly but intensely. "It's not just about selling something to someone. It's more like what Apple does, which is helping people obtain their own dreams through the use of their product. We always hope to find that."
Hello Creative also exists in the Graton of the web at www.hello-sf.com.
Send a letter to the editor about this story.