January 31-February 6, 2007
home | north bay bohemian index | the arts | visual arts | preview
Design 2007:
Hello Creative | Russian Orthodox Frescoes | Drawing as the New Design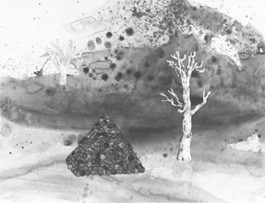 'Basketball Pyramid': David Huffman's mixed-media piece is among the drawings on exhibit at the di Rosa.
Art Imitates Design
Drawing lines around the art world
By Brett Ascarelli
'There's a lot of young blood tonight!" gushes a staff member at the di Rosa Preserve's opening of "Graphic: New Bay Area Drawing." Later, I ask another staff member about the evening's hipster quotient.
"Well, with this kind of show . . ."
"Drawing?"
"Yeah," she answers.
Enough said. Indeed, drawing is the hip, young thing of the art world, forging its own trail in the last decade among its more august cousins, painting and sculpture. Last year, Art News devoted its entire January issue to drawing, and even the most important international art fairs have been crammed with simple media like pencil and pen.
Bay Area artists have turned out a variety of drawings for the di Rosa exhibit. One pen, gouache and watercolor repeats tiny patterns that resemble rice grains falling from one Smurf's hat into another. Further on, a dark landscape of ink splatters, skeletal trees and orange basketballs references the modern baroque style of a recent Urban Outfitters ad campaign.
Looking at the iconic, flat and insanely precise works, one is reminded of modern Japanese, American and Swedish commercial aesthetic sensibilities. But this is art, not design. Or is it?
Michael Schwager, di Rosa curator and progenitor of this newest exhibit, stands apart from the food table. This is the second drawing exhibit he's curated since works in this medium wowed him at the Art Basel: Miami Beach art fair in November 2005. What's driving the aesthetic?
"Cartooning and graphic novels are a huge influence, I think, on a generation of twenty- to forty-somethings," says Schwager. "A more informal way of making an image, like cartoons, is becoming more accepted, whereas in the '50s, most artists worked towards making huge, abstract expressionist paintings.
"It's very different today. There's a different aesthetic goal in mind; every generation is different. Pop art commented on consumer society; the '80s drew on art history. The influences of today are often in popular culture," says Schwager.
Nevertheless, he cautions, "these artists have much more aesthetic concerns than graphic design. The work comes from a more personal place or from popular culture."
In fact, Schwager clarifies that the word "graphic" in the show's title has "no relation to graphic design, whatsoever--I was just thinking graphic in terms of images on paper."
Dean Smith, 45, has two large-scale drawings in the show. The drawings look like staggered starbursts filled in with thousands of teensy strokes. The pattern they make is not dissimilar to the hairs of his salt-and-pepper beard, only more numerous. Like his drawings, Smith's personal aesthetic tonight is monochromatic.
"The works are centering devices: centering one's attention, consciousness and perception," says Smith, who stopped painting about 12 years ago to focus on drawing.
Are there any pop cultural influences on his work?
"Absolutely zero!" he responds hotly.
But pop culture seeps into our psyches, and it reaches us through the catchy branding of design. Today's ubiquitous icons can't help but rub off onto artist's pads, even if the artists don't admit it.
Artist Ala Ebtekar does admit it--and happily. His digital prints of cartoony warriors are a highlight of the show. To make them, he scans his original drawings, then works on them with Flash and Adobe Illustrator. The resulting images are Transformer-like men carrying traditional heroic attributes--and hip-hop gear.
In an e-mail from Paris, where Ebtekar is currently staying, he describes why he chose his computer aesthetic. "Most importantly, [these pieces are] really a reflection of NOW," he writes. "I could have used the medium I am more familiar with--in my case, drawing or painting--but after coming up with the idea of what I wanted these characters to be, and how I wanted them to be read, using the computer as a tool to convey that seemed only obvious. I think that sleekness, and the idea that they could be mass-made (and not a one-of-a-kind art object), is something that appealed to me."
As current trends in graphic design incorporate handmade typefaces, scribbles and crafts, art itself is doing the reverse. Graphic design is finally coming home to roost--boosting the art form that created them.
'Graphic: New Bay Area Drawing' is on view through Wednesday, March 10, at the Gatehouse Gallery in the di Rosa Preserve, 5200 Carneros Hwy., Napa. 707.226.5991. For complete details on the Preserve, go to www.dirosapreserve.org.
Send a letter to the editor about this story.