August 23-29, 2006
home | north bay bohemian index | the arts | stage | preview
2006 Fall Arts Issue:
Art Patronage | Fall Arts List | Live Music Roundup | Movies | Stage | Visual Arts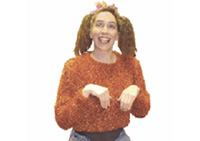 Faithful: Two North Bay theater companies staged work by playwright A. R. Gurney simultaneously last season, including PASCO's production of 'Sylvia.'
Strange Coincidences
Fall theater productions prepare to take the stage
By David Templeton
It never fails. Whenever fall comes around and the North Bay theater companies send out press releases and glossy mailers announcing their "bold" and "exciting" new schedules, there is always at least one strange coincidence. Sometimes, it's two or three companies all electing to produce The Fantasticks or The Underpants within weeks or months of each other. Maybe it turns out to be two companies deciding to produce different plays by the same author, opening their shows on the same night in different towns.
Something like that always turns up. Always.
Another thing that can be depended on is that however many strange coincidences occur, either the Sonoma County Repertory Theatre in Sebastopol or the Pacific Alliance Stage Company in Rohnert Park--and sometimes both--will be players. Two years ago, it was the Rep and PASCO simultaneously opening Night of the Iguana and A Streetcar Named Desire, both by Tennessee Williams. Last year it was the same two companies opening, also on the same night, two plays by A. R. Gurney: Sylvia and The Fourth Wall.
This year, as fall approaches and the press releases pile up, there appears to be a shocking abundance of these little twists of happenstance. And as always, the Rep is a player in every single one; PASCO, in just one. Just for fun, and to test your powers of observation, examine this list of autumn theatrical events happening around the North Bay, and count the number of times you notice a quirky fluke of chance.
The Sonoma County Rep (104 N. Main St., Sebastopol; 707.823.0177), takes on one of Broadway's most challenging recent hits, the Tony-winning one-man drama 'I Am My Own Wife' (Sept. 29) by playwright Doug Wright. Directed by Rep executive director Jennifer King, the tour de force play re-creates the life of Charlotte von Mahlsdorf, a resourceful German transsexual who miraculously survived the rise of the Nazis and the ensuing communist takeover of East Germany. Elastic actor Steven Abbot takes on the role(s) of a lifetime, playing all 30 character parts with costume alterations and chameleon-like shifts of character made in plain view of the audience.
Abbot is an old hand at such theatrical shape-shifting, having played half of the roles in Stones in His Pockets for Actors Theatre a few years back. In Wife, he'll take on more than twice as many parts, and do it solo. If it sounds like a must-see to you, you're not the only one; word is that tickets are already selling like mad, a full six weeks before opening. The rest of the Rep's season includes a youth production of 'A Charlie Brown Christmas' and the perennial staging of Charles Dickens' 'Christmas Carol.'
Kicking things off with a Bay Area premiere about Orson Welles, Mill Valley's Marin Theatre Company (397 Miller Ave.; 415.388.5200) launches an exciting season with an as-yet-unnamed new artistic director who will be replacing founding AD Lee Sankowich. 'Orson's Shadow' (Sept. 7), by actor-author Austin Pendleton, is an off-Broadway hit that re-creates the incendiary true moment when Welles, Laurence Olivier, and Olivier's present and future wives, Vivien Leigh and Joan Plowright, all teamed up for a stage production of Ionesco's absurdist Rhinoceros. Also sure to spark attention are a commedia dell'arte version of Molière's 'Tartuffe' (Nov. 9) and a weekend of new one-acts directed by Oscar-nominated actress Olympia Dukakis.
Actors Theatre and the Santa Rosa Players continue their back-and-forth occupation of the increasingly popular Sixth Street Playhouse (52 W. Sixth St., Santa Rosa; 707.523.4185) with SRP's large-cast production of the '60s-era musical 'Bye Bye Birdie' (through Sept. 16). Close on its sock-hopping heels is AT's production of Kenneth Lonergan's offbeat drama-comedy 'Lobby Hero' (Sept. 29), about a sad-sack security guard pulled into a complicated murder investigation. Then it's back to SRP for a certain "sensational" musical (that's how it's described in the season guide) that can't, for obscure technical reasons, be legally mentioned yet, but is almost certainly 'A Chorus Line' (Nov. 3).
In Rohnert Park, at the sprawling Spreckels Performing Arts Center (5409 Snyder Lane; 707.588.3400), the semiprofessional, Equity-allied PASCO present a season of plays directed by artistic director Hector Correa. The featured fall production is Harold Pinter's marital drama 'Betrayal' (Sept. 24), which was given a vigorous going-over last May by the Rep. In October, Correa directs Neil Simon's funniest play, 'The Sunshine Boys' (Nov. 24). PASCO's one musical, opening in May, is 'You're a Good Man, Charlie Brown.'
Petaluma's Cinnabar Theater (3333 N. Petaluma Blvd.; 707.763.8920) kicks off its fall season with Oscar Wilde's 'An Ideal Husband' (Sept. 17) and will follow it up with Puccini's rarely performed 'Girl of the Golden West' (Oct. 21), a frontier Western opera melodrama.
Napa's Dreamweavers Theatre (1637 Imola Ave.; 707.255.LIVE), innocuously tucked away inside the River Park Shopping Center, gives us October's second Neil Simon play (OK, we gave you that one!), the sentimental 'Broadway Bound' (Oct. 20). And for Halloween, the rock 'em-sock 'em Hoochie-Doo Productions, now pretty much ensconced in the Community Center in Sonoma (276 E. Napa St.; 707.546.2957), take a leap with the off-Broadway chiller-diller 'Unwrap Your Candy' (Oct. 13), a sneaky assortment of creepy, not-suitable-for-children one-acts by Doug Wright. The newest player on the scene, the Roustabout Theater (www.roustabout-theater.org), launch with plenty of holiday spirit premiering their "apprentice program" production of 'A Christmas Carol' (Dec. 1).
Finally--and don't look for a strange coincidence in this last one, it's just a really promising show--the Ross Valley Players (Marin Art & Garden Center, Sir Francis Drake Boulevard, Ross; 415.456.9555) present David Auburn's astonishing 'Proof' (through Oct. 22), the tricky Tony- and Pulitzer Prize-winning drama about a family of mathematicians with a tendency toward genius--and madness.
Send a letter to the editor about this story.