September 27-October 3, 2006
home | north bay bohemian index | features | north bay | feature story
Boho Awards 2006:
Intro | Margrit Biever Mondavi | John A. Moran | Headlands Center for the Arts | Redwood Arts Council | Artstart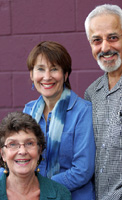 Photograph by Rory McNamara
Artstart geniuses from left: Marlene Ballaine, Liz Uribe, Mario Uribe.
Living Large
Artstart program teaches students that art is an actual job
The starving artist living in an attic garret, stumbling about stooped under a low frigid roof with no coins for the gas grate, just a beret to warm him, a rough tumbler of vin ordinaire to sustain him and a small crumb of baguette to feed him, is a lie. Certainly, there are artists who starve, though in the Western world we fervently hope that's more metaphor than fact.
It's the romanticism of the starving artist that's a lie. Ask anyone who's experienced it: being cold, hungry, thirsty and ill-housed is not conducive to a rich personal expression. And there's absolutely no reason that deciding to become an artist means that one should also decide on a life of penury and woe. Art--like insurance, mortgages, banking, delicatessens, dry cleaners and dog-grooming shops--is a business. It's just that so many artists are so damned bad at it.
The Santa Rosa nonprofit Artstart is dedicated to introducing young people to the very startling notion that they can decide to become professional artists without deciding to accept the ancillary burden of the welfare state. Art, reminds the constant mantra, is a business.
Artstart itself, however, is a labor of love. It was begun in 1999 by artists Liz Uribe and Eleanor Butchart, mothers who met when their children went through Santa Rosa High's innovative ArtQuest magnet-school program together. Butchart had seen a Charles Kuralt television special about Gallery 37, an afterschool Chicago program that got adolescents off the streets and into workshops, galleries and performing spaces, and thought to herself, why not? Why not indeed, agreed Uribe.
Some seven years later, the program has served hundreds of Sonoma County students and produced a number of community artifacts, including 150 painted public benches and 19 public murals found in various spots throughout the county. In Santa Rosa, Artstart's presence is particularly vibrant, the downtown area dotted throughout with the program's unique themed benches.
Perhaps the jewel of Artstart's current work is the program's contribution to the newly restored Prince Memorial Greenway, where Artstart artists have created oversized murals and recently completed a 208-foot-long mosaic, the first of three planned, that depicts the metamorphosis of the area's flora and fauna. This section alone took three years to create, meaning that three different summer sessions of students took part in the artistic flux.
Creative director Mario Uribe and executive director Marlene Ballaine are two of the program's constants. Uribe oversees the student's projects--including a massive and ambitious upcoming mural incorporating students from Roseland University Prep and Elsie Allen High School in depicting the faces of Hispanic history--and recently took a group on artist exchange to Korea.
Using mentor teachers like sculptor Monty Monty and painter Mary Vaughn, Artstart solicits students from area high schools, usually receiving as many as 150 applications for a program that can accommodate only 35. Artstart is currently a summer commitment and beginning artists are paid $8 an hour, well above minimum wage. Returning students and those who work as aides to mentors can earn as much as $12 per hour.
"The whole idea of the program is to create jobs and job training and offer real job experiences in the arts," Uribe explains. "Being self-sustaining is really important. That's one of the things we're trying to teach them. If you have the right skills and the right training, you can make a living."
Scraping along on the usual poor scraps of grants and public monies, Artstart supports itself with an annual auction of creatively decorated benches and chairs, and agrees to have its workers take on such private projects as embellishing someone's patio furniture or creating memorial benches. Rather than being trapped in rigid funding structures, the program will consider most proposals if the price and conditions are right. "The auction pays for the program but commissions are our bread and butter," Ballaine says.
Currently a seasonal program that does not yet have a home and has had to pull up stakes each fall and regroup each spring, Artstart has tentatively found permanent housing and is looking to expand to a year-round schedule.
"The possibilities are great," Uribe says. "I'm an artist, so I know that artists have something important to say in the world. This also provides an opportunity for the artists to provide a larger opportunity to the world at large.
"Look at what we can do when we think this way."
--Gretchen Giles
Send a letter to the editor about this story.