September 27-October 3, 2006
home | north bay bohemian index | features | north bay | feature story
Boho Awards 2006:
Intro | Margrit Biever Mondavi | John A. Moran | Headlands Center for the Arts | Redwood Arts Council | Artstart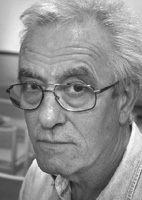 Photograph by Rory McNamara
John Moran's great gift is in creating community.
Plays Well with Others
John A. Moran guides North Bay arts to a more collaborative success
Actor, playwright, musician, painter, web designer and tax preparer John A. Moran has his sights set on failure.
"The aspiration of any artist should be to set a goal and never reach it. To me, your ambitions should be so high that the method of trying to attain them makes you better, but you'll never reach what you want, so you'll always be a failure," Moran explains quietly, his English-Irish roots adding a soft lilt to his words.
Failure may be an impossible goal, because Moran has already accomplished an incredible amount in the North Bay's arts community. He's a collaborator, an enabler, an idea man who follows through and makes his vision a reality.
In June 2002, he gathered representatives of six local theater troupes to explore the possibility of a festival featuring new plays. As Moran recalls it, the meeting soon segued into a "bitch session" on common problems, and from such argument, the North Bay Theater Group was born. It now has more than 40 members advertising productions on its website and in "combo" ads in local newspapers. The successful New Drama Works Festival was held in 2003.
Argo Thompson, artistic director of Santa Rosa's Sixth Street Playhouse, says Moran was the driving force behind the unification of local performing arts companies. "I think he realized sooner than the rest of us that we should all just get along. It was time to share our toys," Thompson says.
Describing Moran as "cantankerous, self-effacing, poetic, cranky and wonderful," Thompson says his friend won't object to such a slightly dubious distinction, because he's also "wickedly funny." Moran is good at bringing people together, Thompson adds, because "he's stubborn and he's persistent."
Those qualities paid off about a year ago, when Moran lent his experience and talents to help start the Sonoma County Gallery Group, which now has more than 70 members working together to promote the local visual arts. Moran gave the group enough ideas and direction to get started, then got out of the way and let them find their own path, says painter and SCGG member Susan Ball.
"He's very engaging and funny and very smart. He's also kind of self-effacing. He doesn't want to be singled out for thanks or praise," Ball says. "I think he finds the areas where he sees there could be improvements and then he just jumps right in."
In March, Moran helped found the fledgling North Bay Classical Music Group. Eventually, he'd love to bring together representatives of the local dance and literary communities, to see how they might shape their own collaborative efforts.
"We've got to encourage all people who have the creative urge within them," Moran says.
The son of Irish immigrants, Moran grew up in South London and was involved with the National Youth Theatre of England. In the late '60s-early '70s, he played bass and piano in a rock band in Britain and Europe. Wanting a change of scene, in 1988 Moran visited friends in New Jersey, then in Ukiah and finally in Santa Rosa, where he got a job as a bartender at the much-missed Old Vic bar and restaurant.
He wrote, directed and acted in radio plays which were performed locally, and turned one into a stage play. Eventually, he wrote what he refers to as "20-odd plays," adding with a grin, "I'd say about five or six of them are pretty good. The rest, shit." His vocabulary flows easily from highly erudite phrases to what he laughingly refers to as "gutter talk."
He's acted in numerous productions and the Sonoma Repertory Theater presented some of his plays. He's tried his hand at painting. After three years bartending at the Old Vic, he opened a deli with Sandy, his wife of four years. They closed the deli in 2003, and for the past two years, Moran has worked as a graphic artist and web designer on a contract basis for the Cultural Arts Council of Sonoma County.
Moran's involved in Arts United Day, the Page on Stage book readings and the creation of a collaborative group for local music teachers. He's learning to read and write music, because it presents an interesting challenge. And during tax season, he works for H&R Block.
Above all, Moran says with a broad laugh and a twinkle in his eye, he's an angry man.
"I'm angry that [the arts aren't] more important. And that stimulates in me a desire to change things where I can, recognizing that whilst you can bring people together, you can't force them to stay together.
"All you can do is instill the common sense of it all."
--Patricia Lynn Henley
Send a letter to the editor about this story.