September 27-October 3, 2006
home | north bay bohemian index | features | north bay | feature story
Boho Awards 2006:
Intro | Margrit Biever Mondavi | John A. Moran | Headlands Center for the Arts | Redwood Arts Council | Artstart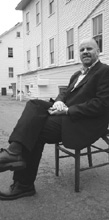 Photograph by Brett Ascarelli
HCA executive director Gary Sangster oversees an innovative program.
Cozy Laboratory
HCA provides the ultimate in nurturing creative experimentation
One recent foggy afternoon at the Marin Headlands Center for the Arts (HCA), an intern was running around setting up AV equipment in the former military barrack. He and a seasoned staff member were preparing for a draft of sorts. The next day, a jury was to converge to discuss who would win admission to the organization's prestigious artist residency program for 2007. The program is highly selective; of 600 applicants from all over the world, only some 40 will be invited into the program.
The HCA is lodged in a handsome grouping of nine former military barracks that once composed Fort Barry on the majestic, windswept coast of the Marin Headlands. It's about 15 minutes and one light-year away from the bustle of San Francisco. The moment one emerges from a one-lane tunnel off of Highway 101, a veil of thick mist blankets the dunes.
During the '80s and '90s, the HCA commissioned some of its barracks to be creatively renovated by respected contemporary artists: David Ireland, Ann Hamilton, Leonard Hunter and architect Mark Mack. There's even an award-winning unisex latrine, complete with a Duchampian row of nonfunctional urinals, standing like sentries against the wall. Time seems to tick slowly at HCA, as if impeded by the dense fog, which executive director Gary Sangster likens to what one would find in Scotland. Another employee suggests that the HCA has a kind of magic about it. Truly, the wooly cloud seems to create a whole other world--a cradle for artists percolating ideas.
More than 700 creative minds have come through the HCA's residency program since it was founded by local artists in 1987. Among the residents have been seminal American figures, including Sonoma County artist Ned Kahn, the Foundry dance company and urban-inspired creator Julie Mehretu, who last year won a MacArthur "genius" Fellowship (the fourth HCA alum, Kahn included, to do so).
Although the residencies are wildly difficult to land--a third of them exclusively reserved for California artists--the HCA conducts an array of other programs, maximizing itself as a resource for the local and extended community. It runs educational programs, providing artist talks, conducting open houses and allowing frequent public interaction with a selected artist each session. There are also studios for newly minted MFA artists, an affiliate artist program with subsidized studio rent, and even "Close Calls," an annual exhibit highlighting the work of artists who almost, but didn't quite, make it into the residency program.
The HCA is a unique organization, prioritizing not art production but, rather, artistic process and reflection. Unlike many residency programs, no formal product is required of the artists, who usually stay in residency for between one and three months; experimentation is highly encouraged, whatever the results. Sangster explains: "Failure is the difference between what you set out to find and what you do find. It's not negative."
One prime way the HCA facilitates innovation is by providing a social environment for resident artists to emerge from their on-site studios and exchange ideas. Five nights a week, everyone dines together in the cozy mess hall/kitchen, renovated by noteworthy contemporary artist Ann Hamilton. The mess hall features two hearths: one, a mammoth wood-burning stove where fresh bread is baked twice a week; the other, a more decorative masonry stove imported from Northern Europe.
The chipper young chef, Katie Powers, concocts organic, gourmet dinners. On this early afternoon, she has already started preparing dinner in the warm kitchen, planning to serve wild salmon with Proven┴al tomato, fennel and saffron broth and basil aioli; mixed greens with Easter egg radishes, shaved Parmesan and sherry vinegar; and Calvados-roasted pears and almonds with whipped mascarpone.
Making tea in the kitchen is one of the artists-in-residence, Christian Maychack, 33. He arrived the day before, and is already hard at work on a sculpture due soon for the California Biennial in Orange County. The baby-faced Maychack says, "I think there's a summer-camp feel to this place, because you can let your guard down."
How about a very intellectual, creative, sophisticated summer camp. The only bug juice you'd find here would be part of an art project.
--Brett Ascarelli
Send a letter to the editor about this story.