Bars & Clubs 2018
Tap Takeover
LvL Up | Movie Mixology | Preparing for the Best | Craft Cocktails | Beer | Wine | Music & Dance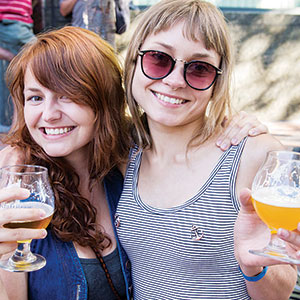 Craft beer is nothing new. The movement, which began with the bottling of San Francisco's Anchor Steam in the 1970s and took flight with the likes of the San Jose-born Gordon Beirsch and the Chico-spawned Sierra Nevada, has accelerated over the past decade, as cities like San Diego and Portland have become destinations for beer lovers seeking the perfect hoppy concoction or sour cider.
While Silicon Valley has a way to go before catching up to other beer meccas, it has lately made a serious push in this department. Over the past year alone, three new taprooms have sprouted just south of downtown San Jose—first came the brewpub Uproar Brewing Company, followed by Camino Brewing Company and Clandestine Brewing. One thing's for sure: It's a great time to be a beer lover in the South Bay.
Boiler Maker
379 E Campbell Ave, Campbell
408.370.3400 | boilermakercampbell.com
After Liquid Bread's closure, owner Jordan Trigg opened up Boiler Maker in the same location in February. Originally wanting a casual pub concept for Liquid Bread, Boiler Maker delivers with four TVs for catching the game, 20 beers on tap and a simple food menu.
Camino Brewing Co.
718 S First St, San Jose
408.352.5332 | caminobrewing.com
Located just south of downtown San Jose, Camino Brewing Co. opened its brand-new taproom and brewing facility this spring. After contract brewing for about four years, co-founders Nathan Poulos and Allen Korenstein now have their very own shop, and they aren't wasting any time. Try their excellent and juicy northeastern-style IPA—the Northeast by S. 1st.
Clandestine Brewing
980 S First St, San Jose
408.520.0220 | clandestinebrewing.com
Not far from Camino and Uproar, Clandestine Brewing has also chosen South First Street in San Jose to open up its own taproom. Their roster of 12 brews on tape features two hazy IPAs—natch—and much more.
Forager Tasting Room & Eatery
420 S First St, San Jose
408.831.2433 | sjforager.com
Located in the warehouse space that once housed First Street Billiards, Forager is spacious enough for a wedding reception or company party. However, with its brick walls, beer garden string lights and distressed wood accents, it can feel downright cozy. The selection of 16 constantly rotating beers definitely helps the warm and fuzzy vibe.
Golden State Brewery
1252 Memorex Dr, Santa Clara
408.727.2337 | goldenstate.beer
This dog-friendly brewery immerses patrons in the brewing process by placing the taproom in the middle of the brewery. Ask Fido to help decide on one of the 10 beers on tap.
Good Karma Artisan Ales & Café
37 S First St, San Jose
408.294.2694 | goodkarmasj.com
This vegan pub offers a food menu with plant-based, gluten-free ingredients and a selection of brews from bitter to bittersweet to keep even the snobbiest of beer snobs satisfied.
Harry's Hofbrau
390 Saratoga Ave, San Jose
408.243.0434 | harryshofbrau.com
Nothing says German cuisine like a nice cold beer and a bratwurst. With 29 beers to choose from, Harry's Hofbrau has all the classic charm you'd expect from an establishment old enough to collect Social Security, and plenty of hip craft beers from out-of-state and California brewers.
Hapa's Brew
460 Lincoln Ave, San Jose
408.982.3299 | hapasbrewing.com
Started in 2015, this brewery is still adding tasty beers to its ever-growing menu of drinks. Order their red ale and enjoy the open space with friends and family. Or step outside to order from one of the nearby food trucks, and enjoy a meal to complement your drink.
Hermitage Brewing Co.
1627 S Seventh St, San Jose
408.291.0966 | hermitagebrewing.com
San Jose's pioneer of sour brews offers a unique menu of beers on tap. Try a beer from their single hop series or one of their award-winning refreshments, like the Maltopia Scotch Ale or the Sour Cherry Sour.
IBU Taproom & Bottle Shop
1422 Dempsey Rd, Milpitas
408.883.4284| facebook.com/IBUMilpitas
For beer lovers who want to take home something from the taproom, IBU features a serious collection of bottled and canned beers to be consumed on site or taken home. And with 30 screens, it's a great choice for sports fans.
ISO Beer
75 E Santa Clara St, San Jose
408.298.2337 | isobeers.com
The founders of ISO beer packed so many fridges and taps into their establishment that there isn't really any room for a kitchen. That's OK, though. BYOF (bring your own food) is highly encouraged. Enjoy a brew at the bar or on the patio, with a bite from one of the many nearby restaurants.
Jack Holder's
3153 Meridian Ave, San Jose
408.613.2365 | facebook.com/Jackholdersrandb
This family-friendly, multi-cuisine eatery serves delicious food and boasts 14 beers on tap. With three TVs located above the bar and two above the kitchen area, you can't miss your favorite team while enjoying a delicious meal or cold beer.
Loma Brewing Co.
130 N Santa Cruz Ave, Los Gatos
408.560.9626 | lomabrew.com
When it comes to producing award-winning beers, Loma Brewing means business. Named 2017 California commercial beer brewery of the year by the California State Fair, they have plenty of great options—including the Appeasement American IPA, Summer is Coming Maibock and No Oranges Allowed American Wheat.
Original Gravity Public House
66 S First St, San Jose
408.915.2337 | originalgravitypub.com
With two bars and plenty of elbow room, Original Gravity Public House offers a constant rotation of drinks and food, with a knowledgeable staff to guide you through the selections. There are gourmet brats on display; choose your toppings and one of 35 beers to wash it down.
Rabbit's Foot Meadery
1246 Birchwood Dr, Sunnyvale
408.747.0770 | rabbitsfootmeadery.com
For those looking to drink like a Valkyrie, Rabbit's Foot Meadery takes its brew in a medieval direction. Honey is the staple ingredient here, and all drinks are styled after traditional styles, such as Kolsch, saison and stouts made with traditional malts. Try one of their many selections from Red Branch Cider & Brewing Company.
Santa Clara Valley Brewing
101 E Alma Ave, San Jose
408.288.5181 | scvbrewing.com
Santa Clara Valley Brewing celebrates the Silicon Valley's industrial past. There's the Umunhum Pale Ale, Alum Rock New England Double IPA and their signature Electric Tower IPA. If a pint is not enough, patrons can purchase their favorite beer by the keg ahead of time.
South Winchester Barbeque
1362 S Winchester Blvd, San Jose
408.376.0485 | swinchesterbbq.com
If you're a fan of barbecue and beer, then this is definitely the place for you. South Winchester BBQ offers premium selected specialty craft beers that rotate on tap along with some monthly and local guest taps. It's all good for washing down some delicious smoked barbecue.
Spread Deli & Bottles
193 E Campbell Ave, Campbell
408.340.5549 | spreadcampbell.com
What is a more perfect match than a hearty sandwich and a beer? The Duchess comes highly recommended, with a combination of deep-fried turkey breast and beef pastrami, paired with a freshly poured beer or a cold bottle from one of their multiple fridges. Takeout is an option.
Strike Brewing Co.
2099 S 10th St, San Jose
877.855.8620 | strikebrewingco.com
Anyone who knows baseball will tell you it's always great to have a slugger, but you're never going to go all the way without a strong bullpen. Strike's experimental Bullpen Series is intended to keep its roster strong. So give one in the collection a try. It just might be your new favorite.
The Tap Room
233 University Ave, Palo Alto
650.752.6132
Just a short commute away from Stanford University, the Tap Room offers food and beer to make any college student's mouth water. Pair a plate of Tap Room poutine with a 20-ounce glass of Hoppy Ending Pale Ale or the beer-braised beef with a cold glass of the oyster stout.
Taplands
1171 Homestead Rd, Santa Clara
408.709.2990 | taplands.com
A brewery with 20-plus years of homebrewing experience is definitely worth exploring. Taplands offers its customers choices of 25 beers on tap that rotate on a regular basis and 50 bottled brews to enjoy with family or friends. You can also choose any of their small food items to enjoy on the side while you're crackin' a cold one.
Uproar Brewing Co.
439 S First St, San Jose
408.673.2266 | uproarbrewing.com
One of the newest additions to the South Bay craft brew scene, Uproar opened its doors earlier this year in the heart of the SoFA District. In addition to some of its own creations, Uproar offers a rotating menu of beers from Fieldwork, Altamont Beer Works and Sonoma Springs, among other Northern California breweries.
The Halford
1494 Halford Ave, Santa Clara
408.243.1290 | thehalford.com
Too cash-strapped to travel the globe? Then douse your wanderlust with some of the 71 world-class beers at The Halford. The Santa Clara beer destination features suds made locally, out of state and as far away as Vietnam. Accompanying their beers are six wines on tap.
The Running Shop & Hops
17500 Depot St, Morgan Hill
669.888.3900 | therunningshopandhops.com
In this bar, you can run in and grab a beer, literally. Patrons can come in to shop their in running gear before participating in their Wednesday evening runs and coming back to order guilt-free from 86 beers on tap. "Flight Races" range from three 3-ounce glasses offered in the 5k to 26 3-ounce glasses to share with friends or yourself.