Bars & Clubs 2018
Get Fresh
LvL Up | Movie Mixology | Preparing for the Best | Craft Cocktails | Beer | Wine | Music & Dance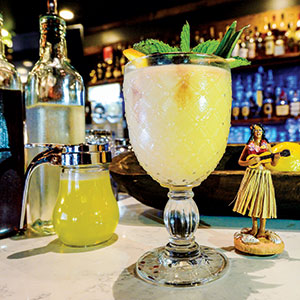 Over the past several years, the Silicon Valley has been blessed with a burgeoning craft cocktail scene. While plenty of neighborhood bars and dance clubs serve up bulletproof standards, like rum and coke or gin and tonic, the discerning sipper now has many more options.
The "craft" in these upscale drinks comes not only from higher quality hooch and bartenders who pay closer attention to their jiggers. It also is due in large part to a behind-the-scenes prep effort, which involves fresh-squeezed juices and hand-carved ice.
Drew Johnson, bar manager at The Pruneyard Dine-In Cinemas and the adjoining Cedar Room craft cocktail lounge, wants moviegoers ordering off the in-theater menus to feel like they are getting a better version of what they might like to make themselves at home. For example, a Moscow mule made with freshly pressed ginger, which his dedicated prep team creates in-house every day.
But when patrons come in just for a drink at the Cedar Room, he wants to give them something they wouldn't even dream of whipping up in their own kitchen. That means having all kinds of interesting flavors on hand—from top-shelf whiskeys and gins, to super-fresh mixers and garnishes.
The prep team at the Cedar Room works from about 8am to 4pm every day to fresh-press enough juice for the evening. They also spend a fair amount of time cutting ice—which is the secret to ensuring every cube is precisely cubical, free of impurities and crystal clear.
To do this, they start out with massive blocks of ice, which have been frozen slowly so that the impurities in the water have time to bubble up to the surface or sink to the bottom. Then, using a combination of ice picks, cleavers and razor sharp knives, they shape the ice one chip at a time.
Johnson didn't invent any of these processes. In fact, he says, any craft cocktail bar that takes itself seriously will go the extra mile to ensure all its ingredients are fresh.
"We're far past those days where you could just go to the store and get sweet and sour mix and that could be your citrus at the bar," Johnson says.
"It's a lot of work," agrees Curtis Manzano, bartender at 55 South, a craft cocktail lounge in downtown San Jose.
He estimates the 55 South prep team takes about two hours every day to squeeze their fresh juices. Another hour goes into garnishes and fresh herbs, like orange peels, lemon peels, cucumber wedges and mint.
Speaking of mint, Manzano explains that every batch of fresh mint is given an ice bath before the stems are placed into a cup of warm water. This combo of cold and hot helps keep the mint super fresh.
Manzano's bar has also invested in a state of the art water softener, which ensures that the ice that melts into the drinks—as well as the plain water served to customers—is as pure and devoid of adulterants as possible. "It elevates the experience to another level," he says.