Features & Columns
A True Maverick: Jane Lynch
Jane Lynch had already made a career out of a hilarious, dry-as-toast
delivery before she was picked up by 'Glee' and Judd Apatow.
Intro | Jane Lynch | The Valley | The Warriors | India In A Day | Festival Picks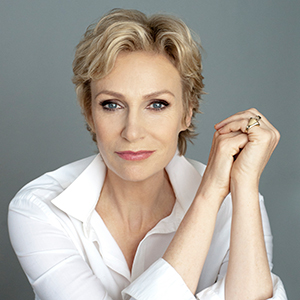 As a lesbian icon and as a sturdy supporting player in the Christopher Guest mob, Jane Lynch was a favorite, even before she found fame on six seasons of TV's Glee, as the meanie cheerleading coach at William McKinley High.
Gal pals, stern nurses, and martinets, Lynch excels at them all. The lanky Illinois-raised actress was made for sensible-shoes parts. Physically somewhere between Cloris Leachman and Eve Arden, Lynch excels as angular WASPs—with a stinger—in several of Guest's comedies. She is essential to the most thrilling comic ensemble since Preston Sturges died.
In 2003's A Mighty Wind, Lynch shone as the white-witchcraft member The New Main Street Singers. This was Guest's cruelly accurate recall of The Great Folk Music Scare of the early 1960s. It spared not a single kernel of the corn-on-the-cob musical celebrations of the working class by people who were, plainly, not of it.
Among this cast of musicians getting a last curtain call was Lynch's ex-smut star Laurie Bohner, a Midwestern runaway from a town peopled with "pure, unadulterated white trash." She'd been born again as a member of a sub-Wiccan cult worshipping "the awesome and vibratory power of color...We don't ride around on broomsticks or wear pointy hats." Inevitably, in the next shot, Laurie is wearing Hogwarts headgear. "Well, we don't ride broomsticks."
In Guests' 2000 Best of Show, Lynch was the poodle trainer with a fancy for the head poodle in charge: Sherri Ann Cabot (Jennifer Coolidge, who was the avatar of the expression "MILF" in her performance in American Pie). Coolidge's character was based on the voluptuous starlet Anna Nicole Smith, whose May/Jurassic Era marriage to a nonagenarian zillionaire was cause for much chortling at the time. Named (again, with the suggestions of former porn star-ism) "Christy Cummings," Lynch puts the make on her female employer.
Lynch is still collaborating with her old gang. Last year she and Harry Shearer recorded "Too Many Notes" as a holiday single. The tune is about the excessive la-la-la ("It's like a vocal exercisssseeeahiiiisssee") of melisma-chewing R&B stars—something that makes you want to spend Christmas in Saudi Arabia.
Coming to Cinequest to receive the Maverick Spirit Award, Lynch is escorting her new comedy Writer's Block, directed by Flight of the Conchords' vet Troy Miller. In it Lynch is a songwriter hamstrung by the thought that she's outdated. Lynch has little fear of that; with her chops, she'll never go out of style.
Jane Lynch
Mar 11, 4:15pm, $15
California Theatre, San Jose