Features & Columns
Under Pressure
Success leads to suicide in locally produced film 'The Valley'
Intro | Jane Lynch | The Valley | The Warriors | India In A Day | Festival Picks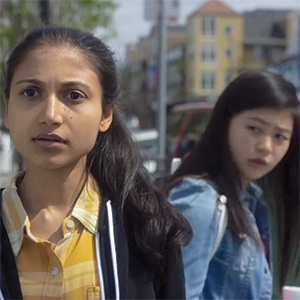 The typical first-time Silicon Valley director is a young person just out of the filmmaking program at De Anza, San Jose State University or Stanford. Saila Kariat, the woman behind The Valley is different. After a career in electrical engineering, and a second career in the home construction business, Kariat went back to school to learn to make movies.
She describes the plot of her feature film, debuting at this year's Cinequest. "It's about an Indian-American entrepreneur with two daughters and a stay-at-home wife. A successful guy. Externally, everything's all right for him. And then his daughter, a first-year college student, commits suicide. First, he absorbs it, and then he finds out what happened. He talks to her to her fellow students, he learns a lot about himself and his values.
"Thematically it's about the pressure that kids are undergoing, especially if they're the children of immigrants, which often exacerbates the situation. In the valley, there's a lot of pressure for success, for titles and fancy cars, and this creates a lot of anxiety for the kids.
"I saw Madeline Levine at a reading from her book The Price of Privilege. She's had a therapy practice in Marin for 20 years. The first thing that she said was that it used to be easy to spot the children with severe depression—they'd look disheveled. They weren't taking care of their hygiene. Now she's getting severe depression patients who are very polished on the outside, very composed."
Kariat grew up in three different places, the U.S., Canada and India—she has a spot of Canadian accent left. She worked at the IBM Watson research center and a startup before going into the spec home building business. Her aim in changing jobs was to spend more time with her two daughters.
Kariat says that The Valley stems from "my experiences and my observations of people around me." She's had personal contact with the kind of despair that leads to breakdowns; her brother suffered from mental health issues. "It's a stigma in every culture, but it's particularly bad in Asian cultures. A lot of kids hide it and that makes it worse."
At SJSU, she learned scriptwriting and the fundamentals of filmmaking under Scott Sublett. She was already a serious film fan before she went back to school, mentioning Sidney Lumet, Mike Nichols and Satyajit Ray as favorites. I never encounter enough filmmakers who love Ray, the Bengali master responsible for such inarguably feminist films as Devi and The Big City. One of the things Kariat seeks in a film is a balance of talk and action. Casablanca exemplifies that balance, in her view: "They can just stare at each other, or they can talk, and it's fascinating either way."
The three-week long shoot in spring 2015 took place in various valley cities and on the peninsula coast. Locations included a quick three hour set up at Saratoga's The Plumed Horse. Kariat's secret as a novice director was working hard on the casting. "Not to beat my own drum, but this movie stands or falls because of the actors. If you can't find the right actors, it'll all look like a soap opera," she said.
She used a casting agent in India, who brought her a pair of Pakistani actors, Alyy Khan (A Mighty Heart) and Samina Peerzada, the actress playing the housekeeper. She then sought out a Los Angeles agency that casts Indian actors to play the children in the movie, all professionals with a lot of credits behind them.
After Cinequest, Kariat may be doing her own distribution. She's been accepted to the Los Angeles Women's International Film Festival in late March. "I hope it'll give the movie a good bump," she says, adding that she plans to sell to the Asian and Middle Eastern markets. Theatrical exposure in the age of downloads draws attention to a film, but 65 percent of the money comes from video on demand, and that percentage is even higher when you're dealing with an independent film.
She says her decision to get a film degree is something she would have done when she was young—"if it had been approved-of back then. The Valley is the culmination of a lifelong dream. And I hope it does some good."
Plays March 6, 9 and 11 in Redwood City at the Century 20.