Features & Columns
Kiwi Gardner of the Santa Cruz Warriors Blows Up YouTube
How a D-League player's dunking prowess grabbed 7 million YouTube views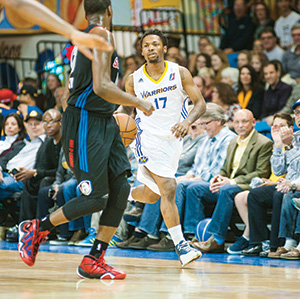 It's standing-room-only at the Kaiser Permanente Arena, and the atmosphere inside is decidedly high-voltage. The hometown Santa Cruz Warriors are taking it to the visiting Reno Bighorns in an NBA-Development League battle, up by 15 points in the final minutes of the third period.
The "D-League," as it's popularly referred to, has quickly become the best bang-for-your-buck ticket in professional Bay Area basketball. With admission prices starting as low as $16—there's really not a bad seat in the house—and with hot dogs and drinks in the single-digit range, many South Bay fans are starting to make the drive to Santa Cruz for their professional hoops fix. Several times this season as many as three players from the NBA Golden State Warriors have suited up in a game for Santa Cruz (league rules allow for short-term "assignments"), making the basketball brew in Surf City something akin to NBA Lite.
Tonight, the 2,556 manic fans packed inside the arena have their eyes on the Warriors' dazzling back-up point guard, Kiwi Gardner. The compact and kinetic Gardner, who was born in Oakland and played plenty of summer-ball and semi-pro games around Silicon Valley, has swiftly become a crowd favorite, his boundless energy both captivating and contagious as he slices and darts his way across the court.
With his mid-length dreadlocks seemingly bouncing to an uptempo improvisational jazz riff—think Miles Davis blowing "Seven Steps to Heaven" on the hardwoods—Kiwi doesn't just run and jump: he sails, he soars!
At only 5'7" and barely out of high school, Gardner is already something of an urban legend in the Bay Area. Highlight videos of his performances edited to hip-hop music have garnered more than seven million views on the popular YouTube channel, "Yay Area's Finest," developed by San Jose's Travis Farris, a product of Santa Teresa High School (where he played basketball) and San Jose State University (where he majored in marketing).
Indeed, Gardner's internet popularity, now of global proportions, is due largely to the corresponding growth of YouTube and Farris' mixtape basketball videos, which he began posting on the video-sharing website, even before it was purchased by Google, in 2006. Farris, then in his early 20s and working out of his San Jose apartment while employed by Bed Bath & Beyond, put in thousands of miles driving around the greater Bay Area, looking for high school basketball talent around which to build his innovative channel, from which he collects ad revenue as part of YouTube's Partner Program.
What he was looking for was charisma and speed, and when he found the 16-year-old Gardner making spectacular moves from the Santa Clara Valley to Stockton, he knew he had met his match. In one game, Gardner executed a spectacular dunk—left-handed—and Yay Area's clip of the slam went absolutely viral, garnering over two million hits.
"Everything Kiwi does is entertaining," says Farris, who has built up his YouTube audience to nearly 50 million views. "This is about entertainment. When he made his first dunk, his popularity just took off. It was unbelievable. He's an Internet phenom."
Kiwi Time
Only 20 years old, the effervescent Gardner also has his own Internet TV show, "The Truth," while National Public Radio is following him this season with regular reports on his progress. The kid already has an identifiable brand, if not necessarily a marketable product. In the Information Age and instant celebrity, hype sometimes precedes substance. Millions of YouTube hits, as anyone in the NBA will tell you, do not a professional basketball career make.
That said, wherever he plays, Kiwi captures the imagination of those around him, gradually inching his way from an Internet fantasy toward his off-line dream. And he continues to garner lots of attention.
"He's the modern-day Rocky [Balboa]," says Golden State's vice president of new franchise development, Jim Weyermann. "Kiwi's the classic underdog. He's a symbol, an icon. He represents the dreams of everyday people aspiring to something greater than themselves. They are affirmed by his very presence on the court."
With the Warriors holding a comfortable lead and their offense running on all cylinders, Gardner is a whirling dervish of affirmation. He is doing everything right—driving the game deep into the paint, pushing the Bighorns on their heels, bolting past defenders in a blur, then passing the ball to his talented teammates as they make assault after assault to the hoop.
The Bighorns try to slow down the pace to a more human rhythm. Kiwi pushes back, sinking a reverse layup while seemingly changing direction in mid-air.
As the fans go wild, Kiwi races down the court to his newfound mentor—Casey Hill, the Warriors' superb head coach—and in a scene straight out of Hollywood, encourages Hill to extend both his hands for an emphatic celebration slap. The 30-year-old Hill, who usually wears a serious demeanor on the floor, breaks into a broad smile. On the bench, Kiwi's teammates do the same.
The scene is magical, captivating. The entire house is cheering, smiling, people turning to each other in joy, sharing "high fives" with each other. A new era has momentarily settled on the Santa Cruz Warriors. It's Kiwi Time.