Features & Columns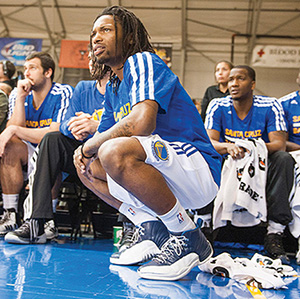 Will to Win
A few weeks after the game, I attend a morning workout session with the Warriors and remind both Kiwi and Hill of the special sequence and the hand slaps, and the broad smiles return to each of their faces. "That was ours," Kiwi emphasizes. "We did that." Note the emphasis on the plural.
Gardner has embraced Coach Hill's leadership with a profound enthusiasm. In many ways, the coach's guidance of his pupil has been a lifeline for Gardner, whose fledgling basketball career had nearly run out of rope. "That's my guy," Gardner says of Hill. "The support was there from Day One. From before he even knew me, he's given his all. He really gets inside my head. He's encouraged me to do better. He was born to coach."
I ask Hill, a decade older than Gardner, about Kiwi's unbridled enthusiasm, and he smiles. "I'm fine with it," Hill says. "He's a team player. He has a will to win. Good instincts. He's raw, but very coachable. He listens. He's a sponge. He's soaking it all in. I've seen a lot of improvement. That's the reason he's still on the team."
Gardner is not only the youngest player on the Warriors, he's also the youngest player in the entire league, and Hill realizes that he's in a special position with his youthful protege. "I can't pretend to know where he's come from," says Hill philosophically, acknowledging Gardner's less-than-idyllic background. "But I do understand where he's trying to go."
Keyondrei "Kiwi" Gardner has come a long way this year from the rough streets of East Oakland, where he earned his hoop stripes playing on schoolyards and in moldy gymnasiums along the 880 corridor. Gardner essentially got burned out of a four-year scholarship to Providence College in the Big East Conference—a bit more on that later—so that his tenure with the D-League Warriors is amounting to his collegiate career.
As anyone you talk to with the Warriors will tell you, Gardner seems to be making the most of it.
"Do you realize how long of odds he beat?" Weyermann says. "He walks off the street without any college experience, and he makes the team. It's unheard of."
After scratching his way onto the Warriors last November, Gardner has made tremendous headway. In December, he had a game for the ages, scoring an unheard of 23 points with a little more than nine minutes to play in the fourth quarter, while leading the Warriors to a come-from-behind victory against the Bakersfield Jam.
With the Warriors down by 17 points, Gardner simply took over the game. He drove, he hit from the outside, he dished off, he drove some more, then drained a three-pointer with a minute left to put the Warriors ahead for good.
His performance in Bakersfield was statistically off-the-charts. If you project his 23-point scoring performance over the course of an entire 48-minute game, he would have been on pace to score an unimaginable 120 points.
Weyermann was at the game. "It was one of those rare moments when someone accomplishes something well beyond the ordinary," he said, "where they excelled beyond their capabilities. The challenge is to establish a consistency in their performance."
And that is indeed Gardner's challenge. His game has also been erratic at times, particularly as he's been forced to sit on the bench for long stretches of the season. With several Golden State Warriors playing in Santa Cruz to get their own playing time (earlier this year, guards Kent Bazemore and MarShon Brooks and center Ognjen Kuzmic all played in Surf City), Kiwi has been pushed further down the bench.
"It's a challenge sometimes to stay upbeat," he says. "But I never forget how fortunate I am to be here. Not ever."
Prep Time
There's been a lot written about Gardner on the Internet, not all of it accurate. Born in 1993 in Oakland, Gardner was raised by his mother and his extended family in the working-class neighborhood east of Maxwell Park, just up the hill from the meaner streets of Fruitvale and International Boulevard. His maternal grandfather, Luvell Gardner, attends most of his games in Santa Cruz.
"From the time I was four years old," Kiwi says, "basketball has always been my game."
Oakland has a great basketball legacy—NBA Hall of Famer Bill Russell went to McClymonds High School—while in recent years, players like Jason Kidd, Gary Payton, J.R. Rider and Antonio Green have sprung from the playgrounds of the East Bay to make their mark in the NBA.
Then there are the legendary streetballers from Oakland who never made it to the pros, guys like Demetrius "Hook" Mitchell (known as Waliy Abdur Rahim since his conversion to Islam), the subject of an award-winning documentary film, Hooked, whose dunking game was legendary but whose NBA dreams were destroyed by drugs and violent crime.
Kiwi's family didn't want him to get caught up in the same dynamics that ruined the lives of many young men growing up in Oakland neighborhoods. They sent him down to San Leandro to attend middle school, then out to the San Joaquin Valley to attend Manteca High.
Gardner admits that he arrived in Manteca with a bit of an attitude, an edge, maybe even a chip on his shoulder, certainly with something to prove. "Pride," he says. "I probably had too much pride."
He was all of 5'4" and weighed 125 pounds soaking wet. But he fought his way onto the varsity as a freshman (he briefly quit over the assignment of a locker) and developed into one of Northern California's premier prep players. He was named all-league as a sophomore and was MVP of the Valley Oak League his junior season, leading his team into the sectional playoffs both years.
But not everyone in the Valley Oak League was a fan of Kiwi's. Some coaches thought he was too cocky and too much of a hot head. He was suspended for five league games for making "unintentional" contact with a referee following the receipt of a technical foul. "He's the most talented player I ever coached," says his high school skipper David Asuncion. "By far. But he was also the most challenging." Asuncion chuckled at the memory: "Let's just say that there were aspects of his attitude that were tough to contain."
By his senior year, Gardner was ready for yet another move. As a way of getting him better exposed to national collegiate scouts (and getting him away from some of the controversies that were haunting him in Manteca), he switched to Westwind Preparatory Academy, a public charter school in Arizona, playing on Westwind's national touring team, on which he averaged 23.7 points a game. "I could always score," says Kiwi with confidence. "No matter where I go, that's never been an issue."
He was widely courted by top-notch colleges—even if his size was often viewed as a detriment by college scouts—and he set his sights on the Big East, one of the most prestigious Division I basketball leagues in the country. He scored a full ride to Providence College, a Catholic basketball powerhouse in the heart of Rhode Island, and he headed east in the summer of 2011, with big, big dreams.
Gardner worked out with the Friars, but he never saw a second of time on the court. Instead, Gardner became a disposable cog in the machinations of big-time college basketball. The NCAA ruled that he was academically ineligible (they didn't accept credits from a course at Westwind). Providence appealed, unsuccessfully, and, when the smoke had lifted, it became clear to Gardner that the Friars were going in a different direction in terms of their point guards for the following season.
Gardner returned to California, and, although only 19 and not having played any organized ball since high school, he was named the Most Valuable Player in the prestigious San Francisco Pro-Am summer league in 2012, averaging a phenomenal 33 points per game against some of the most talented college and professional players in the country.
The MVP award meant nothing to his collegiate career; Gardner was a vagabond once more. That fall, he wound up at a no-name junior college in Midland, Texas—that's right, the conservative wasteland of George W. Bush—where he never clicked with his coach, Chris Craig, and where, he admits, he never quite found his game.
Less than two months into the season, he was dismissed by Craig for a "violation of team rules," but then Craig went on a spree of his own, posting "end-of-the-world" prophecies on his Twitter account and blogging about a New World Order and the possible assassination of President Barack Obama, whom he referenced as "the Antichrist." Craig was later arrested in Colorado on a series of charges. According to news reports at the time, he had begun referring to himself as an "Islamist jihadist."