Features & Columns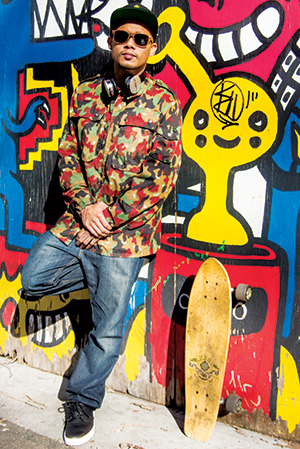 Sun Goes Down
"You know you're in the hood when you see stray dogs everywhere," Rey says, eyeing a Chihuahua walking down the sidewalk as he drives through his old neighborhood—a place he hasn't returned to in years.
From what he remembers, Great Oaks looks a lot cleaner than it once did. Stopping to take in the new skate park, the concrete just about covered in graffiti, he tells how in his day, the slide, swings and even trees were plastered with gang insignias. It was in this park and nearby schools where he first started tagging.
When asked about the contrast of his rough upbringing in what, at the time, was labeled the safest big city in America, he says that a lot is being made about San Jose being less safe, but not much has changed in his mind.
"Of course in the news and media, they want to talk about how good things are getting and all that, but then you see murders every week," he says. "People wonder why and people are saying 'Oh, San Jose is getting so bad.' To me, from how and where I grew up, it's been that way."
Rey witnessed San Jose's dark side while recording Heart of the City inside an eighth floor corner office along North First Street. In between sessions, he says, he's come out to find a man being resuscitated and rushed into an ambulance. He's seen police drive without pause past a man lying face down on a curb near Second Street. He hears fights break out every night, so much so that he doesn't even bother to check them out any more. It's an issue he addresses on "Sun Goes Down," an allusion to how the streets grow markedly darker after sunset. An album standout, the Audible Doctor-produced song has a style reminiscent of I Am-era Nas, full of cinematic orchestration.
As he plays the track through his studio speakers one night, Resurreccion says that he didn't make the song to disparage San Jose. He simply wanted to weave a narrative that authentically represents all of his experiences growing up and living in his hometown—a city where the poverty and despair found in St. James Park is sharply juxtaposed with the upscale San Pedro Square restaurants and bars just two blocks southwest.
Driving past Caroline Davis Intermediate School, his former junior high, he remembers seeing kids snort cocaine in the bathrooms. They may have been his age, but to him they might as well have been fully grown. A block away, he recalls how a friend's house was busted in a drug raid in eighth grade.
Similar to the much-publicized homeless encampment The Jungle, which before police cleared it in December was said to be the biggest in the nation, non-success stories in Silicon Valley seem like fabrications to those who weren't raised here.
Rhymes, Beats, Brotherhood
When Rey reached Oak Grove High School in 1998, kids from all sides of town converged around hip-hop.
"I had a lot of friends that were in the gangster rap scene, and a lot of friends that were in the hip-hop scene, so we all got together and would rap," he says. The connection also provided a creative bridge for him to stay in contact with older friends, even as they dove deeper into gang life.
His sophomore year of high school, Rey's dad bought him a Boss DR-5, his first drum machine. While making beats today can be as simple as torrenting the computer-based production program Fruity Loops, back in the late '90s, creating rap music required an investment in equipment. With his first building block in place, Rey took off.
"I was obsessed with rapping and making beats," he recalls. Soon, he was spending practically all his free time with an older group of friends that formed the rap clique Solar Powered. Rey even began cutting school to spend time in the collective's makeshift studio.
"When you're growing up and you hear about 'The Studio,' you think of what you see in the videos. For us, it was a closet and a little four-track, a little ghetto machine in the corner of my homie's bedroom," he says. "But it was the studio! That really kept me out of trouble, too, because I didn't want to be out. I wanted to make music."
Taking cues from the local gangster rap scene and boom-bap hip-hop icons like Outkast and Wu-Tang Clan, Rey Res' sound soon became a fusion of the two. It remains a hallmark of his style and a testament to how San Jose's diversity can create fascinating results.
"The cool thing about being from San Jose is you've got a cholo that can do a kick flip," he says, watching kids skate around Great Oaks Park. "That was a fine balance for me, to figure out how to still do what I love, which is the backpacker, underground stuff, but to make it knock." Resurreccion walks that line deftly on Heart of the City.