Features & Columns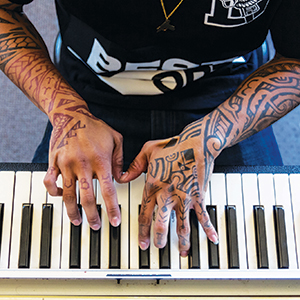 Group Effort
Heart of the City is the best album Rey has ever made—a culmination of all he's learned and all the connections he's accumulated over the past decade and a half. It's more refined, calculated and thoughtful than his past work. In addition to his deliberate flow, it's evident there's also been plenty of thought put into just how the low end resonates on these songs.
Myriad, subtle electronic textures permeate the album—stemming from personal influences like Bjork (he cites her former producer, the late Mark Bell, as a key influence to his musical approach) as well as contributions from frequent collaborators like the Bangerz (members Cutso, Goldenchyld and Squareweezy, through individual contributions, produce seven of the album's 15 tracks).
Other credits include Chexmex, Dublin, Audible Doctor and Noah Luna, a former De Anza classmate who's now a working arranger and composer. Luna wrote, arranged and directed a saxophone quartet on album closer "Quarter Life," initially released as a quick-strike, one verse video, which Rey later chose to complete. What's surprising is that Resurreccion was set to scrap the song and video altogether, before choosing instead to drop it on a whim. It proves to be one of the most potent snapshots on the album.
Heart of the City is the first project he's been able to release after taking note of what worked and what didn't with his fans. He realized that his approach to this album—being himself—seemed to go perfectly with what fans wanted.
"Ultimately, I think people were just digging when I was being me," he notes. It's a mentality he's admired about recent hip-hop success stories like Kendrick Lamar and Macklemore, both of whom spent years as nobodies on the underground circuit before blowing up in the mainstream. "What I really wanted to do with this album is ignore the hype and what's hot and fully be creative."
Heart of the City may bear Rey's name as a lead artist, but it should also be taken as an example where both he and his collaborators collectively raised the bar.
It's evident in the details, the nuance—how the beat doesn't drop until the chorus on "Mainey," or how Rey chooses to rap over just the sample on "Hands Up" to further build tension. These choices reveal a set of artists who make more than just dope beats. They recognize the complexity and promise inherent in a song and utilize tension and release for maximum effect.
Lyrically, "Roaches" captures his mentality mid-album. On the chorus, he raps: "Empty bottles, blunt roaches, cups of coffee, pizza boxes / Hella laundry, went and bought some new socks and boxers / Hella missed calls, probably, but I ain't even bothered / Because you know where I be—baby, I've been working / And I'll get back with you promptly, because life happens."
Those words proved telling in October, when he received word of his sister's mysterious passing. At first, he let the phone calls from family go to voicemail because he was at work. When they didn't stop, he knew something serious had happened. Resurreccion says his sister's passing was completely unexpected and that his family is still waiting to hear back from the coroner as to the cause of her death.
Rey and his team had already been stressing out about having a thorough plan to accommodate a November release. The news was the catalyst for Rey to push the album to 2015.
"I was still coming [to the studio] because it helped me to not go crazy, but I definitely needed to take some time just to disappear for a little bit and be with the family and all that," he says. "I feel like that time I took gave me a lot of strength to get into this next wind of everything I'm working on right now."
He now has management/label support from Ineffable Music Group (Hieroglyphics, Souls of Mischief), with PR handled by Audible Treats (Lyrics Born, Zion I). The expanded team has created the expectation that this will be Rey's largest release yet. They've also been a welcome relief for someone who's grown comfortable handling recording, mastering, videos and promo largely on his own.
Grand Designs
Rey's relentless hustle has inspired Bangerz member Cutso ever since the two met. Years before contributing "Prelude" to Heart of the City, they first linked up while working on Sleeping Giants. Little did they know how a fun diversion would have such a lasting impact.
Cutso's beat on that project, the heralded album closer "The Hometown," is now Resurreccion's signature song, a triumphant ode to San Jose that features Rey reminiscing about his early years over, of all things, a banda sample.
Cutso crafted the beat on a lark—in just 10 minutes, according to the producer—after a friend loaded a bunch of banda and romantica music on his iPod and he happened to find a worthwhile horn sample. A few months later, Cutso played the track in the studio and Rey jumped to attention. As the emcee explains, he and Cutso heard loud banda in their neighborhoods all the time growing up. What better way to pay homage to their upbringings?
The song entered San Jose lore in the summer of 2011, when the Bangerz opened for the reggae group Natural Vibrations at Music in the Park. To close their set, they invited Rey to perform "The Hometown."
Rey's father printed up shirts and handed them out to friends and family to mark the occasion. It was a moment of vindication for Resurreccion, who used to take light rail every Thursday to hang out in Plaza de Cesar Chavez. "It's definitely one of the highlights of my career, to be from San Jose performing on that stage," he says.
It was a triumphant moment for Rey and the Bangerz, both of whom toiled for years to gain notoriety while rarely being celebrated as heroes in their hometown.
Since the closure of Voodoo Lounge on South Second Street, regional and national hip-hop acts have been without a consistent local stage, according to Resurreccion. Without such a space, local hip-hop fans are left with little chance to see nationally recognized acts in San Jose. In turn, artists like Rey lose an opportunity to hop on a big show, earn new local fans or connect with other artists.
Resurreccion now makes the trek over Highway 17 to support artists performing at Santa Cruz mainstay the Catalyst. That's his closest touch point to the broader world of hip-hop. He says that he's hit a ceiling locally, but he views it as a challenge. One key question he's asked himself lately is how he can travel and spread the word about San Jose.
"I want to get my career to a point where I'm a figure in the hip-hop culture that is influential [enough to] eventually come back and join other people in trying to open a venue," he says. "It's so hard for these up-and-comers right now to figure out a way besides the Internet to get out. That's huge, but at the same time it doesn't cover the ground like you need to."
Speaking with Resurreccion about his future plans, it is clear that Chessmaster Rey and Rey Res are one and the same. His vision transcends 2015 and Heart of the City, exposing instead a burning desire for the whole of his community to discover itself through art, something for which he's a living, breathing example.
The Next Move
Somewhere near the interchange between highways 880 and 101, someone drew a hand holding a spray can. It was that piece, in particular, that inspired Resurreccion's love for graffiti. Growing up, he only got to see it once a week, so he did his best to take mental notes. He'd call upon them later when attempting to draw the image at home.
That same approach may explain how Rey is churning out sketches of pawns effortlessly with his red colored pencil toward the end of his chess class. It's just another piece of paper to him, but to his students, it may be a gateway to discovering street art.
When he hands the sketch over to a student who asks if she may have it, word spreads fast. Soon, he's drawing identical pawns for a handful of others.
"I'm not even an amazing artist, but to a kid, me drawing those things is really great," he later says. "I just want to inspire them to be creative." Whether it's through a chessboard or a free-hand drawing, he does his best to make the one hour a week with his students count.
The juxtaposition of sharp-tongued, streetwise rapper and a brainy chess teacher isn't lost on Rey. He doesn't tell his students he raps, and he's the first to say his content isn't meant for such young ears. A few parents have recognized him, and an office aide once asked if he was a rapper in front of his students. Thanks to some quick thinking, he countered by telling them he wrapped gifts at the mall.
"It's a weird situation for me to be in, but I try to keep it separate as much as I can," he admits.
As we depart, Resurreccion slings his camo duffle over his shoulder. Many wouldn't expect the bag to be full of chess boards, yet defying expectations has become Rey's trademark.
He made it out of Great Oaks. He made on-stage with Hieroglyphics. With a full-length album that's his strongest to date, ready to hit shelves at the end of this month, he's set to finally reveal his next move: spread word of his hometown further than he ever thought possible.