Features & Columns
Michael Mina's Tailgate Ups Pregame Ante in Fourth Season at Levi's Stadium
Maurice Carrubba | Allset | Michael Mina's Tailgate | Nobu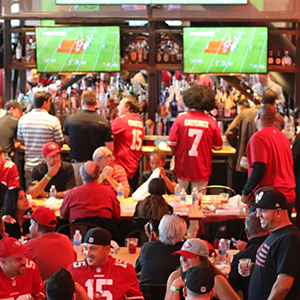 Tailgating is a ritual born from, and defined by, the parking lot. For as long as there has been football, fans have not only dedicated their pregame routines to grilling steaks and hot dogs and cracking open beers, but also to the tradition of decking themselves out in head-to-toe sports gear and gathering in collective camaraderie in anticipation of the game.
But for Michelin star and James Beard Award-winning chef Michael Mina, the parking lot is only a starting point for inspiration.
Mina's tailgates have moved out of the parking lot and into Santa Clara's Levi's Stadium, where 1,000 pounds of barbecued ox, nine-foot fondue fountains and all-you-can-drink beer, bloody marys and cocktails are the new norm. Based inside the stadium location of Mina's famous Bourbon Steak & Pub Restaurant, fans are invited to an exclusive, private space to experience a high-brow tailgate in a modern-casual restaurant setting, which is transformed into a red-and-gold-themed wonderland before every game.
This might sound over-the-top, but as the celebrity chef spearheads the fourth season of Michael Mina's Tailgate at Levi's Stadium, what started as culinary foray has morphed into an extraordinary gameday extravaganza. Mina and an all-star lineup of rotating chefs from around the country will spend the next seven San Francisco 49ers home games creating one-of-a-kind menus for season ticket holders, curated to match the hometown flavors of the opposing team. For a cool $5,000—or is that too cool for school?—patrons can eat, drink and be merry to their hearts' content at this members only, season-long club, tailored to the palate (and price point) of the 49ers biggest fans.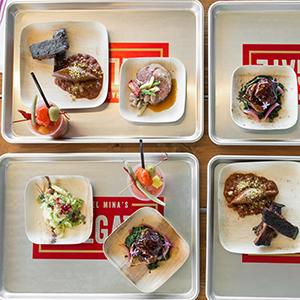 Mina started the tailgate at Levi's after throwing many of his own extravagant parking lot parties over the years, which grew from small celebrations at Candlestick Park to gatherings of 250 people or more. Since 1989, the self-described "diehard 49ers fan" and 25-year season ticket holder spent his Sundays—otherwise known as "the one day chefs have off to get together and have fun" at Candlestick. When the 49ers moved south to Levi's—which is also home to Mina's Bourbon Steak & Pub restaurant—expanding on his original concept seemed like the perfect fit.
"When the Niners approached me about starting a new restaurant, I proposed moving my tailgate party inside to do something that had never been done before," Mina says in a phone interview. "I wanted to make it an experience unlike anything else, and they loved the idea. They built a one-of-a-kind stadium, and I felt this would only add to it."
The Tailgate's main features include: a two-story, 23-foot long rotisserie, which is the largest in the United States; two wood-fire pits; and three extra-large boiling pots that collectively hold up to 600 gallons for seafood boils and stews. This year, in collaboration with Ayesha Curry's pop-up concept kitchen, International Smoke, Mina added a full outdoor smoker trailer to the lineup.
"We've kept the same three features, but the event is growing up very nicely," he says. "Each year we figure out what works best, and we keep building from there."
Mina has also built out an ever-growing roster of celebrity and award-winning guest chefs: The 2017-18 season features chef Charlie Palmer of the revered Charlie Palmer Group in New York, James Beard Award-winner Charleen Badman of Scottsdale's FnB and Seattle-based chef Mark Canlis of Canlis Restaurant. Highlighting guest chefs is not just an opportunity for season ticket holders to experience dishes from different culinary perspectives, but it also creates a sense of camaraderie between the chefs themselves.
"Any chef that comes to cook is our guest for life," Mina says. "There's a spirit of wanting chefs here, whether they're cooking with us or just hanging out. Plus, it kind of ups the ante for the chefs that are cooking—you have to bring your A-game."
Despite all the extravagance, much of Mina's rotating tailgate menus—and even the concept itself—go back to the basics. Smoked and barbecued meats never go out of style, neither does the excitement surrounding the most American of sporting events.
"While there's a huge wow factor to it all, more importantly there's a spirit to it, and it's an experience that I can honestly say you won't find at any other food sporting setting," Mina says. "At first, I was worried about carrying that spirit from the parking lot to the stadium. But now, I'd say our tailgates have been better than ever."