Features & Columns
Silicon Valley Winter Arts Guide
Intro | Visual | Jazz, Opera & Ballet | Classical | Stage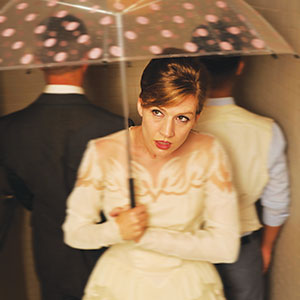 Stage
City Lights Theater Company
Build, Jan 22-Feb 22. City Lights Theater Company
The stresses of work can take a toll on the best of friends, and in Build, it takes a real piece of work to threaten the lifelong friendship between game designers Kip and Will. City Lights Theater Company presents the Northern California premiere of Michael Golamco's play exploring the uneasy intersection of business, engineering and art. Childhood buddies Will and Kip have made a mint off the popularity of the game they created, but Kip remains reclusive, grieving his wife's death. Even as he and Will are supposed to be building a sequel to their game, Kip has busied himself with another use for his code, secretly creating a female artificial intelligence (whose personality and appearance resemble his deceased wife).
South Bay Musical Theatre
Curtains, Jan 24-Feb 14. South Bay Musical Theatre
With shows like Cabaret and Chicago to their credit, songwriters John Kander and Fred Ebb are no strangers to telling the seamier side of a story. But their musical Curtains, one of their newer works, sets aside all the dark theatricality and gets silly with a send-up of traditional whodunits. South Bay Musical Theatre presents this musical comedy about backstage murder in the theater, in which various cast members maneuver to grab the spotlight after the leading lady dies (in an apparent homicide that no one laments). And investigating the crime is something of a singing detective: a police lieutenant who's a musical theater fan longing to walk the boards himself.
Palo Alto Players
Eurydice, Jan 17-Feb 1. Palo Alto Players" TARGET="_blank">Palo Alto Players
With Eurydice, playwright Sarah Ruhl retells a Greek myth from a rarely considered perspective in such ancient tales: a heroine's. Palo Alto Players stage this updated classical story, which shifts the action to modern times. A tragic accident on her wedding day brings Eurydice to the underworld. Whereas most versions of the story focus on the efforts of Eurydice's new husband, Orpheus, to reclaim her from Hades, Ruhl explores Eurydice's difficult choice in deciding whether to return to the land of the living or stay in the underworld, where she has been reunited with her beloved father.
The Pear
Betrayal, Jan 30-Feb 22. Pear Avenue Theatre, Mountain View.
The Pear starts off the year with an introspective, intimate drama. Betrayal deconstructs seven years of marital infidelity among three people within a tight-knit personal and professional circle. Emma carries on an affair with Jerry, a literary agent and the best friend of her husband, Robert, a publisher. In what nearly turns into a round robin of cheating—and possibly a neat allegory about the perils of the publishing world—Emma cheats on both Robert and Jerry with one of Jerry's client's and it seems as if Robert has been cheating all along. Playwright Harold Pinter, who had a seven-year affair with a TV host, seems to have lived up to the saying "write what you know."
Dragon Productions
The Libation Bearers (Jan 16-Feb 1). Dragon Theatre, Redwood City.
Dragon Productions gives over its theater for its Second Stage shows, which offer local artists a space to present their works. In this Second Stage show, Aeschylus' The Libation Bearers receives a contemporary look, drawing comparisons to street violence, in this telling of siblings Orestes and Electra's bloody quest to avenge the death of their father, Agamemnon. Trouble is, their mom, Clytemnestra, was the one who killed him. They may just seem like members of the worst dysfunctional family, but brother and sister should beware: those violent impulses have a way of spilling over into the world.
Los Altos Stage Company
Maple and Vine, Jan 29-Feb 22.
Sure, Mad Men literally makes the middle of the last century look good: all that streamlined, space-age furniture and sleek clothing, all those three-martini lunches. (It looks so good that mid-century modern style has gotten a bit of a chokehold on the 2010s.) But in Jordan Harrison's Maple and Vine, it's not just the looks, but nostalgia for a supposedly "better," simpler time that draws over-connected couple Katha and Ryu to take themselves back even a decade before Don Draper's era. Burned-out Katha and Ryu encounter a sunny community of 1950s re-enactors, who've immersed themselves in the mid-century life. But anyone looking to retreat into the rigid roles of yesteryear has to reject a few good things left behind in the present day. Los Altos Stage Company presents this time-traveling dark comedy.
Renegade Theatre Company
The North Plan, Jan 31-Feb 21. Historic Hoover Theater, San Jose
San Jose Stage Company
Venus in Fur. Feb 4-March 1. The Stage, San Josethestage.org
Northside Theatre Company
Fix Me Jesus, Feb 12-March 8. Olinder Theatre, San Jose.
West Valley Light Opera
The Boy-Friend, Feb 28-March 28. Saratoga Community Center Theatre.
Tabard Theatre
Tuesdays With Morrie, Jan 30-Feb 22. Theatre on San Pedro Square, San Jose.
TheatreWorks
2 Pianos 2 Hands, thru Feb 8
Mountain View Center for the Performing Arts. The Lake Effect, March 4-29. Lucie Stern Theatre, Palo Alto.
Lyric Theatre
The Sound of Music, March 21-29. Montgomery Theatre, San Jose.
Dragon Productions
Show People (Feb 27-March 22). Dragon Theatre, Redwood City.
Broadway San Jose
Cinderella, March 3-8. Rain: A Tribute to the Beatles, March 27-29. San Jose Center for the Performing Arts.
Children's Musical Theater
School House Rock Live!, Feb 26-March 1. Jekyll & Hyde, March 6-15. Montgomery Theatre, San Jose.
Lamplighters Music Theatre
Mountain View Center for the Performing Arts. Candide, Feb 7-22
Intro | Visual | Jazz, Opera & Ballet | Classical | Stage