Features & Columns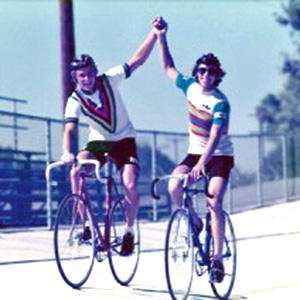 Off to the Races
At the dawn of the 20th century, according to historian Andrew Ritchie, bicycle racing was the top spectator sport in the U.S. People flocked to velodromes to thrill to the speed of the racers. And San Jose was no exception. On race nights in the 1890s, Shaw notes, most of San Jose's adult population crowded into velodromes to watch locals like Hardy Downing, Bunt Smith and Otto Ziegler become national record holders.
There were dozens of cycling clubs then, including the San Jose Cyclers, an African American racing club. In September of 1895, San Jose Cycler Idelia Allen broke the women's Mile Coast record at one of their first meets. "The San Jose Cyclers likely knew of Major Taylor," says Lynne Tolman, of the Major Taylor Association, "and could have been inspired by him to form their club." Taylor was the U.S.'s first black professional athlete and was the 1899 world champion and 1900 national champion. Although he never raced in California, Taylor won an Australian championship in 1904 against his archrival, former San Jose Daily Mercury paperboy Floyd McFarland.
The Garden City Wheelmen represented San Jose's vibrant racing community at Northern California meets in the early 1900s. Newspapers of the era reported on their drinking bouts as much as their racing activities. A notable member was Clyde Arbuckle, the 1921 state champion who went on to become San Jose's city historian and the co-founder of History San Jose.
Going into the 1930s, says Shaw, baseball and bicycle racing were San Jose's most popular spectator sports. San Jose made up for what it didn't possess in baseball talent with the number of racers it sent to national competitions and the Olympics. Joe E. Brown's 1934 film, 6 Day Bike Rider, was based on San Josean Henry "Cocky" O'Brien, a 1928 and 1932 Olympian.
The Garden City Velodrome was the only outdoor velodrome west of Chicago. Bicycle shop owner and Garden City Wheelmen manager Dewey Maxwell founded it. Patterned after Madison Square Garden's renowned track, the GCV held 3,500 spectators, was built in 1936 with W.P.A. funds and stood until 1942. It's now the site of Lincoln High School.
"Admission was 25 cents and spectators kept the large grandstands full," says former Garden City Wheelmen member Stephen Halton, 91. "The Gatto brothers, Louis Randoni, Gene and Bobby Echeverria, Joe Colla, Murphy Sabatino, Antone Chimenti, Tony Valerga and so many from San Francisco, Oakland and Los Angeles rode our beautiful track."
Halton says he started racing at age 12, across the street from Vince Gatto's bicycle shop on the dirt track that circled downtown San Jose's Backesto Park before its sidewalk was paved. In 1936 he found his way to the Garden City Velodrome and raced for the Garden City Wheelmen until he went off to World War II.
"The purpose of the velodrome was to give us kids something wholesome to do," says Halton, "many kids were stealing because no one was working. At 13 you were expected to help your family." Halton recalled that most GCV racers were bicycle delivery boys for newspapers, telegraph companies, restaurants, pharmacies and flower shops. Wages earned plus the prizes won at the track put food on their families' tables.
Right Conditions
From the 1950s through the '80s, the valley's long country roads, temperate climate and plentiful jobs continued to nurture local talent while attracting cyclists from all over to train and race here. San Jose Bicycle Club members rode to National Board Track and Road Racing Championships and the Olympics. In 1956 members of Woodside's Pedali Alpini racing club went to Italy. "They brought back multi-speed road bikes and long distance road bike racing," says current club member Steve Lubin, speaking about the club's earliest days. "They were pioneers. Before then the sport focused on fixed-gear racing, mostly on tracks."
Hellyer Velodrome was built by the city of San Jose in 1963, and the surrounding park was added later. Olympic trials and thousands of USA Cycling-sanctioned races have been held there, including a 1979 Madison Championship won by Greg LeMond and George Mount. The Madison is a points race in which two riders compete over 200 laps around the track.
"Hellyer was and is a breeding ground for up-and-coming track cyclists and it's the only velodrome in Northern California," says Elizabeth Hernandez-Jones. She helps run the beginner programs and serves on the board of the Northern California Velodrome Association, the organization that manages Hellyer Velodrome and connects Silicon Valley with USA Cycling, the sport's governing body. "It's a community resource for people to come and learn and share."