Features & Columns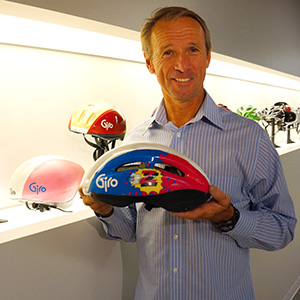 Gearing Up
Baby boomers kicked off a bicycle boom in the 1960s that rippled through to the 1980s. Silicon Valley engineers rode their bikes to work and formed clubs like the Western Wheelers and the Lockheed employees' Pedalera. GE workers' lunchtime rides on Monterey Highway birthed the Almaden Cycling Touring Club. The Los Gatos, San Jose, Skyline and Pedali Alpini bicycle clubs filled Hellyer Velodrome with spectators on race nights.
All this riding created a demand for new products and services. "The bikes weren't that bad," Terry Shaw, says of the road bicycles of the era, "they just required a lot of maintenance and a good mechanic to improve them."
Cyclists from all over the West Coast visited Spence Wolfe, who built custom parts and sold high-end Cinelli bicycles out of his garage, the Cupertino Bike Shop, on Randy Lane.
Meanwhile, young Silicon Valley entrepreneurs saw opportunities that big boys like Schwinn didn't.
Encouraged by Wolfe, mechanical engineer Phil Wood started out in 1971 modernizing bicycle hubs and bottom brackets. Phil Wood & Co.'s stronger and lower-maintenance products went global and are still manufactured out of the Cannery on San Jose's Taylor Street.
One of the world's largest bicycle companies, Specialized Bicycle Components, Inc., was founded by Mike Sinyard. It's headquartered in Morgan Hill. CEO Sinyard worked his way through San Jose State University's School of Business, fixing up and selling beater bikes he bought at the Berryessa Flea Market. "I had this one professor at San Jose State," Sinyard says. "He was a smart guy and he said, 'Every problem in the world is an opportunity to make something better.' And so I thought about it and when you think about every challenge on a bike, whether it's a saddle or the tire or whatever, it's an opportunity."
In 1974 Sinyard sold his VW bus in order to tour Europe on his bike. In Italy he fortuitously met Cino Cinelli, whose bicycles and components were among the world's best. Sinyard became Cinelli's California distributor.
Car-less, Sinyard returned to his Paradise Trailer Park home on South First Street, where he peddled European components and Blackburn pannier racks to Bay Area bike shops on his makeshift cargo bike.
Seeing demand for better-quality tires and rims led him to improve and manufacture them, which led him to frames and bikes. Sinyard was among the first to mass produce bicycles with the feel and features of custom bikes. In 1981 Specialized introduced the Stumpjumper, the first mass-produced mountain bike. Its lower cost attracted riders to the sport and it's been displayed at the Smithsonian's National Museum of American History.
"I think it's easier for people to start businesses now than it ever was," says Sinyard. "It's only limited by your ideas and your ability to want to do something where you don't know what the outcome is."
Bicycle touring and camping were popular in the 1970s. The 1976 Bikecentennial saw thousands of cyclists riding across the country. To cater to these bicyclists who now needed to carry luggage, Jim Blackburn started Blackburn Designs, Inc., making baggage racks to accommodate bicycle travelers. He later added handlebar bag holders and bottle cages to Blackburn's product line. "Our thing was to be the experts on carrying weight on bicycles," says Blackburn, a graduate of SJSU's School of Industrial Design. In 1992 Blackburn sold his business to Easton-Bell Sports, which still markets bicycle accessories today under its Blackburn brand.
Two of Jim Gentes' Giro helmets are part of the New York Museum of Modern Art's permanent collection. Before Gentes designed the first lightweight aerodynamic bicycle helmet and started Giro Sport Design, bicycle helmets were heavy and looked like Styrofoam ice buckets.
Gentes grew up in Cupertino. He says he always loved to ride. As a kid he patronized the Cupertino Bike Shop, taking material from its scrap heaps to tweak his bikes. In 1975 Gentes was the first U.S. Junior National Cyclocross Champion. He was instrumental in popularizing the sport in Northern California. After college he went to work for Jim Blackburn at the Campbell warehouse Blackburn shared with Sinyard before each of their businesses grew into headquarters of their own.
Terry Shaw knew Gentes from visits to Blackburn and Sinyard. "I was sharing a booth with Blackburn at the Long Beach trade show when Jim showed Greg [LeMond] a mock-up of his first helmet," Shaw recalls. "'Greg, you said if I made it, you'd wear it.' Greg looked at it and said, 'If I don't have sponsor problems I will.'" LeMond, who trained and raced in the Bay Area, wore the helmet in 1986 to his first Tour de France win and popularized Giro helmets.
Long-lived Technology
Research by Terry Shaw, Elizabeth Hernandez-Jones and this reporter has become an exhibition, "Silicon Valley Bikes: Innovation, Passion and Politics Since 1880," which will open July 27 at History San Jose's Clyde Arbuckle Gallery.
"The freedom that bicycles offered in the 1890s is the same freedom that bicycles give riders today," says History San Jose's Ken Middlebrook. "What's exciting is you can take a bicycle from 100 years ago and still ride it. You still have two wheels, handlebars, a seat and leg-powered pedals. This is why they've been part of our community for so long; they're not a fad, they'll endure forever because they're so basic to humans and what we like to do."