Features & Columns
Winemakers In Silicon Valley
Go High-Tech
Hoping to make Silicon Valley the next Napa, a new breed of startup types
is applying tech methods to the art of winegrowing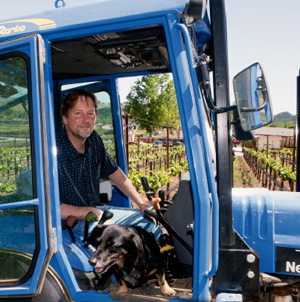 Tim Slater spent the better part of his career inventing micromachines, like retinal implants that give sight to the blind and thermal switches to control satellite temperatures.
The Silicon Valley engineer claims 27 patents, some of which garnered major media attention. But when the dotcom bust in 2003 left him unemployed, he actually welcomed the reprieve.
After a little soul-searching, Slater bought Sarah's Vineyard off Hecker Pass in Gilroy. Now, more than a decade into working retirement, Slater is earning critical acclaim for his wines. The San Francisco Chronicle awarded gold and silver medals to his pinot noir, Cote de Madone, zinfandel and chardonnay for several years running.
Slater is one of a growing number of "engineers on tractors" driving the Santa Clara Valley wine industry. Together with backyard viticulturist and current president of Wineries of Santa Clara Valley Sheldon Haynie, Slater stands at the forefront of a marketing push to get the region he calls home a bigger name in the mind of consumers and industry peers.
The winery association, a chamber of commerce for local vintners, wants to put the valley on the map, but not in competition with more established appellations like Napa. There's no reason to make comparisons, anyway, says Haynie, a full-time engineer by day.
Santa Clara wineries have enough of their own history. The new ones can boast a distinct Silicon Valley-flavored "backyard startup" story, and the land even has its own federal designation as a grape-growing region.
Especially varied microclimates give the region a way to distinguish itself from other wine-growing appellations. Decades ago, Napa settled into its identity as a purveyor of Bordeaux varietals like cabernet sauvignon and merlot, because that's the most profitable grape to grow given the county's soil and weather.
Santa Clara Valley vineyards don't have a collectively ideal varietal to market. Slater has seen his neighbors plant several different grapes in a single vineyard because the wind hits a slope in a certain way that's good for one vine and not another—or because the soil heat and moisture levels change radically from one acre to the next.
"That's tough from a marketing perspective, because people want to be known for 'a thing,'" says Slater, whose estate winery, cooled by ocean winds funneled east through the Santa Cruz Mountains, lends itself well to pinot noir and chardonnay grapes. "Our area is still trying to figure out what that 'thing' is."
With enough research and maybe a little maturity as an appellation, the region will settle on a varietal of its own. In the meantime, Slater believes, the region should embrace its image as a jack-of-all-grapes.
"We do have something special to market," Haynie says. "We have lot of really forward-thinking, independent winemakers—a lot of them who are still-working engineers with an eye for innovation. And we make fine wine."