February 21-27, 2007
home | the papers | metro silicon valley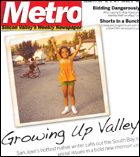 Excerpt: 'The Golden Road: Notes on My Gentrification' by Caille Millner
San Jose's hottest native writer calls out the South Bay's social issues in a bold new memoir.

eBay scams
Identity theft and fraud are out of control on eBay. The company knows it, police know it—but who's going to stop it?
The Fly: 02.21.07
We knew things were getting messy in San Jose's District 6 race, but the hit piece that recently ran in the Merc was just ridiculous.

Silicon Alleys: San Jose haters
One blogger calls SJ 'a disorientating nightmare.'
Technology news: That crazy astronaut
Annalee Newitz is glad that female astronauts are just as dangerous as male space jockeys.
Sports news: Amgen Tour of California
Stage 2 of the Tour of California will be passing through San Jose on Wednesday, Feb. 21.
Style
A whole new style for men is under construction.

Cinequest 2007 shorts
The future of shorts is now.
Movie review: 'The Number 23'
You wanted Aronofsky, you'd settle for Fincher, you get Joel Schumacher.
Movie review: 'Amazing Grace'
Michael Apted's newest traces the history of the hymn with the history of Britain's end to slavery.
Movie review: 'The Astronaut Farmer'
Polish twins add human touches to otherwise typical American dream.
Cult Leader: Suicidal tendencies in David Fincher movies
What is Fincher's deal?
This week's revivals
Silents are golden: Silent cartoons at Fremont's Edison Theater.

MORE MOVIE REVIEWS

MOVIE TIMES

Santa Cruz Dayz
Bunny Wailer and Steel Pulse headline the reggae festival.
Musicbox
Our critics pick this week's highlights: Rob Kapilow, Palo Alto Philharmonic, the Shitkickers and Vivid.

MORE MUSIC AND NIGHTLIFE

MUSIC AND CLUBS LISTINGS

MUSIC AND NIGHTLIFE CALENDAR PICKS

Restaurant review: Crazy Frank's Desi Pizza
Frank Huguenard invents games and makes Indian pizza. Does that make him crazy? Probably.
Live Feed
Eat your way to better sex.
5 Things to Love: Farmers markets
Get the best of what the season has to offer.

BOOK A RESTAURANT RESERVATION

FIND A RESTAURANT REVIEW

Visual arts: Manuel Valencia
History San Jose rediscovers an early California artist with deep roots.
Visual arts: Richard Avedon
His 'In the West' portraits examine the hard life at Cantor Arts Center.
Stage: 'Pippin'
The king's son hopes to find himself in an all-singing, all-dancing eighth century.
Stage: 'Prelude to a Kiss'
A young couple get more than they bargained for when an old man kisses the bride at Northside Theatre.
Dance: 'A Valentine Potpourri'
Ballet San Jose revives Dennis Nahat's strenuous 'Ontogeny.'
Book review: 'The Artist's Body
Book authored by Amelia Jones.
Book review: 'Anna Halprin: Experience as Dance'
Book authored by Janice Ross.

Letters to the Editor
February 21-27, 2007.