February 28-March 6, 2007
home | the papers | metro silicon valley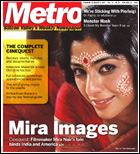 Cinequest 2007 (click here for a longer version of this issue's festival coverage)
Mira Nair | Christine Vachon | Silent film music | Capsule reviews | Week 1 guide | Schedule

Richard C. Blum
Turns out Senator Dianne Feinstein isn't the only one in her family with an ethics problem.
The Fly: 02.28.07
Red-baiting apparently made a comeback when two Vietnamese opponents in San Jose's District 4 race started throwing around the 'C' word: 'communist.'
Endorsement: Pierluigi Oliverio
Our choice for the District 6 election on Tuesday.

Silicon Alleys: Mardi Gras in downtown San Jose
Why the hell do a thousand folks feel the need to come downtown and look for trouble?
Technology news: Second Life
Are role-playing avatars in SL gender specific, or is it just the scientists who study them?
Sports news: Women's PAC-10 Basketball
The tournament comes to San Jose.

Movie review: 'Black Snake Moan'
The blues provides some sexual healing in Craig Brewer's latest film.
Movie review: 'Puccini for Beginners'
What would Woody say?
This week's revivals
Flaming carrot: The Howard Hawks version of 'The Thing' at the Stanford.

MORE MOVIE REVIEWS

MOVIE TIMES

My Monster
The band celebrates the release of its first full-length CD with an all-star party.
Musicbox
Our critics pick this week's highlights: Jade of Days, Tafelmusik Baroque Orchestra and Guy Clark, Joe Ely, John Hiatt & Lyle Lovett.

MORE MUSIC AND NIGHTLIFE

MUSIC AND CLUBS LISTINGS

MUSIC AND NIGHTLIFE CALENDAR PICKS

Restaurant review: Restaurant Zitune
Spicing up Los Altos with the flavors of Morocco.
Live Feed
In South American countries like Peru, Argentina and Chile, empanadas are the go-to snack.
5 Things to Love: Best food movies
Five succulent examples of hardcore food porn.

BOOK A RESTAURANT RESERVATION

FIND A RESTAURANT REVIEW

Books: 'Sacred Games'
Vikram Chandra tracks the connection between Mumbai crime bosses and Bollywood.
Stage: 'Arcadia'
Pear Avenue Theatre sorts out the verbal intricacies of the Tom Stoppard play.
Stage: 'Fences'
Tabia Theatre evokes strong audience response for the August Wilson play.
Stage: 'Domestic Alchemy'
Four artists at MACLA rework mundane materials.
Book review: 'Stalin's Folly'
Book authored by Constantine Pleshakov.
Book review: 'Twenty-Eight Artists and Two Saints'
Book authored by Joan Acocella.

Letters to the Editor
February 28-March 6, 2007.