June 21-27, 2006
home | the papers | metro silicon valley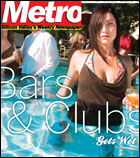 Cover: Silicon Valley Bars & Clubs 2006
This year, pool parties are the cool way to go bar-hopping. For all the aquatic details, see our wet and wild 2006 Bars & Clubs special section.
Cover: Bartender Myths
Our resident bartender Ryan Osterbeck skewers the Top 10 myths about drinkmasters.

News: Dan Gillmor
The blogging innovator knows that newspapers need to stop lecturing their readers and start conversing with them.
The Fly: 06.21.06
Is District Attorney George Kennedy playing musical chairs with his chief assistant spot again?

Silicon Alleys: Bret Michaels and Poison
San Jose: where '80s hair bands go to die.
Technology News: Personal Surveillance Etiquette
The whole practice of calling and hanging up without leaving a message has taken on a new meaning.
Car Culture: Sober but helmetless in Idaho
California may require motorcyclists to wear a helmet but a growing trend requires even more: that riders stay sober.
Sports News: Sand Soccer
Soccer can be played anywhere—even on the beach.

Interview: John Ottman of 'Superman Returns'
Richard von Busack talks with the San Jose native about cutting and scoring 'Superman Returns.'
Movie Review: 'Click'
In the year 2525, will Adam Sandler still be alive?
Movie Review: 'Lady Vengeance'
Korea's Chan-wook Park wraps up his revenge trilogy.
Movie Review: 'Wordplay'
A new doc tracks the life of crossword puzzle nuts across and down the country.
Cult Leader: Chan-wook Park
As 'Lady Vengeance' gets its U.S. release, a look at the previous revenge films of the Korean director.
Movie Review: This Week's Revivals
'Jaws,' 'Kismet' and 'Saturday Night Fever.'

MORE MOVIE REVIEWS

MOVIE TIMES

Music Essay: Rum Diary
Yoko Complex: How Sara Bir gained a husband and lost a favorite band.
Music News: Day One Symphony
A car accident puts the brakes on the San Jose band's career.
Music Preview: Kaweh
The flamenco guitarist presents an audio travelogue to his life.

MORE MUSIC AND NIGHTLIFE

MUSIC AND CLUBS LISTINGS

MUSIC AND NIGHTLIFE CALENDAR PICKS

Restaurant Review: Parcel 104
One of Silicon Valley's best-kept secrets.
Live Feed: Organic Food Industry
As the industry continues to grow, it's becoming clear that not all organic food is created equal.
5 Things to Love: Ethnic Supermarkets
That single 'ethnic foods' aisle in Safeway looks pretty weak compared to these five ethnic superstores.

BOOK A RESTAURANT RESERVATION

FIND A RESTAURANT REVIEW

Stage Preview: Margaret Wingrove
The company's newest dances are spun off from the passionate painting of Edvard Munch.
Stage Review: '2 Pianos, 4 Hands'
Two aspiring musicians find their voices at San Jose Repertory Theatre.

Letters to the Editor
June 21-27, 2006.