August 23-29, 2006
home | metro silicon valley index | movies | current reviews | film review
2006 Fall Arts Issue:
Intro | Stage | Classical | Performing Arts | Visual Arts | Venue Finder | Music | Movies | Festivals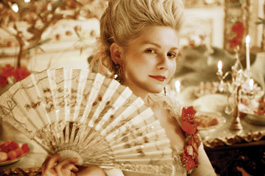 Her Biggest Fan: Kirsten Dunst lets 'em cake in Sofia Coppola's 'Marie Antoinette,' opening Oct. 20.
2006 Fall Arts Issue
The Reel Fall: The movies of autumn and beyond veer from Bond to abominable
By Richard von Busack
LOOKING OVER the film lineup for this fall, one can only say, "Fuck." And that's because that long-awaited title is finally almost before us on a big screen. Opening in November is Fuck, the movie that dare notshout its name. Steve Anderson's documentary zeroes in on the most useful word in the English language, with opinions on the mot's merit offered by everyone from Ron Jeremy to Pat Boone. What a pity so many theaters today are built without marquees.
But the fall schedule's assortment of movies involves that most deletable of expletives even without Anderson's li'l attention grabber of a title. Kirby Dick's documentary This Film Has Not Yet Been Rated (Sept. 1) explains the devious process by which more than one little F-word can get your film shoved into NC-17 limbo, thanks to the MPAA. With help from some private shamuses, Dick unveils the secret identities of our censors who doze through ultraviolence but flip when an actress mimes an orgasm.
If Fuck has buzz, Buzz (due in November) has buzz, too. A.I. "Buzz" Bezzerides, the Fresno-born author of trucker-lore films They Drive by Night and Thieves Highway, is still alive at 98. In Spiro Taraviras' documentary, he recalls his days in the more industrial parts of the film industry.
Speaking of film noir, Black Dahlia (Sept. 15) is Brian De Palma's adaptation of James Ellroy's novel, with Mia Kirshner as the title cadaver and Aaron Eckhart and Josh Hartnett as the two all-too-culpable cops on the case. In the same vein, Hollywoodland (Sept. 8), slightly softer but certainly engrossing, is also based on a real-life mystery: the suicide, if it was a suicide, of George Reeves, TV's Superman of the 1950s. Ben Affleck tries very hard to be Reeves, boy-toy of a married woman (Diane Lane). Bob Hoskins makes a growling and very menacing MGM exec, who is also the lady's husband.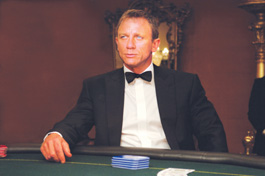 Sean Who?: Daniel Craig steps into some very big loafers as the new James Bond in 'Casino Royale,' opening Nov. 17.
007 in '06
It happened in 1953, that bad business at the Casino at Royale-les-Eaux. The trouble started with a high-stakes baccarat game played between a Royal Navy commander named Bond and a Communist operator known as "Le Chiffre" (the cipher). A picture only John Alton should photograph, really. In the new Casino Royale (Nov. 17), we learn that Bond's enemy is not the terrorist financier Le Chiffre (Mads Mikkelsen), whom Bond nut-cuts at Texas Hold 'Em. The real architect of this turn toward grittiness is a rogue agent named Jason Bourne, who has found favor with audiences by being a reluctant op without gadgets. After the sci-fi excess of Die Another Day, the new Bond is a "blunt instrument"—as M (Judi Dench) calls our hero in the preview. That means as much pain as pleasure.
Now, does anyone feel like defending the more cosmic Bonds, their grace and their toys and all the stuff that seems unacceptably ridiculous when it's not in a James Bond movie? And the wizened, streety Daniel Craig isn't everyone's idea of 007, despite having just the kind of cruel-looking mouth described by Ian Fleming. At any rate, director Martin Campbell has a suitably louche-looking Vesper Lynd in the form of Eva Green (The Dreamers).
The double-standard-ridden world of espionage turns up in The Good German (Dec. 8), Steve Soderbergh's black-and-white thriller of morally murky postwar Berlin, circa 1945. The Good Shepherd (Dec. 22), directed by Robert De Niro and starring De Niro and Matt Damon, promises to be a spooktackular about 20 years of CIA history. And espionage within the Boston PD roils the plot of Oct. 6's The Departed—Martin Scorsese's remake of the Hong Kong thriller Infernal Affairs.
By contrast, Clint Eastwood celebrates the cleaner moral lines of World War II in two separate movies about the combatants in the Pacific War: Flags of Our Fathers (Oct. 20) and Letters From Iwo Jima (the same story told from the Japanese side) coming out sometime in December.
The Beat Goes On
Until the big-screen version of the Broadway hit Dreamgirls (Dec. 21), the one fall musical is Idlewild (Aug. 25) a '30s wild idyll of a musical pastiche starring OutKast—Andre "3000" Benjamin and Antwan A. Patton—as song-and-dance men of the Southern speakeasies, performing some up-to-date material.
Speaking of overdoes of anachronism, Sofia Coppola's Marie Antoinette (Oct. 20) with Kirsten Dunst looks like the hardest sell of the season. Taking a story that's box-office poison to begin with, Coppola added modern tunes and some 21st-century costume accents, like sneakers. Marie Antoinette got a rough reception at Cannes. As we saw from Snakes on a Plane, a hiss means the same thing in any language.
Arty science fiction like Children of Men (Sept. 29) is both promising and forbidding; inspired director Alfonso Cuarón (Y Tu Mamá Tambíen) tries to bring a new slant to the old plot about the last pregnant woman alive and how society wants her dead. The Fountain (Nov. 24) is the one speculative-fiction movie to look forward to. This tri-part story takes place in the age of the Conquistadors, in our time and in the 26th century: three eras united by a search for the fountain of youth. Hugh Jackman stars in three roles, and Rachel Weisz plays the woman he loves. Darren Aronofsky, the visionary of Pi, directs.
In The Science of Sleep (Sept. 22), Michel Gondry (Eternal Sunshine of the Spotless Mind) studies the dormant life of a Parisian (Gael García Bernal) haunted by the sultry charms of his next-door neighbor (Charlotte Gainsbourg).
If The Science of Sleep turns out to have Oscar-worthiness, the behind-the-scenes campaign should be worthy of the new Christopher Guest film, For Your Consideration (Nov. 17). The makers of an anemic indie picture are ensorceled by Oscar, which contributes to friction, star fits and hurt feelings. The cast includes special Guest stars Harry Shearer, Fred Willard, Eugene Levy and Catherine O'Hara.
The Last King of Scotland (Sept. 27) isn't, thankfully, the sequel to Braveheart. Kevin Macdonald (of the superb Touching the Void) has made his first fictional film, about the court of the madman Ugandan dictator Idi Amin (Forest Whitaker), as seen through the view of his fictional Scottish personal physician Garrigan (James McAvoy).
On the subject of charming fascists, All the King's Men (Sept. 22) features the overactor's overactor, Sean Penn, as Willie Stark, Robert Penn Warren's version of Huey Long, infamous demagogic governor of Louisiana in the early years of the Depression. Wonder if Penn will try to point this thing at a certain Southern populist called W?
Fast Food Nation (Oct. 20) is already quite pointed. What else could it be, this fictional exposé of a burger chain called Mickey's? Greg Kinnear plays an exec at the home of the "Big One," but director Richard Linklater works his way down the fast-food chain to Mickey-jobbing teens and Central American illegals caught in the literal meat grinder.
The U.S. vs. John Lennon (Sept. 19) is David Leaf and John Scheinfeld's account of the government's campaign to monitor Lennon during his years as an antiwar activist; we can presume that's supposed to reflect today's turbulence. And Alejandro Iñárritu's international drama Babel (Oct. 27), starring Brad Pitt and Cate Blanchett, may prove that violence is one of the only ways we can all understand one another.
The Iraq debacle forms the background for My Country, My Country (Sept. 8), Laura Poitras' documentary profile of Sunni politician/physician Dr. Riyadh, who is fighting his own battle to save the nation as well as his patients. The documentary The Ground Truth (Sept. 15) by Patricia Foulkrod tracks American soldiers returned from Iraq who face their own pain and public misunderstanding. Somehow, since this year's Sundance Festival, the film lost its provocative suffix: The Ground Truth: After the Killing Stops.
But expect the dailies and the magazines to focus more on computer animation, every studio's dream of a quick payoff. This fall: Everyone's Hero (Sept. 15) tells the story of a little boy in search of Babe Ruth's stolen bat. Open Season (Sept. 29) concerns a grizzly bear (Martin Lawrence) who odd-couples it with a mule deer (Ashton Kutcher). Considering how much digital touching-up got done on Lawrence's face for What's the Worst That Could Happen?, Lawrence may count as a CG figure already.
Happy Feet (Nov. 17) is for people who'd rather have penguin than turkey for Thanksgiving; George Miller (who foaled the Babe series) directs this charmer about an emperor penguin chick who learns to tap dance. Nicole Kidman and Hugh Jackman do the voices, and Savion Glover is aboard, in one form or another, for the dancing. Of the four animated features, the most promising is the DreamWorks/Aardman collaboration Flushed Away (Nov. 3), a grody London variation on the story of the country mouse and the city rat. A posh pet (Hugh Jackman, again!) tries to flush away a rough-trade interloper named Sid and ends up down in the sewers himself.
"Thank God it's not Christmas," sang the band Sparks, but even in late August the annual trouble is brewing. Coming up: Deck the Halls (Nov. 22) with Danny DeVito as a suburbanite trying to make an Xmas light display visible from outer space. Matthew Broderick plays the neighbor who determines to beat him at his own light show. The Santa Clause 3: The Escape Clause (Nov. 3) pits Tim Allen against Jack Frost (Martin Short). Unaccompanied Minors (Dec. 8) transplants Home Alone to an airport, where five children are snowed in; Lewis Black plays the ornery adult trying to ride herd on them.
Also coming on Dec. 8 whether we want it or not: The Holiday, Nancy Meyers' rom-com about a pair (Cameron Diaz, Kate Winslet) who swap houses for the holidays. Many a hunk is attached to the film: Jude Law, Rufus Sewell and Jack Black.
Dec. 1 promises The Nativity Story with Whale Rider's Keisha Castle-Hughes as Mary, mother of God. Imagine the childbirth scene as if Mel Gibson filmed it; and would Mel Gibson's The Passion of the Madonna be gorier than Black Christmas? This little Xmas present for those on the crimson side of the demographic is a remake of Bob (A Christmas Story) Clark's gore-era gem better known as Silent Night, Deadly Night and still fondly remembered (www.itsmebilly.com) many years after it was released.
And speaking of America's favorite DUI, Mel's holiday offering turns out to be a cheery little heart-warmer called Apocalypto about how Mayans are responsible for all the wars in the New World. It arrives, barring a court order, on Dec. 8.
Amid these releases are film fests: the Global Lens Film Festival brings a set of neglected international films to the Bay Area, including a stint at the Mexican Heritage Plaza Theater in San Jose (Sept. 10-22). The Arab Film Festival comes to Camera 12 for screenings on Sept. 10 and 16-17, and to Cubberly Hall at Stanford for showings Sept. 11-12. The International Latino Film Festival covers the Bay Area and includes some screenings (Nov. 4 and 11) at MACLA in San Jose. The San Jose Jewish Film Festival will announce the features for its month-long extravaganza (Oct. 18-Nov. 19) in a couple of weeks.
At the Stanford Theatre, look for the Rock Hudson-Doris Day farce Pillow Talk (a film that suffers on the small screen); the much-praised (by James Agee) of Saroyan's The Human Comedy (Sept. 19-21), and the silent and only acceptable version of Phantom of the Opera, Sept. 1.
We Hear You Screaming
As usual, fall brings us a litter of horror films. Lately, studios are a bit lily-livered about screening them in advance. They expect us to be brave enough to watch them, but they're not brave enough to show them to critics. Certainly, a number of fall 2006 films seem to smell like sheep cheese. Take Confetti (Sept. 15), about a Britain-wide competition to have the nation's most eccentric wedding. One couple are a pair of nudists. Can you top that? They're English and they're nude!
The Marine (Oct. 13) is our first raging-Iraq-vet-on-the-warpath film, though there will be more. As the title vet, the mammoth professional wrestler John Cena makes a cena ("dinner" in Spanish) out of the gangsters who dared to kidnap his frau (Kelly Carlson). We Are Marshall (Dec. 22) concerns the real-life tragedy when 75 members of the Marshall University football team and coaching staff perished in a plane crash. Quick: What's more dire, the event itself or the idea of director McG (Charlie's Angels, et al) shaping it for uplift? A: Matthew McConaughey as the coach who's determined to heal all and sundry. Lastly, Rocky VI arrives concealed under the title Rocky Balboa (Dec. 22). The pug may still have some fight left in him, but the rest of us are a little beat.
Send a letter to the editor about this story.