August 23-29, 2006
home | metro silicon valley index | music & nightlife | preview
2006 Fall Arts Issue:
Intro | Stage | Classical | Performing Arts | Visual Arts | Venue Finder | Music | Movies | Festivals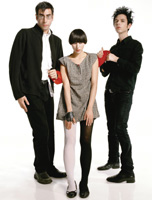 Everybody say yeah yeah yeah: The Download Festival gets a case of the Yeah Yeah Yeahs.
Legends of the Fall
Make way for the Download Festival, Vienna Teng, LoMcXimo de la Musica, Alejandro Escovedo and Matisyahu. And mark the calendar for the 20th annual Bridge School Benefit.
By Todd Inoue
AS THE summer retreads exit the musical highway to count their cash, major star power mashes the accelerator this fall at local arenas and amphitheaters. With other cities feasting on Bumbershoots, Lollapaloozas and Pitchfork festivals, The Download Festival is ours on Saturday, Sept. 30, at 2:30pm, at Shoreline Amphitheatre. It gets a major upgrade with star power from Beck, the Yeah Yeah Yeahs, Muse, the Shins, TV on the Radio, Wolfmother, Coheed & Cambria, Kinky, Rogue Wave, the Mutaytor and more acts to be announced.
A while back, the Asian American community was surprised to find that the website i-am-asian.com was owned, trademarked and operated by Ronald McDonald. And so it goes for LoMcXimo.com, McDonald's foray into the Latin community (with papi culo Ronaldo McDonald). But unlike I-am-asian.com, McDonald's is bankrolling a musical tour to sell the concept, burgers and sodium to La Raza. LoMcXimo de la Musicade la Musica comes to the Mexican Heritage Plaza Theater starring pop singers Frankie J, Jeannie Ortega, Luis Fonsi, Nina Sky and Orishas on Sept. 2. On the other side of the Latin pop spectrum, Juan Gabriel, Linda Ronstadt and Mariachi Cobre form the nucleus for the San Jose International Mariachi Festival gala event at HP Pavilion on Oct. 6.
If McDonald's needs Asian star power to sell an I-am-asian tour, it should send scouts to see Vienna Teng at Montalvo Garden Theatre on Nov. 9. The Saratoga-born desk jockey broke out of her Cisco cubicle to complete a transformation from engineer to quiet-storm pop architect. Last month, she released her third CD, Dreaming Through the Noise, on a new label, Zoe.
Matisyahu, the Hasidic dancehall don who rocks sidelocks instead of dreadlocks, is in a unique place. The rising reggae superstar honors the Torah as well as foundation tunes. To be in Matisyahu's frocked coat as the Israel-Lebanon conflict rages on (and Mel Gibson and Madonna suss out their true feelings about Jewish faith) must be interesting as a focal point. Matis headlines a show with the Polyphonic Spree and Street Drum Corps at the San Jose Civic Auditorium on Sept. 9. Fans of verbal gymnastics should also converge on Agenda Lounge on Aug. 31 for a show with Aceyalone and Abstract Rude. On the future-primitive tip, go see the Freestyle Explosion concert at the HP Pavilion on Sept. 15 with a dynamite lineup: Afrika Bambaata and the Soul Sonic Force, Planet Patrol, Trinere, Freestyle, Rob Base, Debbie Deb, Nocera, Johnny O, Lisette Melendez, Angel 'The Original Cover Girl' and Timmy T. And the Roots appear at the Dew Action Sports tour at HP on Sept. 8.
The major question of the fall will be: Who will play the 20th annual Bridge School Benefit Concert? The dates are set for Oct. 21-22 at Shoreline Amphitheatre. No names have been leaked yet, but expect Neil Young to pull some surprises.
The good news is that Alejandro Escovedo, stronger from the Hepatitis C that nearly killed him three years ago, has regained shape to tour behind his latest album with John Cale, The Boxing Mirror. The better news is that a local show is planned for San Jose, tentatively at Germania Hall on Oct. 7. I managed to squeeze into his Austin show at Las Manitas Mexican cafe's back patio. Clearly influenced by his near-death experience and the passing of his father (and the impact it had on Alejandro's mother), the set began almost like a dour eulogy—a string section setting the appropriate maudlin tone. As the show progressed, however, moods and colors began to change, and suddenly the strings pulsed with life, snare drums popped and the set chugged with vigor. Escovedo gave testimonials like "I walk, I crawl, but I never run" as he toasted the future and audience clinked glasses in tribute.
Finally, the South Bay gets a visit by the fourth-ranked "Most Annoying Thing" in Britain, according to a poll presented by Lactofree drink. James Blunt isn't beautiful to a majority of lactose-intolerant Brits, barely usurping "Cold Callers," "Caravans" and "Line Cutters" for the sharpest pebble in the shoe. Blunt fans can indulge themselves Nov. 10 at the SJSU Event Center. Or if you're really desperate for irritation, Barbra Streisand performs yet another farewell tour at HP Pavilion on Nov. 13. And with tickets topping out at an astronomical $750, it's no wonder they're moving slow.
Send a letter to the editor about this story.