09.17.08
home | metro silicon valley index | features | silicon valley | Best of Silicon Valley 2008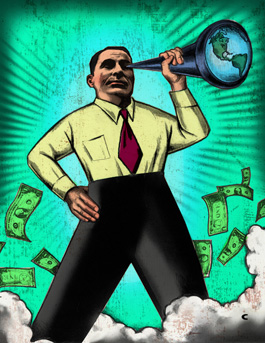 Craig LaRotonda/ Revelation Studios

Best of Silicon Valley 2008
Save our Bacon
Short List
|
Profiles
|
Fashion
|
Arts & Culture
|
Food & Sustenance
|
Music and Nightlife
|
Shopping & Services
|
Love & Romance
A historic election. The first African American presidential nominee. Sharply drawn generational lines: the Vietnam era vs. the Internet Age. The end of the W years.
And what does everyone want to talk about? Lipstick.
More specifically, how it looks on a pig. And what exactly the identity of that pig might be. Is it John McCain's candidacy? Is it Sarah Palin? Is it a continuation of the Bush Doctrine, assuming we all know what that is? More importantly, is Obama's supposed "Lipstickgate" the stupidest story of the election season?
Maybe, but don't forget that the Republican ticket loves its lipstick metaphors, too. Which of us hasn't heard by now about how much hockey moms love it? And pit bulls? Not so much!
Perhaps the fact that both camps are obsessed with lipstick right now points to an undeniable truth: this country needs a makeover.
But it glosses over the real theme underlying this election, this fall, this entire year: change. We are all hungry for it. Only in 2008 would the candidate of the incumbent party campaign against incumbency. Everyone is looking to this election for deliverance from hard economic times and failed ideas.
Which is also why they look to Silicon Valley. We produce the innovators, the ideas, the technology and the culture that drives change. And within our community, we need the top thinkers, community leaders, artists, businesses and everyday people to bring it.
That's why for this year's Best of Silicon Valley issue, our editors have chosen to write about more than two dozen of them. These profiles in change are a broad survey of Silicon Valley's many facets, covering transitions and revolutions big and small. They've set their goals, and maybe we'll never be affected by the results. Or maybe they'll change our lives. We're so excited, we could squeal.
Intro | Short List | Profiles | Fashion | Arts & Culture | Food & Sustenance | Music and Nightlife | Shopping & Services | Love & Romance
Send a letter to the editor about this story.