October 18-24, 2006
home | the papers | metro silicon valley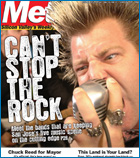 Rocktober
Meet the bands that are keeping San Jose's live music scene on the cutting edge:
Intro | My Former Self | The Forgotten | Conway | Kung Fu Vampire | The Rivals | San Jose Rocks Hall of Fame

News: Prop. 90
The debate over Prop. 90 hits home as homeowners fight San Jose's power of eminent domain.
The Fly: 10.18.06
Did Cindy Chavez violate independent expenditure guidelines when she showed up at the South Bay Labor Council's phone bank to cheer on her completely independent troops?
Election Endorsement: Chuck Reed
Metro's choice for San Jose Mayor.

Silicon Alleys: San Jose Rocks Hall of Fame
The group Trapt's high school roots in Los Gatos have been described by one astute observer as nothing less than 'twisted suburbia.'
Technology News: GooTube
The thing is, YouTube isn't about searchability. You don't go there to plug in a search term and find information.
Sports News: San Jose Sports Hall of Fame
Three major sports figures—Jennifer Azzi, Walt McPherson and Bill McPherson—will be inducted.

Movie Review: 'The Prestige'
Christopher Nolan pulls a thrilling rabbit out of his hat with this tale of dueling magicians.
Movie Review: 'Flags of Our Fathers'
Clint Eastwood weaves multiple plots into story of World War II's most famous image.
Movie Review: 'Old Joy'
This little character drama remakes 'Deliverance' with insights instead of crazed hillbillies.
Movie Review: 'Marie Antoinette'
Kirsten Dunst turns the eve of the French Revolution into a shopping extravaganza in this Sofia Coppola-directed biopic.
Film Festival Preview: San Jose Jewish Film Festival
'Beethoven's Hair' is a lock as centerpiece feature of this year's festival.
Cult Leader: 'The Texas Chainsaw Massacre: The Beginning'
Meat is murder—and so is every 'TCM' spin-off.
Movie Review: This Week's Revivals
Alien resurrection: 'Close Encounters,' 'The Day the Earth Stood Still' and more.

MORE MOVIE REVIEWS

MOVIE TIMES

Music Preview: Boyz II Men
Boyz member Wanya Morris talks about musical maturity as the famed harmonizers prepare for a concert at Campbell's Heritage Theatre.
Music Profile: Carlos and Deborah Santana
The couple wants to confront more than just musical challenges.

MORE MUSIC AND NIGHTLIFE

MUSIC AND CLUBS LISTINGS

MUSIC AND NIGHTLIFE CALENDAR PICKS

Restaurant Review: Kumako
With the arrival of Kumako and its ramen offerings, Japantown officially has it all.
Live Feed: 'Mindless Eating: Why We Eat More Than We Think'
A great new book lays bare many of the tricks the food industry plays on us to get us to eat more.
5 Things to Love: Top Bakeries
Be prepared for all those holiday parties parties and visiting family with a few great desserts from these great bakeries.

BOOK A RESTAURANT RESERVATION

FIND A RESTAURANT REVIEW

TV Review: 'To the Ends of the Earth'
Masterpiece Theatre's latest offering makes 'Master and Commander' look like a ferry ride.
Stage Review: 'Viva Cristo Rey'
Quo Vadis' play looks to Graham Greene in story of religious persecution in 1920s Mexico.
Book Review: 'The Black Book'
By Orhan Pamuk.
Book Review: 'Designing the Seaside: Architecture, Society and Nature'
By Fred Gray.

Letters to the Editor
October 18-24, 2006.