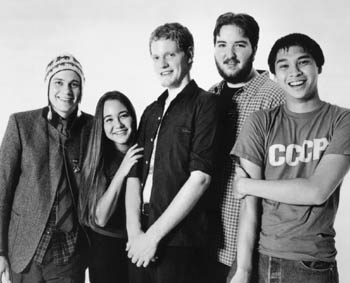 Yellow Brick Roaders
Ozma
By Sarah Quelland
It's easy to understand what makes geek rockers so darn nostalgic for the pop-culture trimmings of their youth. Having just spent $10.50 on eBay for a silly set of plastic plates circa 1977 that feature the old-school McDonaldland characters (a lost relic from my own childhood), I can relate. Mingling dramatic bursts of energy with depressive bouts of lethargy, this snappy, crackly pop band pulled its name from L. Frank Baum's Ozma of Oz, and has at least one song, "If I Only Had a Heart," that follows the yellow brick road back to the band's namesake. With three albums and the Yahoo!-sponsored Outloud tour with Weezer and the Get Up Kids under its undoubtedly vintage '80s belt, wistful Ozma touches on everything from Marty McFly's Back to the Future mom ("Lorraine") to Super Mario Bros. ("In Search of 1988"). The Huxtables and the Sidekicks also perform at this all-ages show.
September 23; 5pm; Los Gatos Outhouse, Los Gatos; $6; all ages.

Critics' Picks: Belle and Sebastian, Björk, Bridge School Benefit, Nick Cave, dredg CD Release, Bob Dylan, Janet Jackson, Ozma, Pledge of Allegiance Tour, ResFest2001, Sex Mob, SoFA Street Fair, Watcha Tour , Weezer
Fall Music: A high performance guide to Bay Area concerts.
Venue Finder: Auditoriums, halls, wineries and clubs.

[ San Jose | Metroactive Central | Archives ]