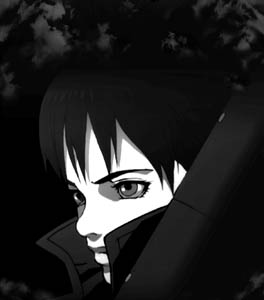 Devine DV
ResFest 2001
By Shannon Stillman
This year, the ResFest marks its fifth anniversary as both a celebration and a technological exposition of the new wave of digital video, showcasing blowout videos for artists like Amon Tobin, Radiohead, Fatboy Slim and others, as well as documentaries, such as one about the art of turntablism aptly named Scratch. The festival also includes a screening of Blood: The Last Vampire (pictured), Japan's first fully digital full-length animated feature by the creator of Ghost in the Shell. This carnival of creation also hosts other short films, music videos, discussion panels and free seminars.
September 6-8; Palace of Fine Arts, San Francisco; tickets $10 per show, or $55 for full three-day pass; tickets available online at www.resfest.com or at the festival.

Critics' Picks: Belle and Sebastian, Björk, Bridge School Benefit, Nick Cave, dredg CD Release, Bob Dylan, Janet Jackson, Ozma, Pledge of Allegiance Tour, ResFest2001, Sex Mob, SoFA Street Fair, Watcha Tour , Weezer
Fall Music: A high performance guide to Bay Area concerts.
Venue Finder: Auditoriums, halls, wineries and clubs.

[ San Jose | Metroactive Central | Archives ]