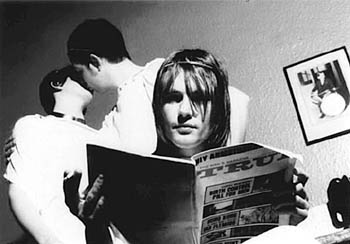 Walk Like a Peasant
Belle and Sebastian
By Gina Arnold
Belle and Sebastian have been the "it" band of England for the last couple, maybe three, years. The Scottish octet, which features several women and lots of men, combines the childlike, lo-fi of Beat Happening with the more complex songwriting of leader Stuart Murdoch. The result is oddly warm and likable, a sound that meanders along a pretty arcane path (as album titles like If You're Feeling Sinister and Fold Your Hands, Child, You Walk Like a Peasant prove). They can be cutesy and fey--certainly not the cup of tea for anyone who craves power chords, anthemic choruses and fashionable frontmen--but fun nonetheless. The band has just completed the soundtrack to the newest Todd Solondz (Welcome to the Dollhouse) movie, Storytelling, and a five-song CD titled Jonathan David.
September 8-9; 8pm both nights; the Warfield, San Francisco; $25.

Critics' Picks: Belle and Sebastian, Björk, Bridge School Benefit, Nick Cave, dredg CD Release, Bob Dylan, Janet Jackson, Ozma, Pledge of Allegiance Tour, ResFest2001, Sex Mob, SoFA Street Fair, Watcha Tour , Weezer
Fall Music: A high performance guide to Bay Area concerts.
Venue Finder: Auditoriums, halls, wineries and clubs.

[ San Jose | Metroactive Central | Archives ]