March 15-21, 2006
home | the papers | north bay bohemian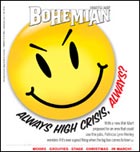 Wal-Mart in Santa Rosa
With a new Wal-Mart proposed for an area that could use the jobs, Patricia Lynn Henley wonders if it's ever a good thing when the big box comes to town.

Arlington West - Sonoma County
Emotions run high and events mark the slaughter as the Iraq War ends its third year.
News Briefs
Congressional support grows for resolution to begin impeachment investigations.

The Byrne Report
Will the U.S. use nuclear weapons for first-strike deterrance?
Car Culture
Minimotos: Is the scare worth the fun?

'Joyeux Noël'
Romantic French film recalls peace in war.

MORE MOVIE REVIEWS

MOVIE TIMES

Kim Nalley
Jazz vocalist takes on her own voice.

MORE NIGHTLIFE

NIGHTLIFE LISTINGS

NIGHTLIFE CALENDAR PICKS

Whole Grains
Everything you always wanted to know but were afraid to ask.
First Bite
Shangri-La in Rohnert Park.
News of the Food
Seafood Brasserie in Santa Rosa.

BOOK A RESTAURANT RESERVATION

FIND A RESTAURANT REVIEW

Music Fandom
Authors Pamela Des Barres and Karen Schoemer relate highly personal tales of obsession.
'A Dirty Job'
Christopher Moore finds mirth in mortality.