May 23-29, 2007
home | north bay bohemian index | the arts | stage | preview
Hot Summer Guide:
Michelle Williams of the Arts Council of Napa Valley | Summer movies | Save Net radio! | 'Hair' and Marin's Mountain Play | Summer listings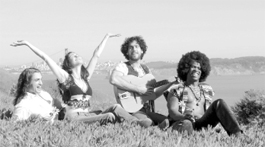 Pulling our own hair: It's difficult to express the depth of our loathing for this press shot, and this is the best of them.
Let the Sun Shine
Mt. Play's 'Hair' celebrates 40 years of love
By David Templeton
The rumors are not true. Gymnophobes can now relax. According to director James Dunn, there will be no nudity on Mt. Tamalpais this summer--at least, none on the Mountain Play stage.
"We're not doing the nudity, and were not doing the song with all the dirty words, but it's the first question everybody asks me," laughs Dunn, longtime artistic director of the annual Mountain Play, which this year is taking a break from such squeaky-clean shows as Oklahoma in order to stage one of Dunn's all-time favorite musicals, Hair, the classic "American Tribal Love-Rock Musical" by Gerome Ragni, James Rado and Galt MacDermott.
Despite initial worries that the annual event might take a hit, so to speak, by doing something so edgy, the response, according to Dunn, has been the exact opposite. In the days preceding its May 20 opening inside the 4,000-seat Cushing Memorial Amphitheatre, the celebrated al fresco extravaganza, running Sunday afternoons through June 17, saw a remarkable build up of preshow buzz like no other Mountain Play in recent memory.
According to the folks who work the box office, people are buying blocks of tickets, stating that they plan to bring their children, and in some cases, grandchildren. Inexplicably, Hair has become a family musical. As of opening, ticket sales are roughly 25 percent ahead of last year's show, Fiddler on the Roof. Yet the one question everyone has posed refers to the show's notorious group nude scene, which shocked the nation when the show first appeared in New York in December 1967, almost exactly 40 years ago.
Dunn shakes his head. "Of course I've cut those elements--the nudity and the little song 'Sodomy'--but those are the only things I've cut. Everything else in the show is the same. The drug references are still there. All the sexual jokes are still there, and the F-word is still used a couple of times." Asked if this marks the first time that particular word has been used in a Mountain Play, Dunn laughs again. "Well, it's the first time in as long as I've been there," he says, "and this is my 25th Mountain Play. But a little change is good now and then. We can only cut so much from Hair and still have it be Hair."
The timing of this year's presentation is especially apt, Dunn points out, since 2007 also marks the 40th anniversary of San Francisco's Summer of Love, when the hippie counterculture movement staged a short-lived but very public utopian experiment, reflecting the simultaneous eruption of antiwar, anti-establishment ideals and dreams of young people all across America and much of Europe. In staging this new production of Hair, Dunn says that he has appreciated the opportunity to bring a realistic appreciation of the 1960s to his cast, made up mainly of twenty- and thirty-somethings, most of whom weren't born when the Summer of Love occurred, or when Hair first shook the bright lights of Broadway.
"I was a young teacher at College of Marin in 1967," Dunn, who went to college during the Eisenhower era. "I got the full force of the '60s, from the perspective of a young drama teacher. The whole Haight-Ashbury thing was happening in San Francisco, and all of the big rock bands were suddenly living in Marin, and I watched my students evolve overnight. I learned a lot during that time. I remember peeling kids on LSD off the walls, having incredible conversations like nothing I had when I was a college kid."
At that time, of course, San Francisco and Marin County, taken together, were the spiritual center of the counterculture west of the Rocky Mountains. For a while, Dunn lived down the street from Janis Joplin and the Grateful Dead. Mt. Tam, with its history as a spiritual symbol among local Native Americans, was a power-spot destination, where flower children made their way to spend time tuning in and turning on. Because of that, Dunn believes, the mountain is just an outstanding place to do a show like Hair.
Telling the disjointed, somewhat plotless tale of a "tribe" of Greenwich Village hippies, the story centers around the tribe's long-haired leader, Berger (Jeff Wiesen), a college girl named Sheila (Susan Zelinsky) with a serious thing for Berger, and Claude (Mountain Play veteran Tyler McKenna), who has his own thing for Sheila. Having recently been sent his draft notice, Claude is stuck between living the life of his ideals or following the lead of his conservative family. The songs, many of which have become so much a part of the Muzak landscape that many people forget they originated in the scandalous Hair, include "Aquarius," "Good Morning Starshine" and "Let the Sunshine In."
In the Mountain Play production, the set is all scaffolding, with multiple levels and poles designed for sliding down, with the actors using hand held mikes as if in a rock 'n' roll show. Taking advantage of the amphitheatre's expansive square footage, Dunn has packed the show with eye-pleasing spectacle, including a Volkswagen bus that will drive onto the stage and, with a puff of smoke (you can guess what kind), open its doors to release a stream of technicolored hippies, like clowns in a circus.
"I love all kinds of theater," Dunn says, "but I wanted to do something really different this year, something important, something that was really earthshaking and kind of thrilling. I wanted to do something that would attract people who've never been to a Mountain Play before. I'm not just doing this show as a sentimental thing; I believe this show has a lot of relevance for us today."
Whether Hair changes the world or not, Dunn believes one thing is certain: audiences will head back down the mountain filled with the infectious mood and music of one of the most revolutionary musicals ever staged. Nudity or no nudity.
To support this, Dunn tells a story. A few weeks before opening, he was up on the mountain, with the cast and musical director, working on the harmonies for the song "Let the Sunshine In." The cast was gathered around the piano, and as they sang, a group of five hikers appeared across from the amphitheater, working their way along the ridge above the small valley. According to Dunn, the hiker's stopped to listen, and after a few moments, all of them, standing in a row, began dancing to the music, making enormous peace signs with their hiking poles. Dunn turned to his actors and said, "Just wait till we get 4,000 people up here."
'Hair' runs Sundays through June 17, with a special performance on Saturday, June 9, at 1pm. Special preshow musical performances at 11am include the Rowan Brothers (June 9) and Maria Muldaur (June 17). Mountain Theatre, |Mt. Tamalpais State Park, 801 Panoramic Hwy., Mill Valley. Expect to shuttle. $26-$35. 415.383.1100. www.mountainplay.org.
Send a letter to the editor about this story.