May 23-29, 2007
home | north bay bohemian index | the arts | visual arts | feature
Hot Summer Guide:
Michelle Williams of the Arts Council of Napa Valley | Summer movies | Save Net radio! | 'Hair' and Marin's Mountain Play | Summer listings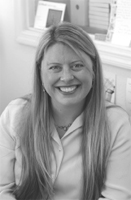 Photograph by Brett Ascarelli
Creator: Michelle Williams' eclectic background has helped her revitalize Napa's art council.
Turn Around
Could Napa finally sculpt a bona fide arts scene?
By Brett Ascarelli
As the executive director of a rather typical nonprofit, Michelle Williams is a pretty atypical person. Just 33, not only is she a lot younger than most of her counterparts, but she could likely sing or act them under the conference table. Now, three years after taking over the then-beleaguered Arts Council of Napa Valley, Williams' efforts finally seem to be paying off. In fact, a panel of her peers just rated Napa's turnaround to be so dramatic that the California Arts Council has rewarded her organization with some very coveted funding for administration costs.
One can't help but wonder whether the council's success has anything to do with its leader's crazy-quilt background. With a symphony conductor for a dad and a composer for a mom, Williams and her siblings grew up as the arts equivalents of army brats, tagging along as their parents went where the music was. Not surprisingly, Williams ended up with a BFA in musical theater, and afterwards appeared regularly as a java-sipping extra on Friends. Eventually, she moved to New York, where, like a lot of the city's actors and singers, she worked steadily as a server.
Her grab-bag of other activities included working on a novel and volunteering as a Red Cross relief worker in Lower Manhattan. She wrote about Ground Zero (really well) for Slate magazine, took EMT classes and applied to the Peace Corps. Eventually, they accepted her to work with women doing sustainable farming in Mauritania. Other than a fondness for gardening, she didn't have farm experience--but the Peace Corps was willing to hedge their bets and train her.
As it happened, the acceptance package arrived two days after Williams returned from Napa, where she'd been visiting her father, Richard, who is also the director of cultural affairs at Meadowood and on the Napa Valley Arts Council board. Rather than packing for the desert, she took a job at the Culinary Institute of America. Hoping to recharge her batteries and work on a novel, she relocated to Napa. That was four years ago.
"When I moved here," says a candid Williams, settled in behind her desk at the arts council's new headquarters downtown, "I was definitely really surprised about the trouble in the arts sector."
Since late 2004, Williams explains, Napa lost 12 arts organizations. Hardly any of Napa's tourists knew about the depth and breadth of the county's arts programs. Originally a blue-collar town, Napa was supplanted quite suddenly by a sprawling tourist industry but had little infrastructure to support the home-grown community. To this day, there's not even an art-supply store in the county.
But the problem isn't just Napa County; it's the entire state, which spends less than any other on the arts. Whereas France, the world's sixth largest economy, spends $56 per capita on the arts each year, California, the world's fifth largest economy, doles out a magnanimous 3 cents. And even the arts-friendly climate of Sonoma County is facing challenges. Its arts council's executive director, John McElwee, recently resigned after less than two years at the helm; Catherine DePrima, director of the popular open studios ARTrails program also just stepped down.
Last June, it didn't even look like Napa's arts council would survive the summer. But now, less than a year later, it's coming back with a plan that might actually allow the arts some room to grow in Napa.
"It began this time last year in March," Williams says. "We hit a wall, and basically I went to the board and said everything needs to change, or we need to close our doors. We're worrying more about staying alive than about serving the community."
The Community Foundation of Napa Valley agreed to fund the council for three months while Williams trotted up and down the valley meeting with various arts organizations to figure out what should be done. The outcome: Napa needed a "cultural plan." Basically, a cultural plan is a timeline for developing arts and culture infrastructure in a community. San Francisco and Sonoma both have cultural plans, and Williams says that many other communities have revitalized themselves this way.
After that, the council managed to raise $100,000 in just eight weeks. "Everyone knows that the arts are in trouble," Williams says. "We were able to name the trouble and name a solution. Then," she smiles, "it was like dominoes." The Arts Council moved into a new office space, hired a full-time administrative assistant and launched a comprehensive online calendar detailing the county's arts and culture events. In late December, the council launched the cultural planning process, gathering input from artists and arts organizations.
Once the initial data is collected, Williams will spend the summer meeting with different sectors, from education to business, to see how the arts affects them and what they want from the arts. Then, a strategy team--which includes di Rosa Preserve executive director Kathryn Reasoner, St. Helena's White Barn owner Nancy Garden and others--will make recommendations based on all this data. A public vetting will either confirm or amend these recommendations. By late this year, Williams hopes to actually craft the plan. "From there," she says hopefully, "we jump straight into implementation. We do not want this plan to sit on the shelf for a day."
So far, the data has already yielded some interesting results. For example, St. Helena, which only houses 5 percent of the county's population, attracts 16 percent of the county's artists. Williams wants to know why.
In addition to the cultural plan, Williams has finalized an arts and culture commission, drawing local government officials together with arts leaders, and she wants to institute a public-art ordinance.
In a way, none of this seems very extraordinary, except for the fact that Napa County was so far behind at the outset (see "Southern Exposure" sidebar). And still, the council isn't able to offer much in the way of programs right now, besides education and an open studios, which operated at a loss last year and whose participation price has been raised to the irritation of some artists. Nevertheless, focusing on the cultural plan now will hopefully give the arts-parched community a basis for more programs down the road. "[The plan] serves the community ten-fold more than a smaller program at this point," says Williams.
Williams credits her background as actor, writer, singer, disaster-relief worker and server for imbuing her with a bevy of skills. For example, she says that being a server teaches "grace under pressure and getting more done than humanly possible"; disaster relief teaches "working in crisis mode--which is basically the nonprofit sector, particularly in California where there is a crisis."
But because of arts advocates like her, the crisis may be on its way out: after a four-year dry spell, the California Arts Council has started to fund local arts councils again.
For more information on the Arts Council of Napa Valley's cultural plan, visit www.artscouncilnapavalley.org.
The Marin Arts Council--which in comparison to Napa is quite flush with funding--has made almost $2.5 million in grants over the past two decades and announced late last year that it would bestow, in partnership with the Marin Community Foundation and through the larger Bay Area Fund for Artists Initiative, $10,000 to eight artists this year to create new work.
One of the awardees is installation artist Judith Selby, who just completed her project, a Japanese garden replica, last month. The three-day installation took place in San Francisco's Civic Center plaza, and Marin Arts Council executive director Jeanne Bogardus says, "It was beautiful to look at--and then people were really surprised when they went up and looked closer." Why? The garden was made entirely of plastic bags which looked like sand, and tires, which were the rocks.
The other lucky awardees are filmmaker Nancy Kelly, choreographer Stacey Printz, composer Joseph Venegoni, writer Jasmin Darznick, playwright Robert Ernst, painter Timothy Horn and photographer James Sansing.
--B.A.
Send a letter to the editor about this story.