Bars & Clubs 2019
Video Game Bars
Intro | Shrubs | Cocktails | Old Fashioned | Beer | Video Game Bars | Sports Bars | Trivia Night | Wine | Music & Dance | Gay Bars | Gentlemen's Clubs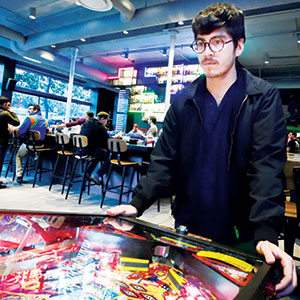 LVL Up & AFK
400 E Campbell Ave, Campbell
408.429.8472 | thelvlup.com
Featured prominently in last year's Bars & Clubs issue, LVL Up was the first video game bar on the South Bay scene to offer food, craft cocktails and beer alongside cabinet games and pinball. For its part, the late AFKgg Gamer Lounge—formerly located on West Santa Clara Street in downtown San Jose—was the first to pair a bar with bites and console gaming (as well as a large LAN room downstairs for serious PC gamers). AFK's previous venue was a bit too big for the concept. However, the AFK team is slated to move in upstairs from LVL Up this summer.
Miniboss
52 E Santa Clara St, San Jose
408.520.4909 | sjminiboss.com
Opened in early February, Miniboss is downtown San Jose's first proper video game bar. Featuring some of your favorite old-school cabinet games, like The Simpsons and Bust-a-Move, and a solid selection of pinball machines, the 21+ main floor also serves craft cocktails and draught beer. Miniboss is run by the same team behind Original Gravity and Paper Plane, so the beer and cocktail menus are on point. The attached SuperGood Kitchen admits all ages and cooks up Asian fusion dishes designed to wow discerning foodies.