Bars & Clubs 2019
Wine
Intro | Shrubs | Cocktails | Old Fashioned | Beer | Video Game Bars | Sports Bars | Trivia Night | Wine | Music & Dance | Gay Bars | Gentlemen's Clubs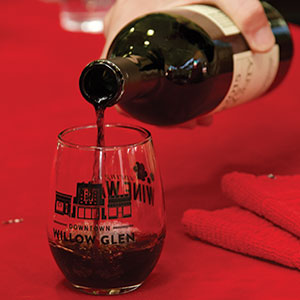 When it comes to high-grade adult beverages, wine was the first to really take off in Northern California. But there's no need to head to Napa for great vino. Silicon Valley has its own top-notch vintners and wine bars, making and selling some of the best wine in California—and the world.
20twenty Cheese Bar
1389 Lincoln Ave, San Jose
408.293.7574 | 2020cheesebar.com
With an impressive selection of 20 wines and 20 beers, 20twenty Cheese Bar serves up two of the better things in life. Pamper your palate with their cheese and charcuterie menu or even specialties like their truffle oil popcorn. Located in the heart of Willow Glen, the cozy, contemporary space is perfect for all kinds of events.
Cin-Cin Wine Bar & Restaurant
368 Village Ln, Los Gatos
408.354.8006 | cincinwinebar.com
Cin-Cin Wine Bar not only flaunts an evolving gourmet menu, but also offers 50 percent off all bottles on its extensive wine menu every Monday. Winning the 2017 Best Of awards for happy hour and wine bar, Cin-Cin is the neighborhood wine bar with the right amount of casual elegance for your evenings.
Divine Wine Merchant & Winery Tasting Room
40 Post St, San Jose
650.465.5468 | divinewineries.com
This recently opened tasting room invites customers to sip wine and take in the terroir—offering local labels from the Santa Clara Valley and international bottles from Italy, Argentina and Spain.
Enoteca La Storia
416 N Santa Cruz Ave, Los Gatos
320 W St. John St, San Jose
408.625.7272 | enotecalastoria.com
Enotica La Storia isn't just a wine bar with a first-class collection of wines, but a spot with an incredible spread of appetizers to perfectly complement your vino. Avid wine appreciators can also be a part of one of the bar's nine different wine clubs, with access to wine tastings and monthly pickup parties.
Noah's Bar & Bistro
17500 Monterey Rd, Morgan Hill
408.779.2006 | noahsbarnbistro.com
"One cannot think well, love well, sleep well, if one has not dined well," Virginia Woolf once said. Noah's displays a menu living up to these very words. Pair your wine with spectacular delicacies like their four-cheese fondue, selection of seafood pastas and their steaks.
Parcel 104
2700 Mission College Blvd, Santa Clara
408.970.6104 | marriott.com
The award-winning Santa Clara venture of famed Chef Bradley Ogden celebrates a seasonal menu calling for an authentic farm-to-table dining experience. The four-time recipient of Wine Spectator's Best of Award of Excellence offers a specially curated wine list and innovative menu to indulge in.
Rootstock Wine Bar
19389 Stevens Creek Blvd, Cupertino
408.642.5821 |217 N Santa Cruz Ave, Los Gatos
408.354.7668 | rootstockwinebar.com
A friendly local bar with good wine from all over California and a local organic menu for your dining pleasure, Rootstock keeps it fresh even with all the competition. Sit out on the patio while you sip on those happy hour deals and half-off Tuesdays. While you're at it, hop on their wine club membership to get the best of unique wines from the Santa Cruz Mountains, too.
Savvy Cellar Wine Bar & Wine Shop
750 W Evelyn Ave, Mountain View
650.969.3958 | savvycellar.com
Savvy Cellar is more than just a wine bar with a menu of over 50 wines available to try by glass. Dedicated to spreading appreciation for all things wine, the bar is a three-time winner of San Francisco Chronicle's Best Wine Classes in the Bay Area.
Tessora's Barra di Vino
234 E Campbell Ave, Campbell
408.626.7711 | tessoras.com
Creating the "ultimate experience" is Tessora's priority. The little oasis in downtown Campbell is bustling with live music on weekends as well as trivia and comedy nights on the weekdays. Unique bistro menus blend perfectly with fine wines and beers that Tessora's has ready.
Vino Locale
431 Kipling St, Palo Alto
650.328.0450 | vynebistrosj.com
A bar and bistro sporting the unique style of a European treasure, Vino Locale specializes in small-production boutique California wines and a menu of local organic products. The space acts as an avenue for sharing art, so enjoy the work of local artists on the walls as you grab a bite and sip on your wine.
Vino Vino
87 N San Pedro St, San Jose
408.703.2333 | vinovinosj.com
Vino Vino is no common wine bar when it comes to serving pours. Their signature tap system has 13 wines ready to be pumped out by the glass. With more than 30 wines in the bottle from local wineries and a half a dozen local beers, we'll let the numbers speak for themselves.
Vintage Wine Bar
368 Santana Row, San Jose
408.985.9463
www.vintagewinemerchants.com
Named the best wine bar in San Jose by readers of The Wave Magazine, the open-air space creates the perfect ambience in the heart of Santana Row. Wine flights and fan favorites like truffle cheese would set anyone up for a good breather between all the shopping.
We Olive Wine Bar
112 N Santa Cruz Ave, Los Gatos
408.354.7474 | weolive.com
We Olive had a goal to bring the "olive oil experience" to its customers. And with premier California-grown olive oils and gourmet food products, they delivered. Complement olive oil- inspired tapas with Californian premium artisan wines. The ancient Romans did say, "The necessary ingredients of civilization are wine ... and olive oil."
Wine Affairs
1435 The Alameda, San Jose
408.977.0111 | thewineaffairs.com
The Wine Affairs has a happy hour selection handpicked and specially curated to not skimp on the good stuff for a good deal. With a wide array of tapas, 50 wines and 40 craft beers, it's a popular meet-up spot for locals and visitors alike. If overwhelmed with choices, a pleasant variety of wine flights is also an option.
The Wine Room
520 Ramona St, Palo Alto
650.462.1968 | thepawineroom.com
The little adobe tucked away on the Palo Alto street provides a homey yet classic escape with the feel of a friendly–and fancy–neighborhood living room. The Wine Room also brings out the wine connoisseur within with special events that let customers create their own blend.