Fall Arts 2019
Shifting Colors
As murals and public art spread throughout San Jose, gentrification displaces
the local artists who helped make the area attractive
Shifting Colors | Visual Art | Stage | Robert Kelley | Music | Classical | Film | Epics Film Fest | Lit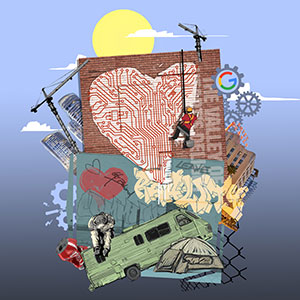 Juan Carlos Araujo makes no bones about it. "I gentrified Japantown."
It's a hot Thursday afternoon and the founder and artistic director of Empire Seven Studios is sitting in a folding camping chair taking a break from the mural he is helping a Los Angeles-based duo known as The Draculas to paint on the side of the failed Redevelopment-era Pavilion shopping center in downtown San Jose.
Covering approximately 9,360 square feet, the mural features a figure skater mid-twirl, a singer, an accordion player and the words "San Jose," it is the latest piece of public artwork to go up downtown. Just three weeks ago, on Aug. 1, Araujo helped unveil "Bleed Teal," the new mural overlooking the parking lot of the Whole Foods Market on The Alameda.
Depicting a giant, transparent shark, the project was completed in partnership with the San Jose Sharks and Mill Creek, the apartment developer responsible for the tony Modera complex next to the upscale grocer. The piece was brokered by Araujo and completed by an Austrian-born, Los Angeles-based graffiti artist who goes by Nychos. It is a tribute to the home team and a valuable placemaking asset for both Whole Foods and Modera.
There is certainly some irony here. Before he relocated to L.A., Nychos was making a living as an artist in the Bay Area. He ultimately moved south in search of cheaper rent. Similarly, Araujo is also planning a move now that Empire Seven Studios is no more. After more than 10 years at the corner of Empire and Seventh streets in Japantown, a residential development firm called TriForge Capital Partners bought the ground out from under Araujo's leased warehouse space in the North San Jose neighborhood. Araujo is working to open a new gallery just south of downtown.
It took some time to process, but Araujo says he is at peace with it now. He knows he isn't the only one struggling to make it as a working artist in Silicon Valley, and as the wall of the Pavilion Garage slowly fills with color, he grins ear to ear.
"I'm fucking lucky to be where I'm at," he says.
Araujo's story is a familiar one. Scrappy local artists work with the tools at their disposal and uplift their neighborhood in the process. With or without permission, they paint blank walls. Once-empty warehouses become galleries and venues for live music. Dive bars gain a reputation as hip hangouts. Rents steadily rise with the price of PBR tall cans. By the time a craft brewery opens a taproom or a boutique yoga studio gains its footing, the writing is on the wall—and there is plenty of that all over San Jose these days.
The problem is, the people who began painting all those dull facades in the first place can't afford to live here anymore. Furthermore, there is a belief among many locals that the city of San Jose and adjacent organizations that endeavor to highlight the city's culture are out of touch—favoring out-of-town artists over natives and playing favorites with those who have learned to navigate local bureaucracy.
The numbers, insofar as they are publically available, support the critics. Looking back through the city's official database of public art projects, it appears that only 15 percent have been created by locals and that locals were paid less on average than out-of-towners for their work (see page 6 for that story).
A SEAT AT THE TABLE
Often inane and always ephemeral, a truly dank meme nevertheless has a way of zeroing in on the zeitgeist—of getting to the pith of it all with just a few keystrokes and a choice image.
Currently making the rounds online, the "Where Y'all Sitting" meme was recently deployed by the San Jose natives in Archive408, a digital documentarian collective whose work focuses on erasure in a rapidly changing San Jose. Their version of the meme sums up popular perceptions of how the power brokers of the South Bay's public art scene operate.
The meme works like so: A cartoon illustration of a high school cafeteria is the canvas. Tables throughout the dining hall are assigned text or pictures. Often, the groupings are meant to capture the essence of an archetypal clique. Pop music might sit next to hip-hop, which sits next to heavy metal, and so on.
In the Archive408 take, all of the tables save one are populated with the same four groups: The Knight Foundation, Content Magazine, the San Jose Downtown Association and Garden at the Flea. One small table in the corner offers up three more targets: Burning Man artists, tech transplants and "the same 3 'local' artists who get all the $$$."
Above it all there is a caption: "One Idea for a San Jose version of the Where Are You Sitting meme."
For those less familiar with the convoluted system of municipalities, philanthropic organizations and nonprofits, which work together to pay artists to paint murals and erect sculptures in public places, here's a quick rundown of who these players are and why they may have made this list:
• The Knight Foundation provides grants to local arts groups. Victoria Rogers, vice president for arts for Knight, says her organization funds art because it is essential for a healthy democracy. "It is the power of art to connect us to each other and to place," she says. "The power of art to get us to question our beliefs and our opinions and to see ourselves in the other." However, off the record, a number of individuals interviewed for this story criticized the foundation for playing favorites—catering to individuals who are white or present as white, come from wealthier families, and have a firm grasp on the bureaucratic and buzzy language of grant-speak.
• Content Magazine was founded as an independent publication focused on the local arts community; however, today the cultural cheerleader is the recipient of more than $75,000 in city grants since being absorbed into the publicly funded non-profit SVCreates three years ago. In addition to the $25,000 in annual taxpayer dollars that Content receives, SVCreates channels $20,000 a year from San Jose's Office of Cultural Affairs into a workshop series that trains artists in marketing, cultural equity and financial literacy.
• The Downtown Association is responsible for the likes of Music in the Park and Downtown Ice, among other regular events.
• And the Garden at the Flea, opened earlier this year, is perhaps most easily summed up as a hipster addition to the San Jose Flea Market; created in partnership with Public Space Authority, a local "placemaking" firm founded by the creators of San Jose Made and Moveable Feast, the Garden aims to draw millennials back to the Flea and to capitalize on the soon-to-be-completed BART terminal at the Berryessa Transit Center.
• Then there's that table off in the corner. Over the past couple years, a program spearheaded by Kerry Adams Hapner, director of the city's cultural affairs division, has directed taxpayer money to bring large art installations first unveiled at Burning Man to downtown public spaces. The annual festival held in Nevada's Black Rock Desert has of late become shorthand for a very specific kind of techie—so oblivious to their own privilege that they would claim that a trip to the Burn is evidence of their gumption and tenacity, when it is, in truth, little more than a display of their impressive collection of expensive camping gear and their generous vacation package.
• As for those three artists—the ones getting all the money from organizations like the Knight Foundation—one might make an educated guess.
PLAYING THE GAME
Headed by Erin Salazar, Ellina M. Yin and Haley Cardamon, Local Color bills itself as "a woman-owned and operated arts non-profit organization," which advocates for the local "creative community of artists, producers and entrepreneurs."
Salazar founded Local Color, then called the Exhibition District, in 2015. Over the course of her time running the organization, Salazar and her team have gone from drawing the ire of city officials by painting murals—without authorization—on boarded up downtown buildings, to building a touchy but respectful relationship with downtown developers through projects like the Local Color artists' collective, which turned the abandoned Ross Dress for Less into a performing arts venue and studio space, to becoming the apparent target of online missives like the aforementioned San Jose edition of the Where Y'all Sitting? meme.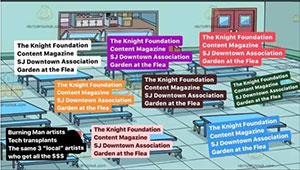 As with Araujo, the irony is not lost on Salazar. She knows she's made compromises as she's worked to grow Local Color. She has also given dozens of artists a low-rent space to hone their craft on their own terms and paid many of the same local artists to show off their abilities to the entire city.
She's done this by playing the game, so to speak, and honing a different kind of craft—grant writing. And she's proud of that.
"We think that the intentional and proactive integration of arts into development cycles is what's going to maintain our culture and our creatives here in San Jose," Salazar says, drawing on the kind of polished language that has undoubtedly helped sell organizations like the Knight Foundation and property owners like Valley Title on her projects.
Earlier this summer, Knight announced that Salazar was one of seven community leaders around the country to be awarded $150,000 to pursue projects aimed at transforming their communities. At the beginning of the year, Local Color convinced Valley Title to allow 100 artists to take paintbrushes and spray cans to the side of its office building 300 S. First St. The "100 Block" project, as it was called, is just one public art project Valley Title hosted. The building is also home to a four-story-tall mural by How and Nosm, which went up as part of last year's Pow! Wow! San Jose public art festival. That effort was organized, in large part, by Empire Seven Studios.
"If we don't play with them now, why would we ever expect them to listen to us afterward?" Salazar says. "And why would we want to be an afterthought?"
SING IT
It seems that San Jose's vibrant music scene may have been an afterthought to Team San Jose. On June 12 at 8:50pm, the official Twitter account of TSJ fired off a tweet, which sent the local arts community into a frenzy.
"Meet Grace Kelly," the post began, "a 16-year-old singer-songwriter from Auckland, NZ. She first came to San Jose when she was 8 years old and fell in love with the city."
The linked music video, to a song titled "San Jose," was intended to introduce the city to the outside world. TSJ serves as "the official destination marketing organization," promoting San Jose as a destination for business conferences and family vacations, as well as managing performing arts and convention facilities.
So far as tourism board commercials go, "San Jose" was pretty standard. Kelly strums her acoustic guitar on a hill high above the Santa Clara Valley, laughs with a cohort of shiny, happy extras while e-scooting around town and even works in a reference to Willow Glen and the VTA light rail. Other B-roll includes shots of the Tommie Smith and John Carlos statue at San Jose State University, the "Little Moment" mural in Japantown and a Latino band performing at the Flea Market.
For many in the city's arts community, the video was a flashpoint. "Why, oh why @VisitSanJose?" came one reply. "This was such a missed opportunity to feature a local musician who truly knows the city and represents the diversity and culture of #SanJose."
"Embarrassing," wrote another. A third user called out the overwhelming whiteness of the video, declaring it a "misrepresentation of the city as a whole."
Assemblyman Ash Kalra (D-San Jose) even entered the fray, pointing out that only a few years ago Rey Resurreccion released "The Hometown." Resurreccion's paean to San Jose stands as one of the best songs ever written about this city. Supported by DJ Cutso's triumphant banda-sampling beat, Resurreccion name-checks Music in the Park, pho, tacos and many more cultural touchstones San Jose denizens will recognize as genuine. "There are SJ natives who represent our city just fine," Kalra wrote.
BACKLASH
The backlash was not limited to Twitter. Local non-profit MALI (the Multicultural Arts Leadership Institute) published an open letter to Team San Jose. Choosing Kelly over a local artist made it "apparent that Team San Jose is not interested in celebrating its own homegrown talent and vibrancy," the letter stated, adding that MALI and its constituent members "took exception to the notion that, in order to promote San Jose, we need to outsource musical talent and creative production."
"It was a slap in the face for everybody who had worked so hard in so many different ways to make San Jose," says Salazar, one of many prominent local members of the city's arts community who signed the letter in solidarity. "It set us back as a city."
Demone Carter is the senior program manager at the School of Arts and Culture at San Jose's Mexican Heritage Plaza. He also manages the MALI, a program of the School of Arts and Culture. While it's true that Team San Jose's main goal is to get heads in beds and fill the McEnery Convention Center with business conferences and tourists checking out expositions, Carter says TSJ's marketing materials matter in other ways.
"There is a conversation going on both in the national and local arts sector about how to have more diversity, equity and inclusion, and that's great. But the fact is resources (i.e. grant funding) are not being distributed equitably," Carter wrote in a statement. "Communities of color are only seeing a fraction of available dollars. What this means is our stories and cultures are not being held up in the same way. In a time when racism and xenophobia are raining down from the highest levels of government, it is crucial for a sector that claims to be progressive to put its money where its mouth is. My work with the Multicultural Arts Leadership Institute is all about pushing for equity in Silicon Valley's arts ecosystem."
In other words, as the city's official marketing agency, Team San Jose is responsible for how the world views San Jose. And if they are going to be broadcasting that message, they ought to reaching out to local artists before they look elsewhere.
In an emailed response to a number of questions posed by Metro, a representative from Team San Jose wrote that TSJ understands the negative reaction from many in the local arts community. Frances Wong, director of communications for Visit San Jose explained that Team San Jose actually didn't seek out Kelly or her song.
"We weren't looking for a song," Wong wrote. "The song was sent to us at the right time and had the right messaging." That messaging, according to Wong, was a "message of nostalgia and optimism," which "echoes San Jose's being a welcoming and friendly city for all."
Kelly was not paid for the song, Wong wrote. In fact, "San Jose" was largely written when it came across the desk of Karolyn Kirchgesler, CEO of Team San Jose. Kirschgesler knew Kelly's father through work.
Moving forward, Wong wrote, Team San Jose will be "engaging in a community dialogue to explain how and why we promote San Jose."
DISPLACEMENT
South Bay native Amine Rastgar, who recently relocated from San Jose to Sacramento, is another artistic casualty of Silicon Valley's rising cost of living.
"I don't think I would have been able to even get a one-bedroom or a studio apartment by myself" in San Jose, he says. "I don't work at Google. I don't work at Apple. I don't work at any of those places."
Rastgar's art is playfully surreal, like a cartoon dream sequence. Earlier this year, he took part in Local Color's "100 Block" mural project. His piece depicts a potted plant, which has sprouted eyeballs and drips smiling water droplets onto the street. As part of Pow! Wow! San Jose, Rastgar painted a large mural on Empire Street, between Sixth and Seventh streets. In it, a pink elephant spray-paints the night sky as a bug-eyed skull shoots lasers from its eye-socket—at least, it did show that until the building was knocked down earlier this year by developers.
Rastgar sees a fundamental disconnect between San Jose's artists, teachers and service workers, and the industry which is driving up the rent for all of them.
The way Ragstar views it, while the work he and so many other artists have done may serve as eye candy in a glossy brochure for the latest luxury apartment development, the tenants that developers are attracting aren't engaging in the local scene in any meaningful way.
"The people that move here to take these jobs and homes and space, they're not really spending money on stuff like art," he says. "They don't really consume the culture, and don't really care too much. Some do—I don't want to sound cynical—but for the majority, they really don't."
A NEW HOME
For his part, Araujo can relate to Ragstar. "I lost everything," he says.
However, for the Empire Seven founder, there is a silver lining to his displacement. The developers who will eventually build another housing development on the parcel where E7 once stood reached out to Araujo not long after purchasing the land. And he is now working with them to curate a permanent art space within the development, which TriForge plans to name Empire Seven Apartments in honor of Araujo's legacy.
He was initially skeptical and hesitant to engage.
As the child of a single mother, Araujo has had to fight for credibility. He started working at age 9, helping out a vendor at the San Jose Flea Market long before anyone thought to place a beer garden on the grounds.
As he grew older, he fell in with the graffiti crowd, which only served to solidify his anti-authoritarian instincts.
In 2007, he opened Empire Seven Studios—in his words, "a punk rock space"—building out a run-down warehouse next to a used tire lot. He organized highly successful shows and brought world-class artists to San Jose. His DIY sensibilities were further entrenched after fellowships turned down his proposals.
And so he did what he knew how to do and brought Pow! Wow! to San Jose. Over the course of a single week in October 2017, the artists in town for the festival completed 12 murals. The following year, in 2018, another crop of painters completed 18.
Yet while his independent streak has served him well over the years, Araujo says he is working to be more open to collaborations with organizations he had previously siloed himself off from.
"I've stopped denying people the time of day," he says. "I've learned to take the call, to take the meeting, to stop being so closed off."
He is still wary of the official public art power brokers in Silicon Valley. "Getting funding feels like pulling teeth here," he says. "You have to constantly convince somebody that you are worthy of their philanthropy."
That said, he's definitely trying to be more open to everyone working on San Jose's public art scene. Looking at the "Where Y'All Sitting" meme, he just shakes his head and sighs.
"We shouldn't be so competitive," he says.
In the coming months, Araujo plans to open a new gallery space—just across SeconSecond Street from Notre Dame High School in a small, ground-level mixed-use space that is part of the Metro Walk Apartments complex.
The new location is in a rapidly gentrifying part of town, just around the corner from the under-construction Sparq development, The Pierce apartments and a pair of recently opened taprooms.
When asked whether he worries about getting pushed or priced out of the new gallery at some point, Araujo says no. The way he looks at it, his only job is to continue bringing high-quality art to his hometown.
"I just want to make sure that I love what I'm doing, and to make sure that it's really genuine and authentic to us."