Fall Arts 2019
Music: Fall 2019
Shifting Colors | Visual Art | Stage | Robert Kelley | Music | Classical | Film | Epics Film Fest | Lit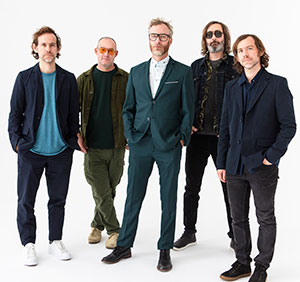 The Wood Brothers and Colter Wall
Aug. 22
San Jose Civic | sanjosetheaters.org
The folk duo of Chris and Oliver Wood comes from a family immersed in Americana musical traditions. But the Woods Brothers' version of Americana isn't all twang; it's an all-encompassing style that draws from many American forms: blues, r&b, soul and jazz included. To date they've released six albums of original material, a covers collection and four live sets. Their current tour finds them teaming up for a co-headlining spot with Canadian singer-songwriter Colter Wall, an artist with a similarly rich and eclectic musical foundation.
Kris Kristofferson & the Strangers
Aug. 23
Mountain Winery, Saratoga
mountainwinery.com
One of the foremost songwriters in country music, Kris Kristofferson scored some of his greatest successes penning songs that would be hits for other artists. "For the Good Times," "Help Me Make it Through the Night," "Sunday Morning Comin' Down" and the smash "Me and Bobby McGee" helped establish him as a major creative force. A member of the Highwaymen supergroup, he collaborated with Johnny Cash, Waylon Jennings and Willie Nelson. Nearly 50 years after the release of his self-titled debut album, Kristofferson continues to record and tour.
The Crystal Method
Aug. 23
The Ritz | theritzsanjose.com
While most of the biggest names in electronica and EDM come from Great Britain (The Prodigy, The Orb, Aphex Twin, Orbital) or Europe (Daft Punk, Kraftwerk), the United States has long had a thriving scene as well. At the top of that scene is The Crystal Method. Their 1997 debut album, Vegas, sold more than a million copies and set the tone for the future: insistent beats, an emphasis on melody, deep grooves and a dramatic, moody dance floor aesthetic.
Wee Willie Walker & the Anthony Paule Soul Orchestra
Aug. 28
Club Fox, Redwood City
Soul singer Wee Willie Walker got his start in Memphis singing gospel. Back in the 1950s he was a member of a group called the Redemption Harmonizers, touring the south. By 1960 he had moved to Minneapolis, where he still lives today. But he frequently returned to Memphis; there he started recording secular sides for Goldwax Records, nine in all. By the '70s he was fronting soul/r&b bands in Minneapolis. These days he has a monthly residency at St. Paul'sMinnesota Music Café. At age 77, this energetic performer is a master of soul, blues, r&b and gospel.
Smashing Pumpkins and Noel Gallagher's High Flying Birds
Aug. 31
Shoreline Amphitheatre | Mountain View
One of the most popular bands of the 1990s, Smashing Pumpkins racked up two Grammys as well as awards from MTV during their first heyday. The Chicago-based group led by guitarist Billy Corgan ended its first run in 2000, but last year Corgan and two original members (guitarist James Iha and drummer Jimmy Chamberlin) got back together. The reunited lineup released its 10th album, Shiny and Oh So Bright, Vol. 1 / LP: No Past. No Future. No Sun last November.
Sonido Clash Music Fest
Sept. 1
School of Arts & Culture @MHP
sonidoclash.com
For the fourth straight year, Sonido Clash goes deep into the emerging sounds of Latinx alternative music with about two dozen acts from across the diaspora on four stages, as well as live poetry, a panel discussion, a car show, a dance workshop and tons of other stuff. Headlining this year is the Puerto Rico-born duo Nina Sky (remember the 2004 hit Move Ya Body?). Also on the slate are dream-pop artist Katzu Oso, DJ/producer Dave Nada, Chicano visual artist El Oms, Madrid-based reggaeton/dance artist Ms. Nina, the GaGa-esque queer ranchera singer San Cha, and many others. Too much pleasure in one place and time. It's all at San Jose's beautiful Mexican Heritage Plaza.
The National
Sept. 1
Frost Amphitheater at Stanford University
live.stanford.edu
Since emerging from New York back at the turn of the millennium, The National has become both an indie-rock powerhouse and a jumping-off point for a lot of other projects, from political activism to avant-garde performance (Who can forget the band playing one song for six hours?). The National is touring to wave the flag for its newly released eighth album I Am Easy To Find. This show, however, may have quite a contingent there primarily to see the opening act, the winsome Canadian indie pop band Alvvays, presenting a dilemma for fans: which tour T-shirt to buy?
Steely Dan
Sept. 17-18
Mountain Winery, Saratoga
mountainwinery.com
Arch, cynical, brainy, smoother than 20-year-old scotch, the music of Steely Dan in the 1970s was a respite for the audiophile who needed a break from the theatrics of prog-rock and punk. Back in the day, the mystique of the duo Donald Fagen and Walter Becker was that they were much more comfortable making records with all their super-cool musician friends than putting on shows—and what awesome records they were. All that's changed now. Since Becker's death in 2017, Fagen has endured with a live act that will often perform many of Steely Dan's landmark albums—Pretzel Logic, Aja, Gaucho, etc.—from start to finish.
Rahat Fateh Ali Khan
Oct. 5
Event Center, San Jose State University
sanjose.eventful.com
Anyone looking to take a deep dive into the ethereal and mind-expanding vibe of Pakistani devotional music, known as Qawwali, should not waste time and instead go directly to Rahat Fateh Ali Khan. The 45-year-old singer is part of the first family of Qawwali, as the nephew to the form's modern master, the late Nusrat Fateh Ali Khan. (His father and grandfather were also revered Qawwali singers). The genre dates back close to 700 years and features spiritual music and poetry, often sung in Urdu or Persian, and is still part of Sufi mystical practice today.
Iron & Wine + Calexico
Oct. 6
Mountain Winery, Saratoga
mountainwinery.com
It would be stretching it to call them a supergroup, but the adventurous roots-rock duo Calexico and the neo-folk singer/songwriter Sam Beam, who performs under the moniker Iron & Wine, have combined forces in a stunning new recording called Years to Burn. Beam and Calexico's Joey Burns and John Covertino first began playing together almost 15 years ago when they made a record called In the Reins. But the new album represents a deeper commitment to the collaboration, combining Calexico's cinematic mood setting and Iron & Wine's delicate vocal harmonies. What you have left is something that might surprise fans of both.
deadmau5: cube V3 tour
Oct. 11-12
San Jose Civic | sanjosetheaters.org
Nobody does enormous on-stage multimedia cube structures quite like deadmau5 (aka Joel Zimmerman), the brilliant Canadian DJ and mouse-ear aficionado. Zimmerman has been performing with his giant cube for close to a decade, but this year he's unveiling "Cube V3," the latest iteration of his mind-blowing stage show. According to tour scuttlebutt, the new cube—which weighs about 7,000 lbs.—is much more flexible in how it rotates on stage, all to deliver the visual stimulation equal to deadmau5's audio output. The cube requires a crew of roughly 40 people and eight to 12 hours to build at every venue. Love him or not, there's no arguing deadmau5 is a committed showman who wants to make sure his fans get their money's worth. And San Jose fans get two nights!
Chucho Valdes
Oct. 18
Bing Concert Hall, Stanford | live.stanford.edu
Between them, Cuban pianist and bandleader Chucho Valdes and his late father Bebo account for an incalculable influence in the realm of modern Afro-Cuban jazz. Bebo Valdes was, of course, one of the most high-profile bandleaders during the Golden Age of Cuban music. Bebo fled from Cuba in 1960, leaving behind his son. Later, Chucho not only founded the Cuban supergroup Irakere, but he became an international superstar on the Blue Note label. At 77, he's still pushing boundaries—in recent months, Chucho has turned his attention to honoring his father on the 100th anniversary of his birth.
Three Dog Night
Oct. 24
Fox Theater, Redwood City | foxrwc.com
For the record, "three dog night" is an Australian camping term, to indicate a night so cold it requires sleeping with three dogs to stay warm. What that has to do with the L.A. rock band of the same name is unclear. But back in the early '70s, Three Dog Night dominated the pop charts with a seemingly endless string of singable, faintly R&B-flavored hits, including Harry Nilsson's "One," Hoyt Axton's "Joy to the World" and Randy Newman's "Mama Told Me Not to Come."
Jon Batiste
Nov. 2
Bing Concert Hall, Stanford University
live.stanford.edu
It must be a mixed bag to land a gig as a late-night-TV bandleader. On one hand, it's an elite club, a sweet paycheck and a chance to connect with a potentially huge audience. On the other, you're never allowed to show what you can really do. Fans of Late Night with Stephen Colbert will easily recognize Batiste, who fronts the Colbert house band. They may not know that Batiste has been part of the next generation of musicians steeped in the rich culture of New Orleans jazz and R&B. His 2018 record Hollywood Africans is a good place to start.
Caifanes
Nov. 10
San Jose Civic | sanjosetheaters.org
North of the Rio Grande, even after 30-plus years together, Caifanes is still only well known to a cult-like rock-en-Espanol audience. But in their native Mexico, the band ranks among alt-rock's greatest acts, combining ambitious themes of progressive rock and grand U2-style melodies with Latin rhythms and Spanish lyrics. The band's heyday was back in the early '90s, but Caifanes—still fronted by the charismatic vocalist Saul Hernandez—is back with their first new recording in 25 years, Heridos.