Features & Columns
Behind the Scenes at the
Valley's School for Chefs
Campbell, the former prune capital, is now where future celebrity chefs go to learn
the fine points of French cuisine. We crashed the party to see what's up.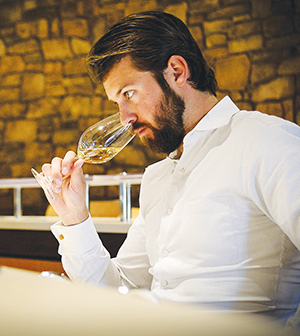 It's 5 o'clock somewhere—I'm guessing within swimming distance of the Azores. But there are no tropical beaches here and I hear no wine specials in Portuguese. It's about eleven in the morning and I'm quietly enjoying an early happy hour at the International Culinary Center in Campbell. Located in a fairly large, nondescript brown box on the corner of San Tomas Expressway and Hamilton Avenue, the South Bay's premier cooking school shares digs with a Gold's Gym. I couldn't help but smile as I spied the poor saps from the parking lot, doing their leg bends and arm swings behind tinted windows, torturing their bodies while I was about to gulp wine and demolish an assortment of fine meats and cheeses.
My mission was to tour the culinary center and learn how the region's next generation of talented chefs were being groomed.. Perhaps I would even pick up on the latest spring and summer trends in the culinary arts. We began at The Wine Theater... continue reading