Features & Columns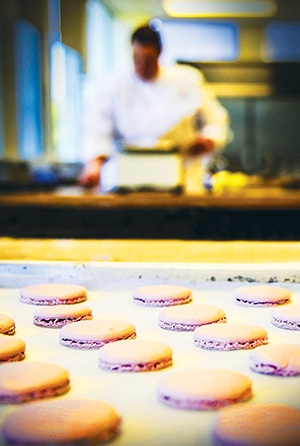 Yes, Chef!
Charcuterie is a funny sounding word, and there is something humorous about the massive spread I stumble upon in the second leg of my tour—everyone is freaking giddy to get in line.
Each month ICC students are tasked with cooking a $1,000 "family meal" for the entire center. Charcuterie is April's theme, which means almost everything in the buffet line will involve the preparation of meat, save for some roasted potatoes, lentils, olives, Cornichons (little French pickles) and fresh-baked bread. Chef Bruno Ponsot, a native of France with more than 30 years in the kitchen and a few Michelin-star experiences on his resume, has tasked the class with using every part of a pig. The options are plentiful: coppa, blood sausage, home and country pate, chicharones, gourmet hot dogs, pork rack and pork shoulder. Then there is the fish: Artic char, Branzino en croute, smoked salmon. And the duck galantine—it looks like it got naked and fell asleep inside an oven with 23 guillotines.
Not for a second would I have been able to pick most of these dishes out of a lineup, which is why I was lucky enough to have chefs Marc Pavlovic and Jeanne Neivert chaperone me around the ICC's expansive second floor. Along with standard offices and dining rooms, the floor has four culinary kitchens, two pastry kitchens and two demonstration kitchens. The last two are basically the same as the wine theater, but the cellar has been replaced with a long stove, ovens, pots and pans and other devices that could be dangerous in the wrong hands.
"This would be a very large restaurant," Marc tells me while touring the pantry, which might as well be a toy store for the students merrily wheeling away ingredients. Pupils can't raid the pantry—it'd be akin to stealing textbooks—but they can take home leftovers for friends, family and significant others. "We encourage that to minimize waste," Marc says, with a smile. "We eat well."
Marc sports blue-framed glasses and a thick French accent, while Jeanne is a very kind New Yorker who seems to have left her accent on the Staten Island Ferry. The passion each chef-instructor has for cooking is stamped in their DNA. Marc says he and most other chef instructors spend 60-plus hours a week in the building, and over family meal they wistfully remember working 15 hours day in a kitchen, standing on their feet until they couldn't feel them, going to bed, and then doing it all over again.
But there are differences in each of their regimens and, perhaps, attitudes—especially between the folks who specialize in savory versus sweet. "They season while we have to weigh everything," says Jeanne, who studied to be a pastry chef at the ICC's sister campus in New York City, worked in kitchens for a dozen years and then came to Campbell's center to teach in 2010. "It's a little different mindset."
The same can be said for cooking by seasons. Winter calls for rich and comforting, Jeanne says, while spring and summer demand bright colors, fresh fruit and vegetables. "Even nuts are seasonal," she adds. But when I push to see if there's a new style in the cooking world that is forcing people to change their ways, Marc says something that strikes me as perfectly obvious. There are 11 chefs at the Campbell ICC and all of them, with their combined 200-plus years of experience, would agree on this point.
"Ninety-five percent of what we know is based on classic cooking," he says. "Almost all the cooking methods were created 200 years ago. Trends come and go. Classical cooking never dies."
He nearly scoffs at my suggestion that sous vide and molecular gastronomy might be new. "There is no feeling there. This is feeling," Marc says, pointing to the flame over the stove and his ability to control it. "It's a craft. There's a little bit of artistry. But it's a craft."
Once the culinary students pass their courses (about six to nine months for top-level courses), and an externship at a restaurant or bakery, in which a reported 80 percent of students are offered a permanent stay, the ICC pumps new cooks into the local market. Restaurants that have hired ICC students include swank West Valley and Peninsula spots like Manresa, Chez TJ, Plumed Horse, Dio Deka and Alexander's, and pastry placements include Mayfield Bakery & Cafe in Palo Alto, as well as Los Gatos shops such as Amour Patisserie and Icing on the Cake. David Kinch, of two-Michelin star fame for his Los Gatos restaurant Manresa, is dean of the ICC.
These are all people that can probably cook better than you—and most definitely me—but that doesn't mean they don't eat like the rest of us.