Features & Columns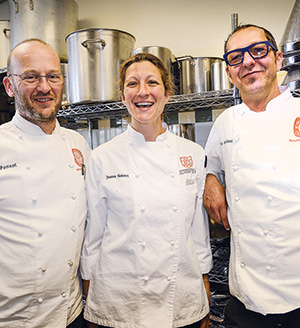 Family Meal
I spend about a half-hour eating and talking with seven chefs in the ICC dining room, which hosts events and is adjoined by a large kitchen for corporate team-building exercises. Every chef has an opinion on what's best, but Chef Bruno Ponsot is firm on all decisions. He has no tolerance for terrible restaurants or terrible customers. I can see him sharpening knives in his head when the topic of people taking pictures of their food goes around the table.
"I think it's annoying," Bruno says, the disdain practically dripping. "I don't think cell phones should be allowed."
Chef Marc isn't so certain. He'll snap a picture once in a while, but he does have one rule. He'll never send a dish back to the kitchen, no matter how bad it might be. "I just won't go back," he says with nonchalance.
The chefs all agree the best way to find a good restaurant is word of mouth—and never trust a place based solely on a nice-looking website. On the flip side, they say it's perfectly fine to judge a place based on its bathroom. "It's a sign of respect," Marc says.
Stuffed, I roll my way to my next stop, the pastry kitchen, and I realize it's time to run—figuratively and literally. Those poor saps in the Gold's Gym below will have the last laugh when I walk out full as a pig, of pig and several powdered cookies. Rachel Thompson, ICC's director of admissions and a former student, has taken the day off to create a wedding cake for a friend, and she confirms my instincts as she details the ingredients.
Her cake will have three layers. The base: two large chocolate cakes that will be slathered with cream cheese. Second level: two smaller cakes covered with lemon curd and raspberries. The final layer is Rachel's own invention: "smore-bacon," which is exactly what it sounds like—'smores and bacon. I want to see it to completion but instead offer my thanks and retreat. The charcuterie and the wine and the 'smore-bacon make me realize there is so much to learn, but the unexamined palate has its limits.